The Aspen paracord dog collar comes in three sizes, from small to large. It has a very durable core (webbed) and is supported by a metal buckle for durability. It comes with a snap hook and leash as well and has been hand-braided for comfort as well. The paracord is seven-thread and can also be custom-fit to dogs.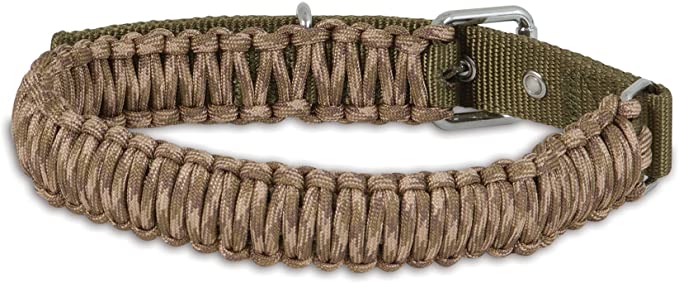 Customer reviews state:
This paracord dog collar has a good fit compared to conventional dog collars, and except the buckle being slightly loose, it does the job beautifully. It is used for a variety of pets of all sizes and does its job well. The width of the paracord is also just right and can handle larger dog breeds easily.
Some customers say that it looks very manly on a funnier note, so it works perfectly, and the material is sturdy. Still, if you have a female dog that you want to look feminine, you may want to reconsider as paracord dog collars do look more masculine than feminine.
The general feedback is that paracord fits different dog breeds properly, unlike other dog collars that may be a little snug when worn. It's been called a 'great alternative' for conventional dog collars.


The Illumined LED Dog Collar is a one-of-a-kind dog collar that is unmatched if you put it side by side with conventional collars. It has a bright, internal lighting system that goes around the neck of your canine, to protect it from being accidentally hit by motorists.
It is also a great way to locate your dog in the dark; in the unfortunate event, it becomes lost when you take it out on a walk, and visibility decreases as the day progresses. One hour of charging provides five hours of bright and consistent illumination.
The collar comes in six colors: orange, pink, green, blue, red, and yellow. There are also five collar sizes to choose from extra-extra small, extra-small, small, medium, and large. The manufacturer of the Illumined LED Dog Collar also produces illuminated dog leashes – we recommend combining the two for maximum safety during walks.
Customer ratings show that the company has excellent customer care, and they treat customer complaints seriously. Some have reported minor issues with shorter battery life, but these were addressed quickly by the company.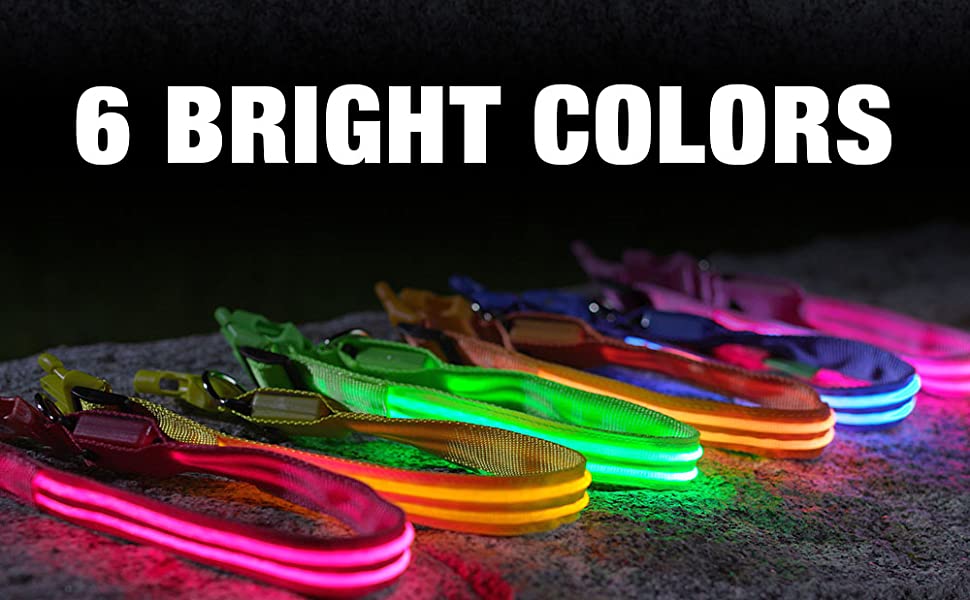 If you are a fan of Lupine dog collars, you are going to love the six bright colors they have in stock, from black, orange, blue, green, pink, purple, and red. These collars are an inch wide each and are best for medium-sized dogs and larger dogs, too. Match your dog's collar with a padded collar of the same color.
All Lupine Pet collars are made in the US, from New Hampshire. The company offers a competitive guarantee even if your pet chews them. Lupine Pet collars are made with the best quality jacquard nylon webbings and are secured with stitching (barrack). The material is color-fast and is tested by the manufacturer for sustained durability. These collars are unique for long-term use and can withstand years of use. Choose from three sizes: .5-inch, .75 inch, and 1 inch.
Customer reviews indicate that the collars are durable, with some complaints that the rich color can run on the fur a little, perhaps when the collar becomes moist. Other than this minor inconvenience, users say that the collars are built to last and are fantastic for deflecting chewing behavior on collars, too.



The DAIHAQIKO Leather Dog Collar is manufactured with one hundred percent genuine leather. This leather collar can withstand 350 pounds of pulling pressure and is equipped with an equally durable buckle (metal allay).
It also has a D-ring that helps prevent natural corrosion. With regular use, this collar can easily last three to five years. If you require a sturdy leather collar that can be used daily for training and walking, this would be it. This leather collar can withstand plenty of punishment and can even be used for sports activities. Never worry about this collar suddenly ripping or pulling outward due to sudden stresses or pulls.
Customer reviews reveal that this brand of dog collar has excellent craftsmanship. Apart from the superior build, the dual D-rings can also be used to hang anything you want on your dog's collar, including LED lights for night walks. A perfect collar that does well even with more massive, 70-pound dogs.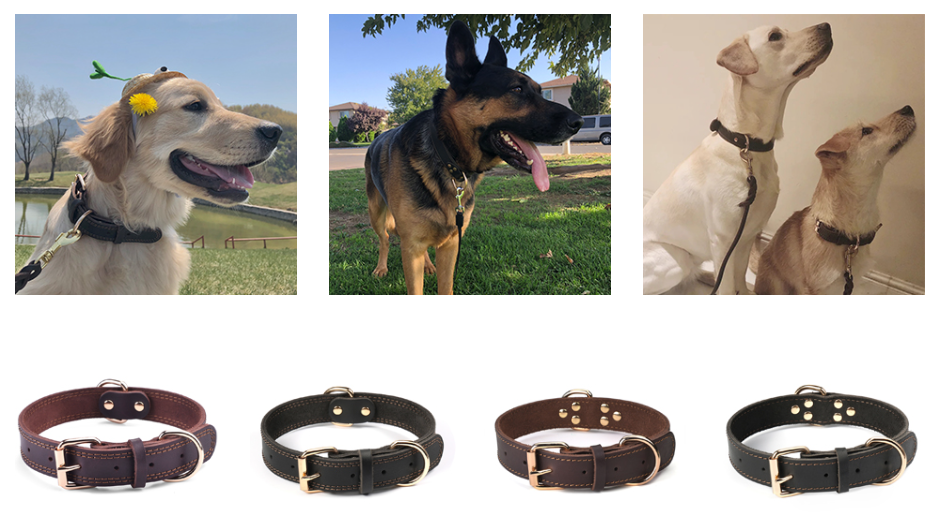 When the goal is safety and comfort for dogs with special collar needs, few can compare to what the BENCMATE Inflatable Dog Collar can provide. Despite its soft appearance, the BENCMATE Inflatable Dog Collar is resilient and quickly resists common bites and scratches from our beloved pets.
This collar is best worn when the animal requires extra care and protection from possible injuries. This is an ideal collar for dogs that have just undergone surgery, too. Prevent post-surgery wounds from festering with the right kind of collar that doesn't block your dog's view but still does its job well. This collar can also reduce biting and scratching behavior in a household with multiple canines around.  
BENCMATE features a star-studded inflatable design with a most comfortable external layer for added comfort. Dogs can also eat, drink, and sleep with zero discomforts. The collar comes with an impressive slider adjuster that can reduce or increase the collar's circumference and tightness. When you get the right size, you can then bring the collar adjuster to the collar's back, so your pet won't be motivated to bite it. The dog collar's entire circumference is 48 inches, with a width or thickness of 5.5 inches. The collar's inner ring is looping, which adds for stabilization, so the collar won't slide off during use. Use this to protect your canine during his most vulnerable state.


Next on your reading list: