Why does my dog push his food with his nose?
Is your dog hiding food and not eating? Does your dog constantly push at its food with its nose? We know that this behavior may be problematic to many pet owners, so we've decided to explore the behavior a little to show you why it's happening in the first place.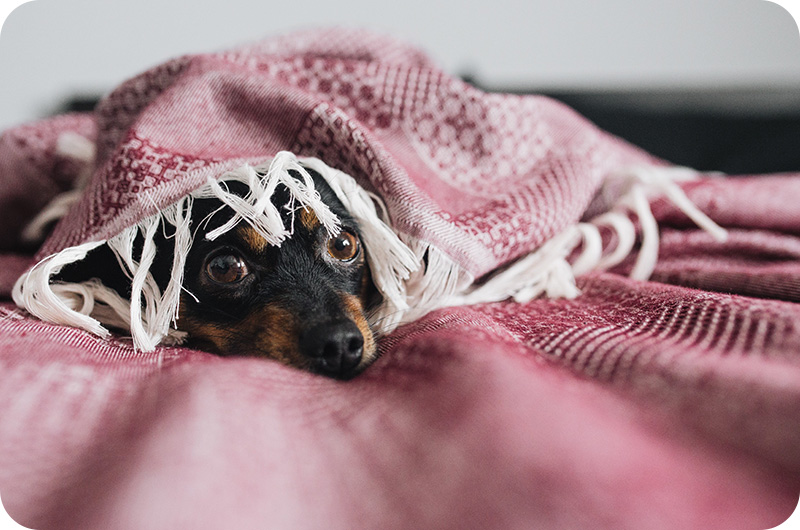 Why Does Dog Try to Cover Food?
Why does my dog try to cover her food with a blanket? Why do dogs save their treats?
We get these questions a lot, and what's truly interesting about the behavior is that it is not associated mainly with the disease or some other disorder. When a dog chooses to place a blanket over food, or any other object for that matter, the dog is engaged in caching or saving behavior. Yes, you got that right – your dog's caching instincts have kicked in, and it is conserving resources so it can come back later and have a chow. Food caching or food hoarding is observable in many mammals, and we can say that it's just normal behavior. The caching problem is that dogs are unlikely to run out of food when they are taken care of properly, so the food will likely rot where it has been stashed. Additionally, there is no guarantee that your dog will be coming back any time soon to claim the cache, especially if there is a regular feeding schedule and there rarely is any shortage of food in your home.
What about 'nose pushing' behavior? What does this behavior mean? When your dog pushes at food, likely, it is still engaged in caching behavior. 'Setting aside' food is the equivalent of "I would like to eat this later." Dogs can hoard a variety of food items, from treats to regular dog food. The behavior doesn't mean that your dog is bad or doesn't want the treat or the food. Caching behavior is spontaneous and signals that your dog is interested in setting aside some food for future use.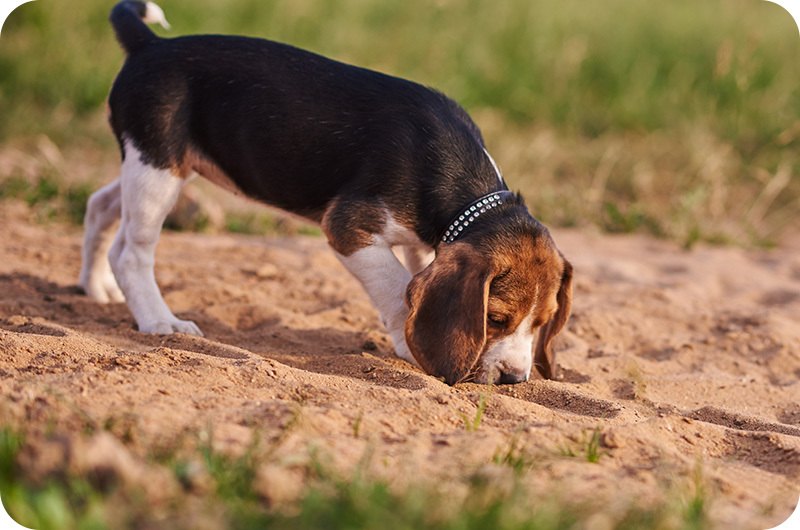 The big question now is why. If your dog has been brought up in a largely abundant environment and is always eating, why would this instinct be relevant? Wild dogs have to hunt daily if they wanted to eat. Not all hunts are successful. When the hunt is a failed one, the wild dog must eat whatever scraps are left over from the previous hunt. Caching ensures that the dog would have something for energy to hunt again when the time of the day is right.
Excessive caching behavior does not affect all dogs. The dogs that exhibit this behavior the most are bred to hunt for hunting. Other dogs that cache food excessively may have had experienced food shortages in the past. Suppose you're adopting or homing a dog from a humane organization. In that case, it's possible that the dog you are bringing home would exhibit this behavior more because of past experiences of hunger of having insufficient food for days at a time. If the shortage of food happens on a semi-regular basis before, then you may be going to see more of the caching behavior as you recondition the dog.

Yet another possible reason is the feelings of anxiety and insecurity. If your dog is in a multi-pet household, being in the presence of other dogs and cats can trigger feelings of food insecurity now and then. Suppose that you like feeding your pets in the kitchen or living room; your dog may remove the food from the bowl and bring it someplace else. Your dog may eat the food or lose interest altogether because the motivation to hide the food is based on anxiety or insecurity. Dogs have different kinds of personalities. Many dogs are playful and kind to other animals, but not all dogs are like that. Even if you have four dogs of the same breed at home, each one would have its personality. As the owner, you would know your pets well.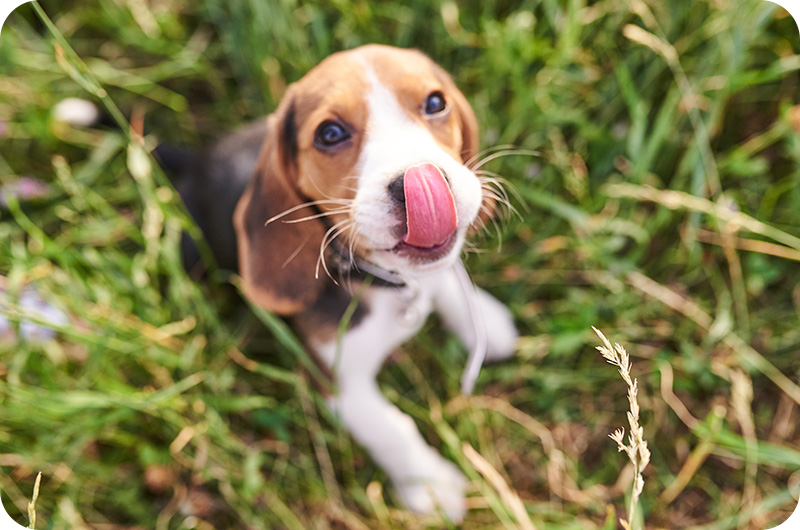 One way to make the food hoarding go away is to understand where and how your pet wants to eat. If your dog's demand is reasonable, then it's safe to say that you can allow your dog to eat where it likes to eat. Anyway, this is a better approach compared to allowing your dog to hoard food and having to find semi-eaten gunk all over the house. The choice is easy for dog owners who know how hard it is to deal with food caching behavior.
Some guidelines to defeat food hoarding behavior include:
Remove any leftovers immediately so your dog can't take the food and stash it anywhere.

Give your dog only enough food for each meal. The surplus food is tempting for caching.

Don't overdo giving treats. If you are training your dog, food treats should be small and insubstantial. If your dog has too many treats, the leftovers will likely be hidden away and forgotten, especially if your dog has a doghouse outside. It will be difficult to clean the inside of the doghouse if there is rotting food inside.

Establish a reliable feeding schedule. Your dog has to follow this routine, so it has a daily program. Expecting when to be fed and getting fed around the same time every day builds confidence in dogs and erases food anxiety or the need to cache food.

If you happen to observe other negative behaviors, try to get to the root of why they are acting that way. Negative behaviors may trigger other negative behaviors, surely.

Next on your reading list: