"Why does my dog bite people's heels?"
Dogs feature many behavior quirks, and one of these quirks is nipping at people's heels. When they're small and harmless, heel nipping seems to be as normal as anything when you are with a dog. However, as dogs grow older, you begin to wonder why the nipping is still going on.
Isn't nipping and anything with teeth considered a sign of aggression? If so, is your dog getting aggressive with you? Dog owners have so many questions, and the answers aren't always apparent. Dog owners need to have a more comprehensive understanding of dogs to recondition their dogs at home when they need to.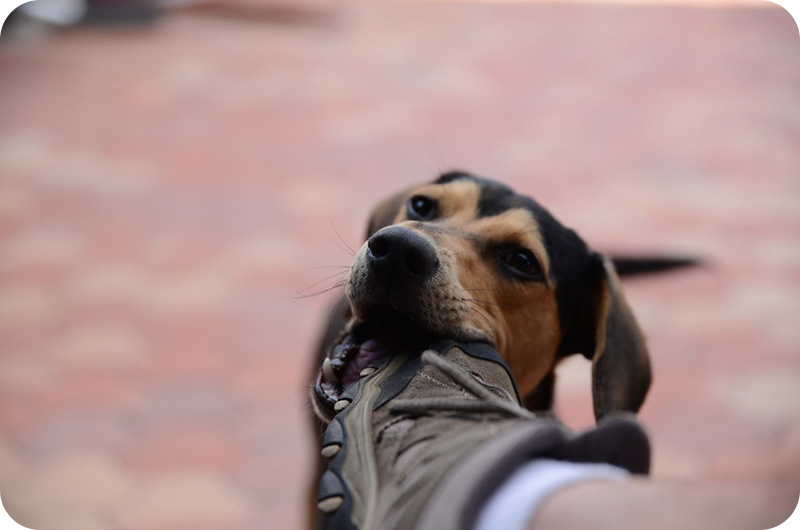 Why Does Dog Nip at Heels?
Why does my dog bite my heels? It starts innocently enough – you're just playing with your dog, and suddenly, your puppy starts nipping at your heel. Sometimes it's playful mouthing, but other times, you see pointy teeth, and the puppy goes for skin or the hem of your jeans. The interaction often lasts for seconds only, but there is a problem in the behavior.
Unless it's innocent mouthing, it can be a sign of something else. Puppies will nip at heels in a very relaxed manner, but the teeth will still be teeth, and there might be scrapes along the way. If you have very young pups at home and are beginning to show this behavior during playtime, the said behavior must be regulated as soon as possible.

For the most part, you will notice that puppies have small but sharp teeth. Puppies are also instinctually curious about the world at large and mouthing everything they can come into contact with is part of their learning process. Puppies discover how the world works by their mouths.
However, puppies still don't know how to be gentle with their teeth when nipping at you, and they shouldn't even be nipping at you in the first place. Grow up dogs are also problematic if they haven't been trained properly, and they think it's okay to nip at heels, too.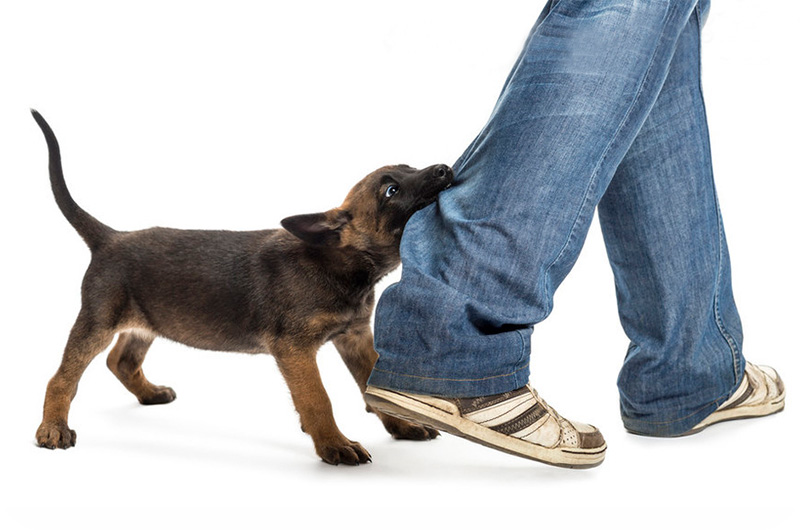 How to stop a dog from biting ankles?
Positive enforcement is the best recourse for teaching dogs of all ages not to nip at your heels.
Dogs are creatures of instinct, and they don't understand the complexities of bonding with humans at this level. You will notice that some puppies and dogs will go for your toes or feet when they 'greet' you. Licking your toes is fine, but this behavior is still connected with play-mouthing, which, by and large, has to be observed and regulated.
For smaller dogs, we recommend distracting the puppy instead. Get any favorite toy and wave it around your puppy. If your puppy goes for the toy instead of your toes or feet, then you reward the puppy for the behavior. Remember, you have to do this several times to drive home the message and to make the message permanent in the puppy's mind.
It's vital for dogs, especially the younger pups, to have enough stimulation and to have enough materials to chew on. Remember – dogs explore the world through biting, licking, etc. They don't have hands, and they certainly can't understand the world the way we do.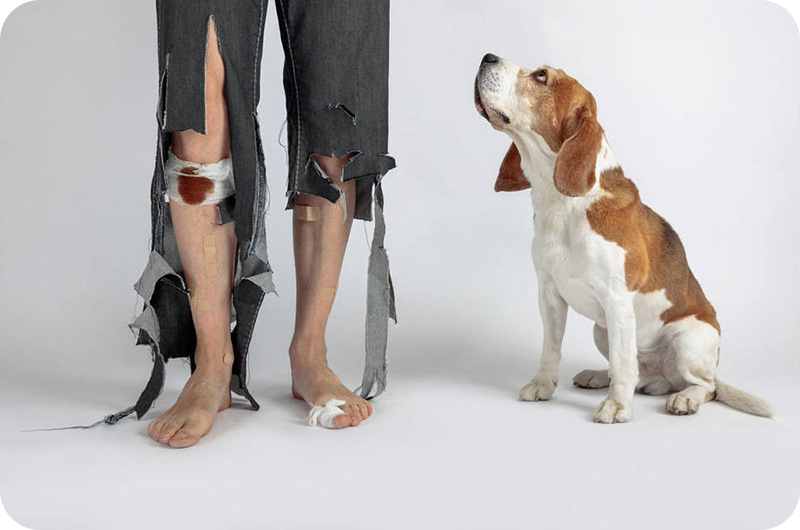 Why Dogs Bite Ankles and Feet?
Why does my dog bite people's heels? You may have the most behaved dog at home, except for one thing – your dog seems to love nipping at the heels of your guests. Your dog doesn't seem like it wants to take a big chunk of the leg, but it still nips. How come?
We recommend checking first if your dog is from a herding breed. Herding breeds of dogs have it in their DNA to herd animals.
Nipping at the heels of humans follows the same logic of herding sheep and cattle. Yes, you are right. Your dog is indeed herding your guests. It's a good boy because it follows its instincts, which is to help the shepherd or farmer herd all the animals into a formation.
Think of it – they're called German shepherds for a reason. The tendency to herd animals is natural to herding breeds as it is for dachshunds to want to crawl around and dig holes because they were bred to pursue foxes and rodents.
Training experts advise that dog owners use redirection to nip the behavior quickly. Biting and nipping can be moderated and eliminated, but you have to patient in teaching your dog what not to do. If you do have a herding dog at home, then it needs a function or a job. It needs to have something to do.

Not having anything to do will cause psychological problems in your dog. Your dog's behavior can become increasingly challenging as time progresses because it will attempt to 'fill' the gap in its life by simply doing things that you may not like, like acting out and nipping at people's heels.
Tug toys are especially helpful in redirecting all that energy and desire to herd. Teach your dog to play with the tug toy beside you instead of going for your toes or feet or legs. When your dog begins to nip at you, make sure to remove the reward immediately.
Put a gap between the undesirable behavior and giving back the toy, so your dog understands the connection between the undesirable behavior and the punishment, which is to remove the toy. It's not the most severe punishment in the world, but it will work, and it will teach your dog not to nip again. Reinforce the message as you go along, and your dog will eventually get it.

Next on your reading list: