"Why is my dog making weird breathing noises?"  "My dog sounds like he has something stuck in his throat!"
Is your dog making weird breathing noises? Are you worried that your dog can't breathe properly? Well, you are right in paying attention to the symptoms that your dog has because it may well be something that needs to be treated. Today, we take a closer look at why dogs sometimes make strange breathing and choking noises.
Why Does Dog Make Choking Noises?
Why does my dog sound like he can't breathe? The most common cause of choking sounds in dogs is kennel cough. Kennel cough is something like the common cold in humans. It's not very serious (most of the time). If your dog has normal immunity and is generally healthy, it should be able to tide over a kennel cough without further complications. This condition is also called canine infectious tracheobronchitis, and the Bordetella pathogen often causes it. This is also the reason why it's called a Bordetella infection. Dogs that have a Bordetella infection are often infected by other viruses, including the canine herpes virus and the reovirus.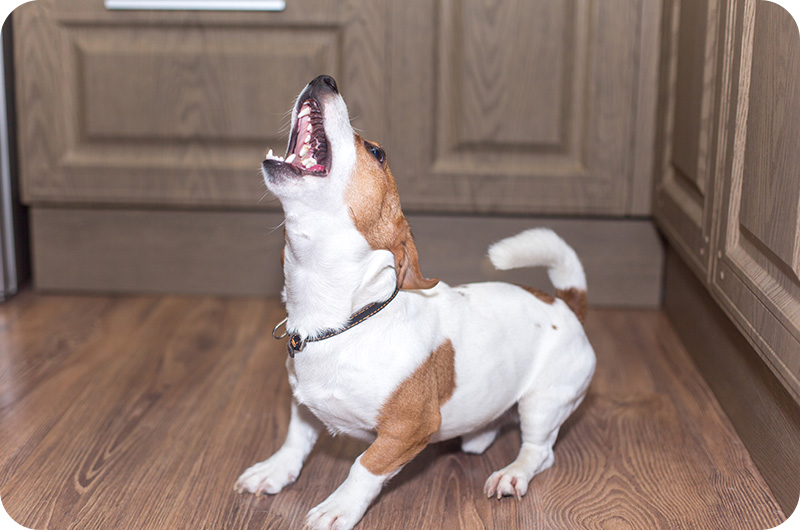 A dog can get kennel cough through respiratory inhalation. Like humans, dogs have mucus protection against pathogens. However, many respiratory pathogens have evolved already to beat these natural defenses. Just one weak spot in the entire defense structure and a dog can already get kennel cough. Some of the predisposing factors or risk factors are being stressed from traveling and other activities, being exposed to cigarette smoke and lots of dust, recurring cold temperatures, and poor ventilation. Believe it or not, the poor ventilation in kennels can also cause kennel cough, and it can weaken the respiratory lining of dogs.   
How to Stop My Dog from Making Choking Noises?
Assuming that your dog doesn't have kennel cough and it is still making choking sounds and you are bothered by the choking sounds, here are some guidelines to follow:
If the choking is severe, we suggest that you restrain your dog. Dogs can accidentally bite while choking because choking is often accompanied by an aggressive effort to vomit something out. Potential biting is a problem and trust us when we say that you don't want to get bitten while making your dog more comfortable just because it is choking or is appearing to be choking.
Cut any object from the dog's neck that may be impairing the dog's capacity to breathe and reject objects from its throat or stomach.
If you can, try to open your dog's mouth to take a peek at what could be causing the choking. Perhaps there is a physical obstruction in the throat, and that is causing the choking in the first place.

If you see a bone or any object that can easily be pulled out, use a pair of safety tweezers to do so. Do not anything that is sharp or pointy to remove anything from your dog's mouth or throat.
Try to remove or disengage it. Don't push the object and praying that it will come out the other end. You don't want that, trust us. Also, if the object is corrosive or sharp around the edges, the object's movement down the throat and the digestive tract can cause further damage.
Even if your dog lets you, never stick your hand or finger down a dog's throat. We have seen this being done before, and it's not the best recourse. Your dog may be restrained as it will not want to bite you, but at the same time, your fingers may cause actual physical damage to the throat when the fingers go down. The back of the throat is fragile, and the blood vessels there can easily burst when there is too much physical pressure involved.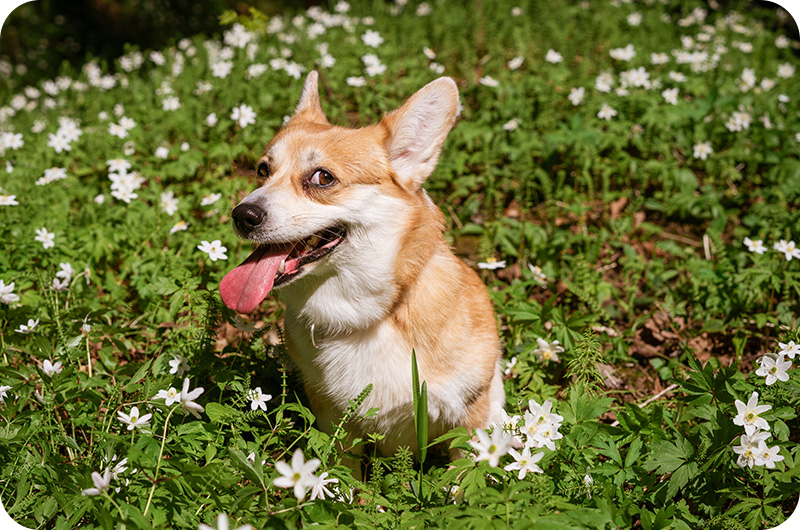 What if you see rawhide or some other edible but hard object stuck in your dog's throat? Instead of trying to put your fingers down there to push down the object, it would be best to get it out instead. Place two thumbs under your dog's jaw and push toward you to loosen the jaw and the throat. This may be enough to loosen the constriction that prevents your dog from pushing out the obstruction by itself.
Don't be confused about gagging and coughing. Gagging often occurs before a dog coughs. Gagging is also different from vomiting. With vomiting, you expect something to come out. It's not that common with coughing unless some mucus needs to come out during the coughing fit.
Learn to perform the Heimlich maneuver on your dog. However, if the choking is severe, the best recourse is to bring your dog to the vet quickly. Also, remedies like the Heimlich maneuver can only be done for a maximum of two minutes. You have to be careful with performing this maneuver as you can accidentally break your dog's ribs while performing the Heimlich maneuver.

Sometimes, choking can be the result of having too much phlegm or mucus. This can be the result of pneumonia, which, if left untreated, can result in mortality. Your dog can't 'wing' pneumonia, so it's best to start treatment if your dog has been diagnosed with this condition.
Sometimes, the choking cause is much simpler – there might be an awkward smell in the room that might be causing the reaction. Like humans, dogs can feel sick from the smell of certain chemicals and fragrances. Try to determine if perfume or deodorizers are indeed causing the choking sounds and adjust accordingly. It's not easy to watch a dog choking, but in the long term, you will learn how to deal with each situation as you see how different factors affect your beloved dog.

Next on your reading list: