While paint is necessary for beautifying our homes, it poses a direct threat to dog health. So first, learn just how toxic gloss paint can be. Then, discover how to remove gloss paint from your dog's coat before it starts licking it too much.
How To Get Gloss Off Dog?
Paint is among the baldest things to have around dogs, cats, and just about any pet animal. If you are working with high-sheen paint or paint with fancy color effects, animal exposure is a huge red flag. So please keep your dog or cat away from the job site and make sure they don't get paint on their coats.
Paint ingestion is catastrophic, so if you have to restrain your pets someplace just so they won't attempt to lick paint and won't get t on their coats either. What can you do when your dog ends up running across the paint site and receives a tremendous amount of gloss paint?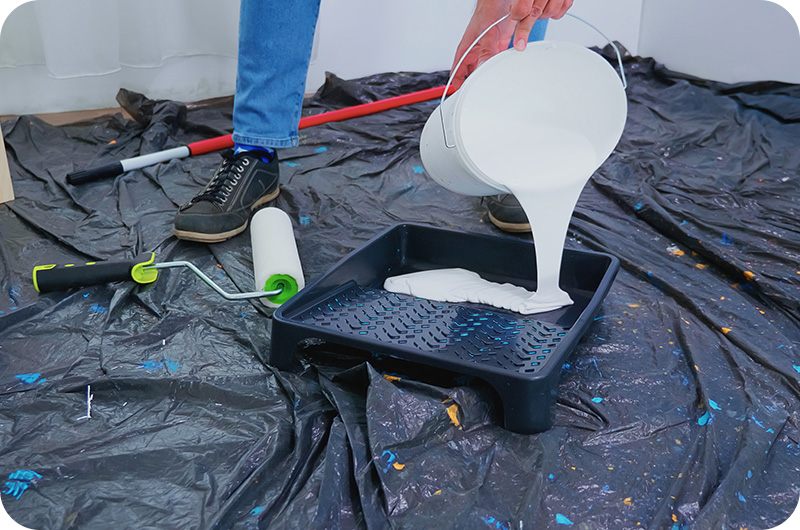 Is Gloss Paint Toxic to Dogs?   

 
Yes, gloss paint is toxic to animals, including common pets like cats and dogs. Unfortunately, only some brands of water-based paint are considered safe for pets, and you have to read the label if the manufacturer states that the product does not produce fumes that can harm animals. If there is no such disclaimer, always assume that the paint and its fumes are deadly or toxic to animals.
Gloss paint, specifically, is an advanced, durable paint formulation that can be used for both indoor and outdoor painting.
It's the durability that makes it so toxic – it contains more ingredients that can endanger animals while it's still drying. After curing and drying, there's no problem anymore, but animals are known to be curious critters, and they will try to get near someone who is doing a paint job.

Gloss paint contains a binding material called alkyd resin. Alkyd resin is chemically a long-chain polymer. It is manufactured by combining organic acid, alcohol, and oil. The resulting resin is then further dissolved in a powerful solvent to be applied on solid surfaces.
Application is just one part of the process. There's plenty more happening at the molecular level after application. For example, gloss paint's alkyd resin interacts with oxygen in the environment to complete the binding process. The long-chain polymer only ends molecular linking after exposure to oxygen.
There are many forms of paint and varnish in the market, and each one produces specific symptoms depending on the toxicity level and the amount ingested. There are also poisoning symptoms linked to overexposure to paint fumes. The general symptoms related to painting and varnish poisoning include sudden appetite loss, depression, diarrhea, nausea, and vomiting.
The problem depends on the type of poison present, exposure period, and if the animal ingested some of the gloss paint. For example, if a dog licked a tiny dot of gloss paint, there probably won't be any issues.

However, if your dog ended up covered with gloss paint on most of its body and tries to lick it off without your knowledge, that's when things can get messy. There is a designated toxicity level for specific chemicals. Once the body weight ratio is achieved, the animal's kidneys and liver will fail, and symptoms will begin to show.
Suspected paint or varnish poisoning must be treated seriously. Call your vet and dry your pet immediately to the nearest animal hospital or vet clinic. Even if the symptoms are mild, your pet must get checked out.
On top of fumes, dogs (or any other pet) that may have ingested the paint may also be at risk of lead toxicosis. Not all paint products are lead-free, and lead can cause severe internal injury to dogs and other pets.
There is no single antidote for paint poisoning. Vets will use chelating agents to address poisoning from heavy metals. Do not use instant remedies found online as these may be dangerous to your pet/s.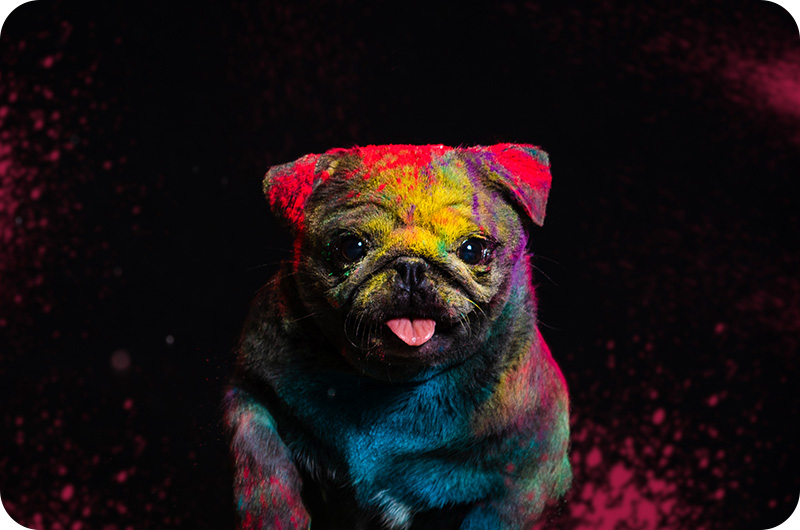 How Do You Get Gloss Paint Off a Dog's Fur?
Follow these guidelines for removing gloss paint from your dog's fur.
Gloss paint and other paint products are considered stick substances and need to be removed as soon as possible. However, it can also get messier for your pet if you don't remove the paint quickly. The main reason why gloss paint is hard to remove from animal fur is that it bonds to itself during the curing period. The harsh chemical pond in gloss paint means the color will harden on the fur, and this type of paint is designed to stay on.

Mineral oil or any vegetable oil is suitable for loosening hardened gloss paint on your dog's fur. The earlier you apply the oil, the better the results. If the stain has set somewhat, don't worry – the entire cure period for paint is usually 24 hours. Any period before the 24-hour mark is still alright – fortunately!

After loosening the gloss paint with mineral oil, it's time to wash off the particles. First, you need to find the mildest and most hypoallergenic dishwashing soap you can find. Apply the soap and allow suds to form, and then rinse with warm water. The critical point during the rinsing phase is preventing any of these substances from ever touching your dog's eyes.

Gloss paint rarely goes out on the first rinse. Therefore, you may have to rinse your dog several times before all visible colors are gone. This is easier to see in blond or white dogs. However, with a full inspection, you should be able to see fully if your dark dog still has gloss paint on its fur.

If your most conscientious washing and rinsing do not work, your last resort is clipping the hair. If you have zero experience with clipping dog fur, it would be best to make an appointment with a dog groomer so the clipping can be done professionally. Be sure to inform the dog groomer about what happened to your pet, so they will know what to do.

Next on your reading list: