Sheepdog breeds like the Great Pyrenees and the Maremma are becoming more popular in America because of their temperament and natural inclination to be alert and defensive. Find out more about these fantastic purebred dogs.
Maremma Dogs Vs Great Pyrenees
When you look at specific breeds of dogs, like the Maremma breed and the Great Pyrenees, you can easily mistake each breed for the other because of the physical similarities. However, if you want either the Great Pyrenees or a Maremma, you must know the differences so you can buy a dog that is exactly what you are paying for.

Are Maremma and Great Pyrenees the Same?       
Simply put, the Maremma and the Great Pyrenees are not the same breeds. These are two examples of purebred dogs, and both breeds are also recognized by the American Kennel Club and other similar organizations in other countries. Therefore, if someone tries to tell you that you are buying either a Maremma pup or a Great Pyrenees pup, it's best to clarify because these breeds are not identical.
While these are different breeds, some striking similarities confuse some people. Both are guardian breeds, meaning they were bred long ago to protect livestock and guard the farm's perimeter.
Both can be good family dogs but do keep in mind that you are getting a guardian breed, and guardian breeds are generally intelligent, stubborn, and easily bored if they do not have intense exercise every day.

If you have ever seen a shepherding dog in action, you will understand immediately what we mean. You are not getting a cute dog with either a Maremma or a Pyrenees. Instead, you are getting dogs that are hardwired to work.
Luckily, both breeds can also adapt to family or home life, as long as they get some moderate exercise on the side. In contrast to other shepherding species, both breeds can also be laid back and happy with just being a nanny for the kids.
However, don't expect any livestock dog to take kindly to dogs and strangers. You have to socialize with your Maremma or Great Pyrenees, so they don't launch themselves at anyone who happens to be knocking at your door.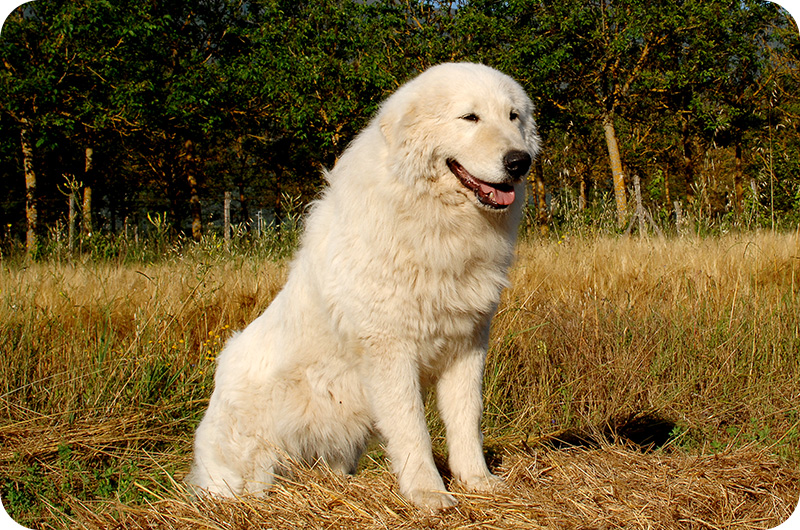 Maremma Information
Pedigree – The Maremma Sheepdog originates from Posture Abruzzese and Pastore Maremma no in Italy. Separate bloodlines were bred in these places, and the results are identical to the US Maremma Sheepdog that we know and love.
Appearance – Maremma Sheepdogs often appear with pure white fur, though some will appear with some yellowish tints, which are entirely normal. Adult Maremma Sheepdogs can weigh anywhere from 30 to 45 kilos. They are only a moderately large breed, not a giant or "very big" breed. Their heft is ideal for sheepdog work.

Character – Maremma Sheepdogs are naturally loyal and will bond intensely with their master. They are friendlier than other sheepdog breeds and are very dignified in temperament. However, they are naturally alert because they are hardwired to guard the perimeter against bears and wolves.
Habits – Shepherding dogs have unwavering loyalty to their masters/owners and can be aggressive because they need to guard livestock from rustlers and wild animals. A Maremma Sheepdog will not hesitate to engage wild animals attempting to harm livestock physically.
They can be good around kids, but they should be well-socialized and small children should never be allowed to play with Maremma Sheepdogs on their own. Likewise, do not allow a non-socialized Maremma Sheepdog to interact with strangers if you don't want any headaches.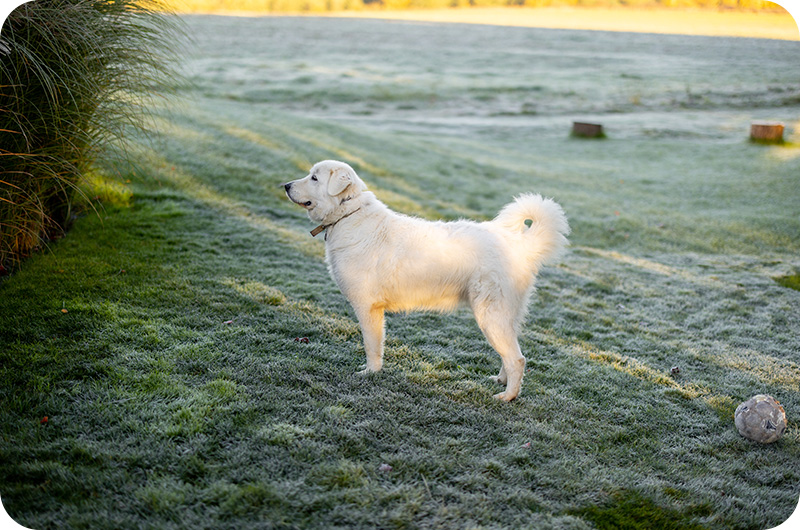 Great Pyrenees Information
Pedigree – The Great Pyrenees is one of the oldest dog breeds in existence. It's so old that fossilized Great Pyrenees have been found. Archeologists estimate that this breed has been around since 1800 BC.
It is believed that the Great Pyrenees gave rise to other notable purebred lines, including the Anatolian Shepherd, the Maremma Shepherd, and the Kurasz. However, the Great Pyrenees is best known for its defensive and offensive abilities.
It is the perfect example of a livestock guardian, and it has been known to protect the lives of its owners with its own life. In short, its first instinct is always to place its life before all others that it protects.
Appearance – The Great Pyrenees is known for its all-weather double coat and very muscular build. These are large animals that need no assistance when taking down intruders.

The coat is long and coarse and can also be naturally wavy or straight, in some cases. It has a more delicate and softer undercoat that's also thick. You may find yellow, gray, or tan patches in the fur, though this animal is generally white all over. Adult Great Pyrenees are known to reach as much as 100 pounds in weight.
Character – As the ancestor of other laid-back sheepdogs, the Great Pyrenees is a calm and gentle soul if there are no threats, making it ideal also for homes if the owner is experienced with active sheepdog breeds. The Great Pyrenees were bred long ago to tend to livestock alone in valleys and similar environments.
Habits – While the Great Pyrenees is not a nanny dog, that doesn't mean it can't be a good family dog. As long as there are no rowdy children (or small, unsupervised children), it's going to be alright at home. Sheepdogs are known for being very devoted to the families that they bond to.

Is There a Difference Between the Pyrenees and Great Pyrenees?
There is some confusion sometimes between dogs that have similar names. For example, the Great Pyrenees are often called the Pyrenees, but this name may also refer to the Pyrenean Mastiff. The Pyrenean Mastiff is a purebred shepherd dog that originates from Spain.
The Great Pyrenees was introduced to Europe in the 1600s, and nobody knows if the two lines crossed at any point. "Pyrenees" refers to a mountain range that straddles two countries (Spain and France), but the name alone is not a reliable historical marker for purebreds. Instead, experts believed that this dog originated from the ancient, broad-chested Mooser dogs introduced to what is now called Europe from Phoenicia.
Suffice to say that the Pyrenean Mastiff is also a large sheepdog breed that does not take kindly to strangers, either. It's slightly more open to accepting strangers, but on the whole, it will take down intruders, like the Great Pyrenees. Its coat is also easier to maintain than the Great Pyrenees.

Next on your reading list: