Is your dog peeing blood but acting normal? A dog peeing blood may be a sign of a more serious, underlying medical condition. Know the symptoms and understand how blood in dog urine can affect your dog's general health.
Can Dogs Pee Blood from Stress?
Dog blood in urine can be caused by stress, but only indirectly. Stress doesn't cause blood vessels to burst. However, too much stress can predispose a dog to develop UTI or a urinary tract infection. Unmediated stress can cause a dog's immune system to become less effective in fighting off possible infections.
Therefore, keeping your dog happy and relaxed can create a path to better health. Other possible causes of blood in the urine include canine diabetes, chronic or end-stage kidney disease, anatomical issues, and immunity problems.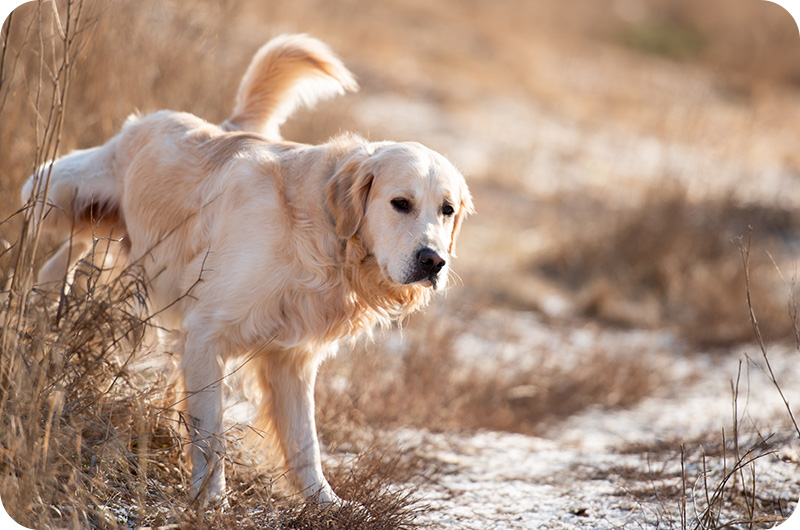 Do Dogs Pee Blood When in Heat?
If a dog has blood in its urine, it doesn't necessarily mean that it is doing so because it is in heat or estrus. Estrus/estrus is the cyclical ovulation of canines similar to the menstrual cycle of humans. However, blood in urine is not part of the checklist. Canine estrus will produce the following changes in behavior:
Some female dogs will become skittish or nervous during estrus.
Can become easily distracted while being hyperactive.
If there are male dogs in the vicinity, a female dog may initiate sexual interactions. These interactions include raising her posterior region in the presence of male dogs and performing sexual penetration. Remember that all these behavior changes are due to hormonal shifts, as dogs (like other animals) rely heavily on their instincts.
Upon penetration, you may notice some blood discharge from the vulva region of the female dog. As the receptiveness to the penetration increases, the blood eases and is replaced with a straw-colored liquid.
Keep in mind that vaginal blood discharge is different from blood in the urine. However, yes, urine may become tinged with red as blood from the vulva mixes with pee as the female dog urinates after sexual intercourse with a male dog.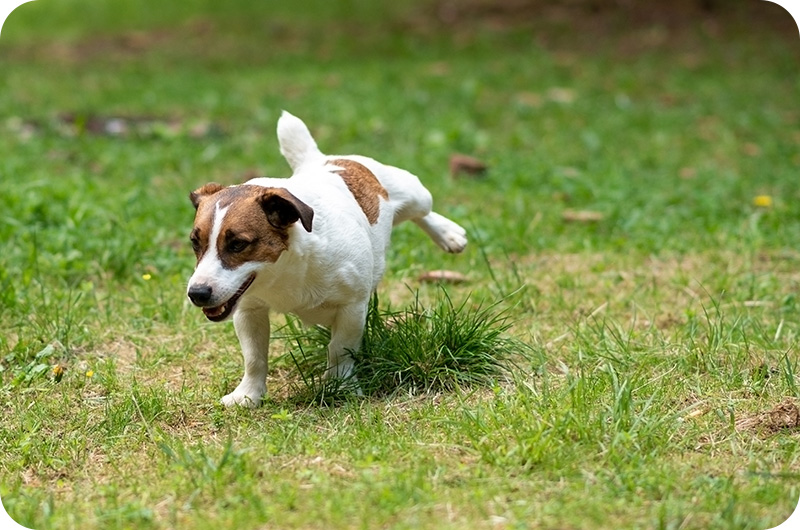 Is Dog Peeing Blood an Emergency?
Dog owners who see their pets suddenly urinating with blood often panic and rush their pets to the nearest pet clinic or animal hospital. While consulting with a clinic, hospital, or vet is a good practice, you shouldn't panic so much when your dog is already in the hands of a professional.
Hematuria takes place when blood is released at any point of a dog's urinary system. The system begins with the kidneys and runs to the point where the animal releases the urine. There can be issues that affect the bladder, the kidneys, or the ureter. The ureter is the tube that connects the bladder to the opening of the urethra.

In the majority of situations, a small amount of blood in urine is nothing to worry about. However, if you continue observing the same thing happening repeatedly, then there might be something wrong with your dog.
Other symptoms may accompany blood-tinged urine, as well:
Loss of appetite
Lethargic condition
Vomiting and nausea
Increased drinking
Urinating frequently and having accidents around the house
Urine leaking inappropriately
Abdominal pain
Licking and grooming of the urinary area
Low urine stream
Frequently urinating
Physical straining to urinate
Your vet may ask for several tests, including a full blood chemistry panel, urinalysis, culturing of your dog's urine, antibiotic testing, and so on. These tests must be carried out to rule out different conditions and determine the hematuria's root cause.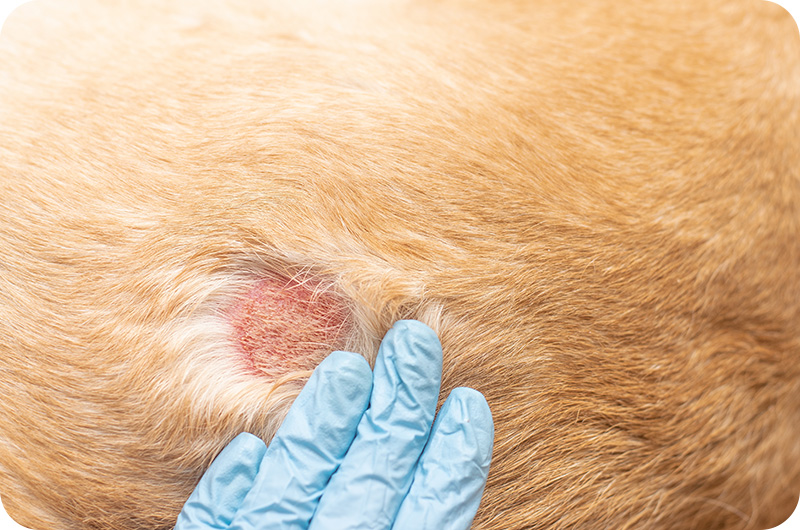 What Does It Mean If Your Dog's Pee Is Red?
There are many possible reasons why a dog would urinate with a bit of blood in the pee. The most common medical causes are listed below:
UTI or urinary tract infection. The most common cause of UTI in canines is still bacteria. The bacteria usually travel from the opening of the urethra and colonizes the tissue there, causing pain during urination.
UTI is a serious condition, albeit easy to resolve with antibiotics. Untreated UTI can travel upward and cause further complications in your dog's bladder and even kidneys.
Dogs can also suffer from uroliths. Uroliths are stones that can occur anywhere in the canine's urinary system. The condition is called urolithiasis. The composition of the uroliths can vary. They can comprise ammonium urate (the most common), cysteine, calcium oxalate, or magnesium ammonium phosphate. Getting your dog to drink regularly and pee regularly, too, is key to making sure that uroliths don't form anywhere in their urinary system.
Cystitis is a medical condition wherein the dog's bladder becomes inflamed. Dogs afflicted by cystitis may be seen squatting for an extended period, visibly strained while urinating. The dog will only produce a small quantity of fluid, and the fluid may be tinged with blood, too. This condition is not usually serious, but it can be uncomfortable or outright painful depending on the severity of the disease.
Blood-tinged urine in canines may also signal the possibility of urinary bladder cancer. The main organ affected by this disease is the bladder, too. The tumors grow on the inner lining of the bladder. When the tumors are scarred or ruptured, blood escapes and mixes with the urine.
Physical trauma that harms the kidneys can also produce reddish urine. There may be some bleeding in the kidneys, and the kidney dispels the blood and combines it with urine for removal.
Some dogs develop medical issues that prevent them from clotting blood properly. In physical trauma and blood flowing from any part of the dog's urinary system, the dog may end up peeing blood clots and urine. When no medical cause is found, veterinarians call the condition idiopathic renal hemorrhaging.

Next on your reading list: