The idea of bringing dogs and cats together in one space is already daunting. Popular culture has always enforced the idea that these two species cannot be brought together because all they will do is fight. So, is the idea of dogs and cats living together excessive, or not? We take a closer look at the dog's and cats' rules for homebound pets. Can dogs and cats' mate? They can't, but they can live together in harmony. Let's see if cats and dogs can get along in today's blog!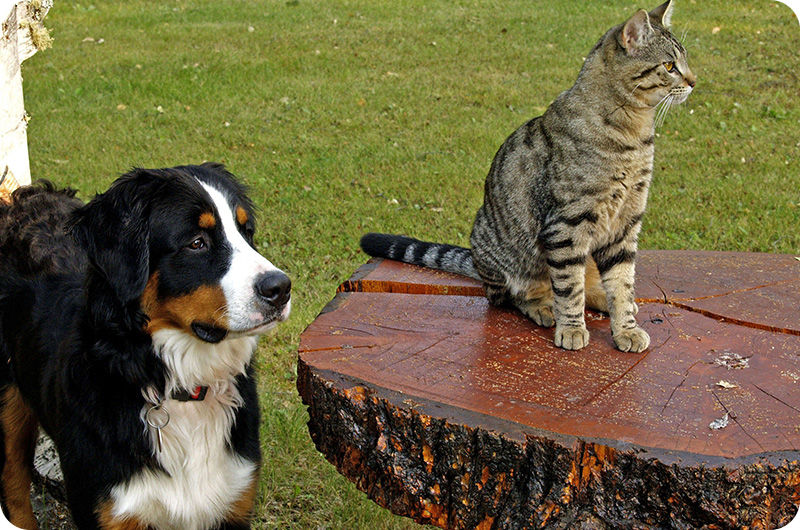 Can Dogs and Cats Live Together?
This is the big question! Can dogs and cats live harmoniously together? While the idea may seem far-fetched to the uninitiated, the answer is yes, and they can. Vets state that most cats will happily live with dogs and other pets as long as they are given sufficient time to acclimatize to the new members of the house.
Like humans, they must be given a period of adjustment to get to know their new companions better. This is why keeping cats and dogs from kitten-hood and puppyhood is great – because you have a higher chance of the two getting's along.  However, we know this isn't always the case. Not everyone gets puppies and kittens at once (imagine the work involved!).
On raising dogs and cats together: you must have discipline and mastery of both species at home as the owner. You must be able to condition and teach both dogs and cats at the same time. Your goal is to enable the two species to become friendly with one another. In the end, cats and dogs can be seen bonding with one another. They can nap and eat together, too. It is a beautiful sight when you finally spot dogs and cats bonding. This sight equates to success on your end as the owner.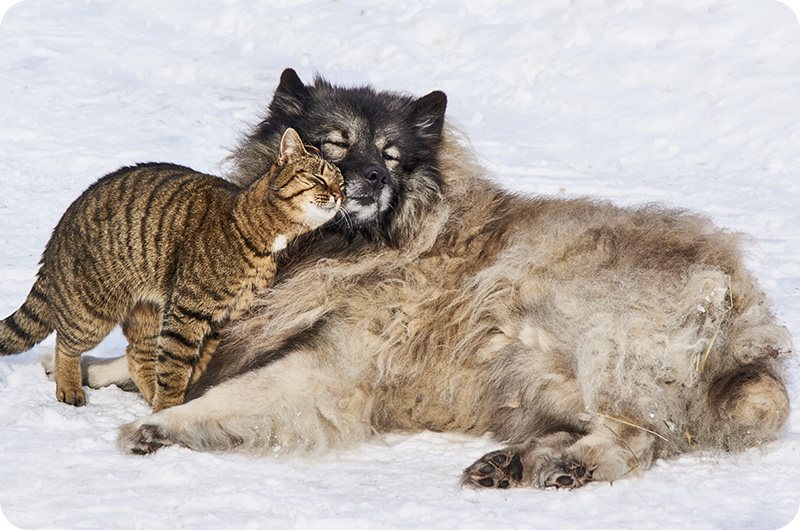 How to Manage Dogs and Cats in One Home?
There are several ways to facilitate the introduction and subsequent training of cats and dogs in a single space. The following can help in this regard:
The first step is physically introducing the dog and the cat. We recommend bringing the cat to the dog. Hold both pets and bring the cat near the dog. Remember that the cat has to be at eye level with the dog. Do not put the cat lower because dogs are generally bigger than cats, causing the cat to become defensive.
On the other hand, the dog might easily decide that it can assert dominance with this animal because it is smaller. Both scenarios can lead to a big fight. This is likely what happens when dogs and cats meet outside homes. One thinks that he's the boss, and the other thinks that the dog should go away.
Unless the two creatures have been conditioned well to get along with one another, we do not recommend alone time without any human involvement.
Look at their eyes and their body language. If you see any of the two still 'checking out' the other, then there is still friction, they are not friends, and they will probably fight when you leave the room. The presence of a human is a deterrent in this case because both pets know that you occupy a higher rank than them on the chain of command.
However, when the boss is away, they are going to try to outdo each other. When you return, you may seem like a pet with bite marks and scratches. This is never a good sign, and you can even end up with hefty vet bills in the end.
The age of both cats and dogs has an impact on how they react to other animals. Essentially, cats and dogs at the peak of sexual maturity or have just become sexually matured have higher tendencies to become aggressive and territorial with members of the same household – including humans.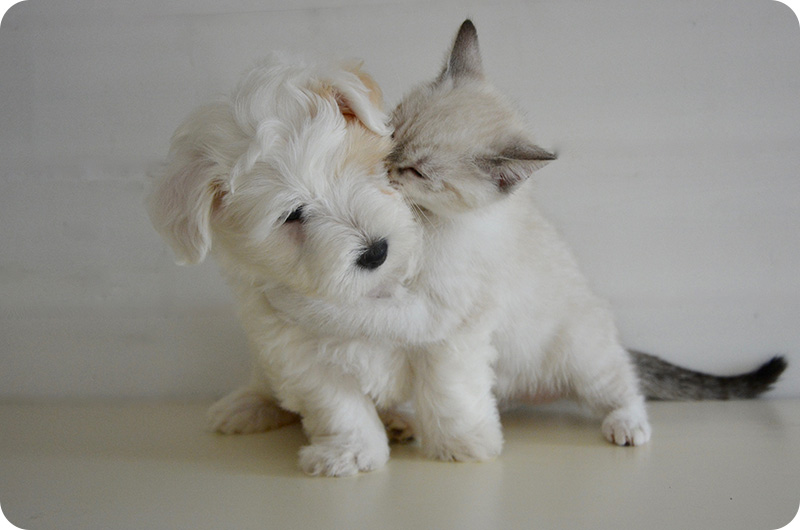 Movement often triggers both dogs and cats. You will notice in the beginning that they will be sensitive to the movements of the newcomer. This is why it's important to never leave non-socialized cats and dogs together in a room, as they may end up fighting and harming each other.
Dogs that have already been exposed or socialized with cats in puppyhood are more likely to get along with cats later in life. Remember that dogs have prey instinct, and they will go after smaller animals to fulfill the prey instinct. Your dog mustn't see cats as prey because that would make the situation very complicated back home.
According to vets, older homebound cats have milder hunting instincts and are less likely to attack new pets. This is an interesting point for those who are adopting older cats from shelters. These senior cats are likely indoor cats for far longer than three years, making them prime candidates for fast integration with a multi-pet home.
Cats and dogs behave a lot like humans when it comes to cohabitation. Let's say you have four dogs at home, and they are all fine and dandy with one another.
You introduce one adult cat, and the new cat is fine with three out of four dogs. The fourth dog, for some reason, drives your cat nuts. Is this normal behavior? Yes. Is there something wrong with the fourth dog or your cat?
It's possible that they may not get along because of certain behaviors. Closely monitor the pair to check why they oppose one another. Perhaps it has something to do with territoriality? What could be the problem in the first place? Only you would be able to tell, and perhaps your vet if things get out of hand.

Next on your reading list: