When a dog is suddenly aggressive to other dogs in the house, it can be quite distressing to owners. Why would a dog suddenly become violent in an otherwise peaceful house? Let's zoom in on the many explanations as to why this might be happening.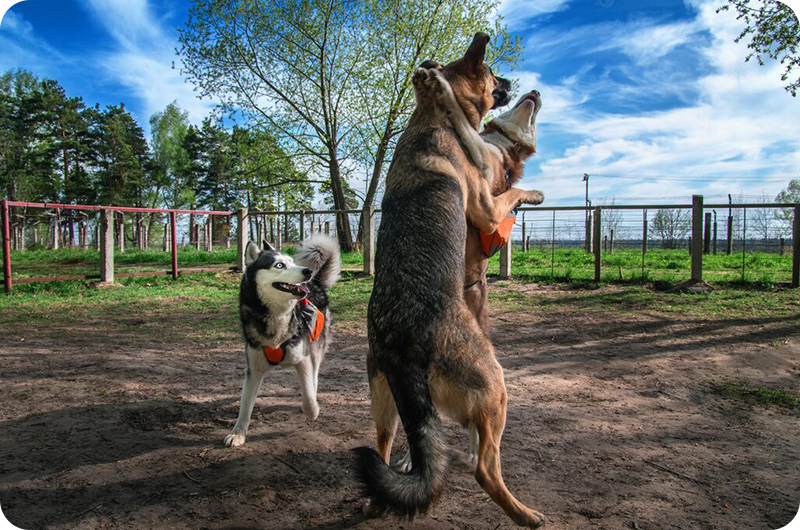 How Do I Stop My Dog Attacking My Other Dog?
If your dog is attacking another dog in your house, there are certain methods you can try to stop the aggression before it gets worse:
Do not physically punish your dogs. Pain and physical punishment may condition dogs – but in a bad way. We don't want to ingrain in dogs more violence. So don't strike your dog's when they are fighting. Additionally, the dogs may turn on you, and they can bite hard. This can be troublesome and risky if big working dogs are at home, as bite injuries can be quite severe. So, this is the first rule: don't physically punish your dogs if they fight.

When the two dogs break apart, try to separate them at once. Determine the aggressor between the two (or the dog that started the fight) and isolate the dog. This will ensure that the aggressive dog will no longer flare as the other dog is no longer in the vicinity. Separate the two dogs physically until you figure out what is causing the flare of aggression between them, especially if the two dogs used to get along well before.

Remember that dogs can still bite after the fight. Mentally, dogs are always prepared for both aggressive behavior and defensive behavior. Defensive behavior may result in running and hiding, but it may also mean that they are ready to bite at any time because of heightened aggression.

Make sure that you establish yourself as the alpha dog of the pack. Many owners forget to do this. Older dogs may not respect you. The younger dogs may think that you are a push-over because you love cuddling your dogs. Regardless of the dog's age, you must be the #1 at home – the undisputed leader of the pack.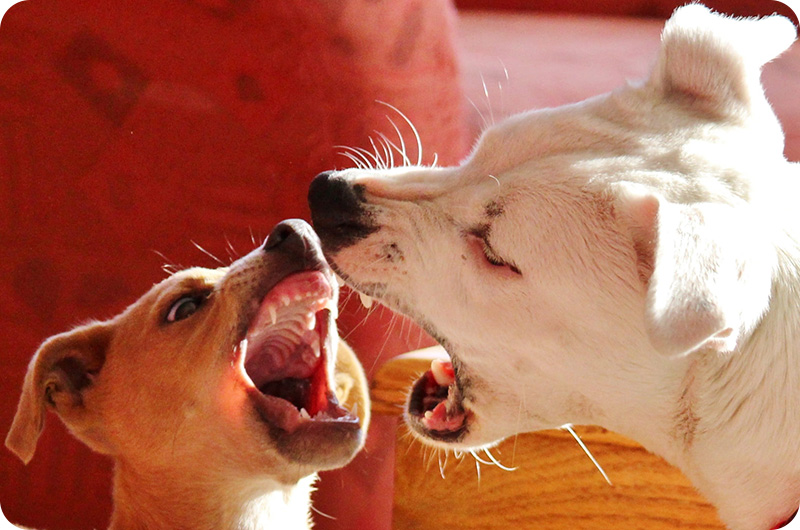 How Do I Get My Dogs to Stop Fighting in The Same House?
My dog attacked my other dog for no reason; what should I do? Apart from the isolation method mentioned earlier, there is no shortcut for treating aggression in dogs.
To understand better what is happening, we need to explain a few things. In dog packs, there are assertive or dominant dogs and subordinate or submissive dogs. Dominant dogs are viewed as superior, and they often get their way.
The non-assertive dogs (size doesn't matter here) are always viewed as weaker. Sometimes, the subordinate dogs will challenge the ones higher up in the pecking (biting order). This will cause the dog that has a higher 'rank' at home to fight back.

This is where things get tricky.
Dog owners don't like the idea of aggression due to the pecking orders. Everyone gets what they need, including food. However, dogs don't have this concept.
It's always competition, and if they are loyal to you, they would want to be superior and loyal at home. In a more free-range environment, dog fights will be minimal because dogs form their packs and easily avoid aggressive dogs and unwelcome dogs. They will avoid each other.
At home, it's different. They're required to be in the same space. So, if you keep running into the same trouble, the solution is to provide training. The most effective training for aggressive dogs is the "sit" and "calm" commands. Note that it has to be reward-based training.
Apart from verbal praise and touch, snacks can also be a good way to speed up the process of breaking aggression with a single command. Additionally, commanding dogs means you are at the top of the pack, and all of the dogs at home look up to you.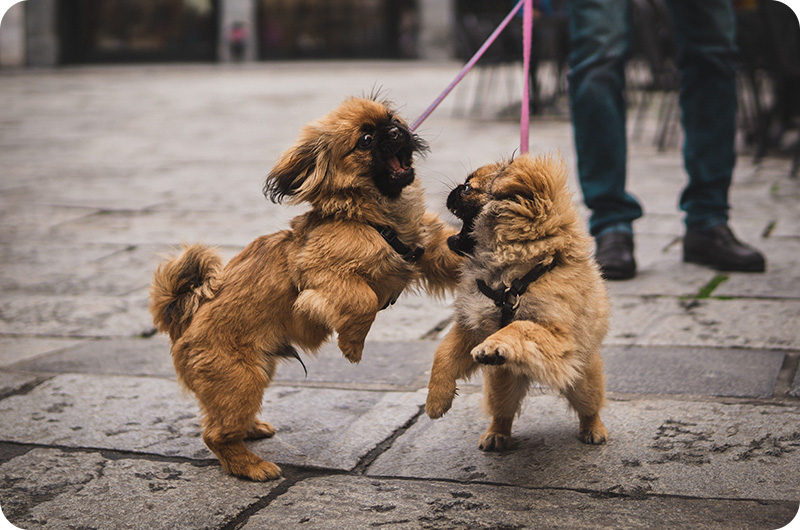 Why Does My Dog Keep Attacking My Other Dog for No Reason?
When a younger dog attacks an older dog, for instance, the problem is usually because the younger dog has not socialized well enough to accept the older dog. Older dogs can also suffer from seizures, and they may have tics and behaviors that younger dogs don't understand.
These unusual mannerisms, actions, and behaviors will cause fright in younger dogs. The result is predictable. Because the younger dog is afraid, it will attack the older dog to deal with the fright. That's how things work in the dog world.
When older dogs attack younger dogs, the issue may be territorial, or something called canine cognitive degeneration. Yes, dogs can suffer from similar conditions that afflict older humans. Cognitive disorders can cause older dogs to behave erratically, resulting in signals of threat and aggression. Younger dogs will readily respond to threats, especially if they have not been socialized properly at home. If an older dog doesn't let up with its aggression, then there is no other choice but to separate them.

Should I Intervene When My Dogs Fight?
Never get in the middle of dog fights! This is extremely risky. Remember the first rule of rescue: always make sure that the rescuer is safe.
You are essentially a rescuer in this situation, and if you get bitten, or worse, mauled by your dogs, then that's not a good situation at all. People have been killed by angry dogs before, and amid extreme aggression, this may happen to you, too.
How to calm an aggressive dog?
This depends on the situation, but the best way to calm an angry dog is by remaining calm and reading the dog's body language. Know the difference between anger and afraid, and you can solve the issue more quickly.

Next on your reading list: