Japanese dog breeds are known for being cute and cuddly breeds, with just the right personalities. Four dog breeds stand out: the Akita Inu, the Shiba Inu, Hokkaido Inu, and the Japanese Spitz.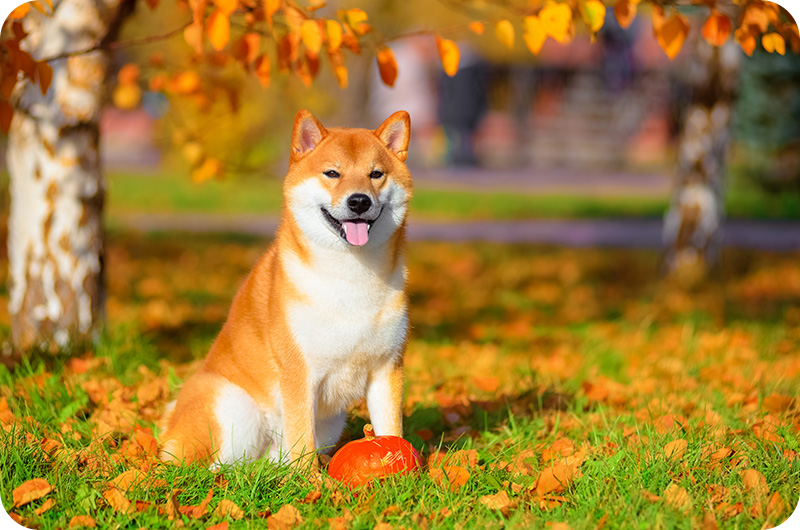 Akita Inu
If you know the legendary Hachiko, who has a statue in Shibuya, then you have already had a run-in with the Akita Inu dog breed. This breed is not common in Japanese cities. This dog breed is part of the spitzes family and is best suited for colder climes. It is equipped with a firm double coat.
The Akita Inu is known for having a bear-like profile and heavy bones. This dog breed has many color variations, from fawn, red, white to sesame. They can weight around 45 kilograms in adulthood (around 100 pounds) and rise to a height of 71 centimeters in adulthood (around 28 inches).

The Akita Inu is known for having a robust and dominant personality. They do not mix well with other dogs that come from the same sex.
Despite this, paradoxically, Akita Inus are ideal dogs to have around if you have children in the household. People love the Akita Inu because they can be naturally loving, but they can be aloof in other people's presence. But don't worry as long as owners are at home, the Akita Inu won't be insecure and can be welcoming of visitors all the same.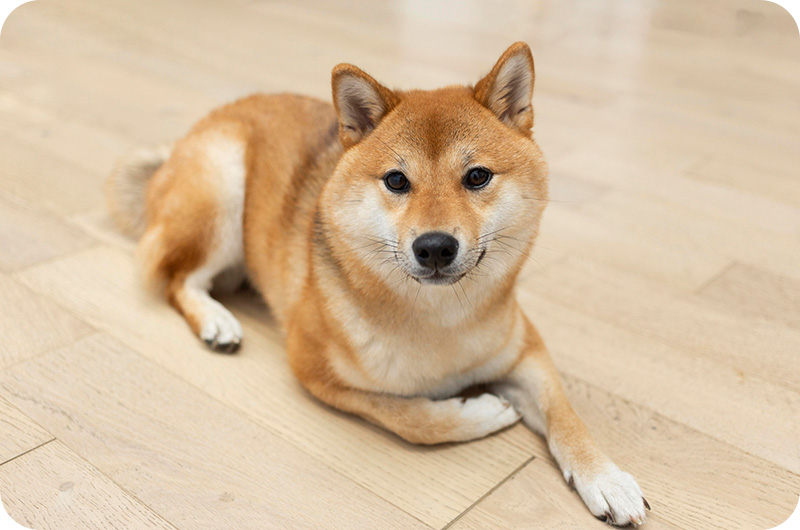 Shiba Inu
The black and tan Shiba Inu is almost unknown outside Japan, but it exists and stands side by side with the more popular orange and white Shiba Inu, the "doggo" of the meme world. Between the Akita vs. Shiba Inu, the Shiba Inu has a smaller stature than the Akita Inu.
This is the most well-known of the dog breeds featured in our rundown, and this dog breed is considered a national treasure by the Japanese. The Shiba Inu is also a spitz, like Akita Inu. Shiba Inus vary in size, and the smaller ones are popular with people who live smaller flats or apartments. These are called "bean-sized" Shiba Inus. The Shiba Inu has pointy ears and a short snout that is wedge-shaped, plus a curly tail.
The average Shiba Inu can weigh about 10 kilograms (about 22 pounds) and a height of 45 centimeters or 17 inches. Shiba Inus are a proud breed, but they are also territorial and fiercely independent. This dog breed needs to be socialized with people and other pets as early as possible. This dog breed is one of six of the original and native dog breeds in Japan. Despite being purebred, you may still find some of them in rescue shelters – so don't hesitate to adopt one.

The Shiba Inu also has a dominant personality and can be fiery. Don't worry as they can be very good-natured and alert. The Shiba Inu is also intelligent and pairs its nimble mind with the nimblest body as well.
The Japanese appreciate this breed because it is entirely focused on the family pack. The Shiba Inu can become devoted to all the family members as long as it is adequately socialized and understands its family position. It also needs regular exercise to maintain its physical and mental health.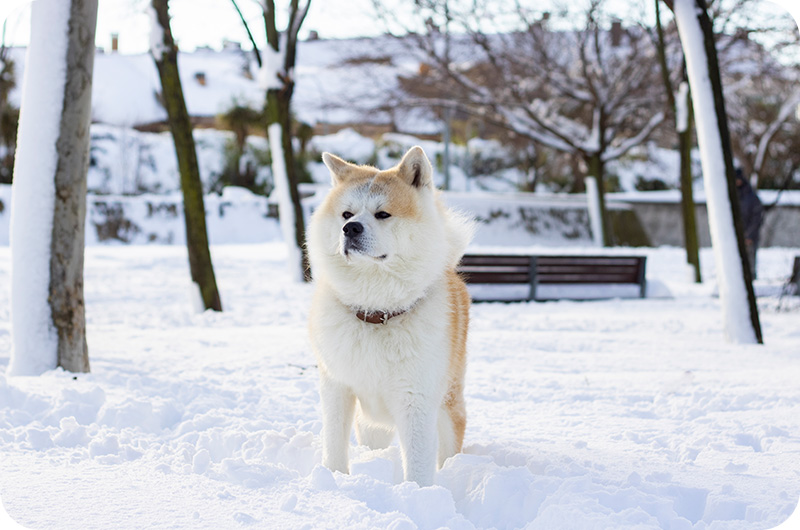 Hokkaido Inu
The Hokkaido dog or Hokkaido Inu hails from one of the older bloodlines in Japan. The Hokkaido Inu hails from the northernmost region of the country. The Hokkaido Inu has a thicker coat than the other native dog breeds; they also have smaller ears than the other breeds as a powerful adaptation to the cold.
The Hokkaido Inu has a strong personality paired with a natural intelligence that people love. This dog breed was traditionally used as hunting companions, and they are capable of tracking and even managing boars in the wild. They are so powerful that small bears are not a problem, as long as the Hokkaido Inu gains the upper hand during the hunt.

This being the case, it is common for the Hokkaido Inu to exhibit aggressive tendencies toward other dogs. Nonetheless, the Hokkaido Inu is fiercely loyal to all its owners, but they require lots of care and attention. Its alertness and readiness to work are paired with a need for lots of training, bonding, and socialization. The Hokkaido Inu is a devoted dog breed and is dignified and alert.
The Hokkaido Inu can occur in several colors, from sesame, brindle, white, red, black, and tan. This breed has a stronger prey drive than most dogs, but this will not be a problem if the owners have firm discipline and control. Hokkaido dogs are naturally alert and vigilant, and they tend to howl loudly when they are happy or excited about something.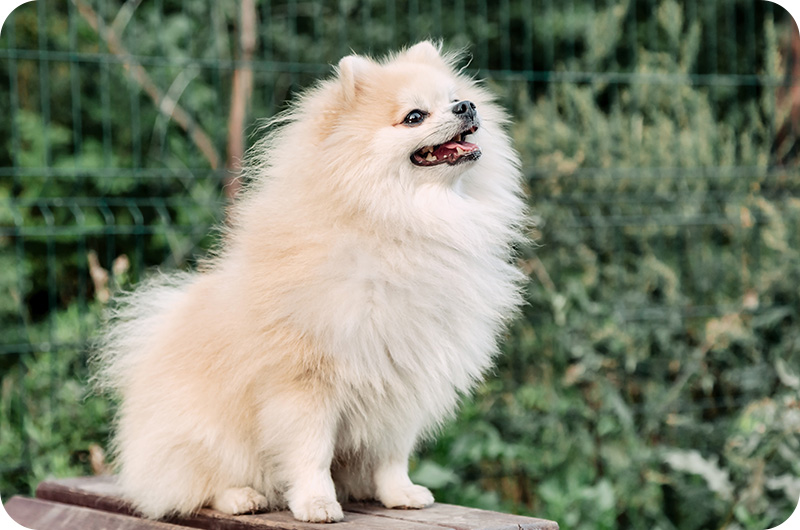 Japanese Spitz
The Japanese Spitz dog is probably the most well-known of the Japanese Spitz dog breeds. It is well-known for being a loyal companion and a true-blue member of the family. This dog breed shares physical characteristics with Pomeranians and the Eskimo dogs of the US. The Japanese Spitz is not yet acknowledged or recognized by the AKC, but other kennel associations worldwide recognize it.
The Japanese find the Japanese Spitz a most lovable breed because they are straightforward to train, and they are also low maintenance. They do fine with living in apartments but require regular exercise to maintain their basic needs for physical health. The Japanese Spitz dog breed is easily recognized because of its thick and sleek white fur.
Many people are appreciative of this breed because they are easy to train and relatively low maintenance. The Japanese Spitz can also be socialized so they can be a loyal companion to children. You never have to worry about small kids with the Japanese Spitz. Provide the minimum of care needed by this breed, and you have a keeper pet for life.

Next on your reading list: