These are the basic questions that cat owners want to know when they get into the groove of stocking new cat food. First-time cat owners are also iffy about buying larger bags of cat food or more cans or packets of wet food because they are worried about all the goodies becoming stale.
If you have the same anxieties about your cat food at home, today's your lucky day. We will explore how cat food eventually expires and how you can properly store your cat food at home.
Can Dry and Canned Cat Food Go Bad?
Yes, both dry cat food/kibble and canned cat food can go bad. The expiration date of cat food is usually six months after the production date. After this period, manufacturers tend to wash their hands of any responsibilities should you choose to continue feeding the cat food to your pet/s.
Should you leave the cat food in its original packaging for a long time, the preservatives and other compounds in the cat food will not protect the cat food from degrading into an inedible substance over time. The dry kibble will eventually disintegrate.
Some websites will advise pet owners that they should freeze leftover kibble. However, freezing will likely produce mixed results, and it's not going to be a good idea in general unless you can vacuum-pack the leftover food very tightly so that there's no air and little chance that ice crystals will form in the kibble and ruin it.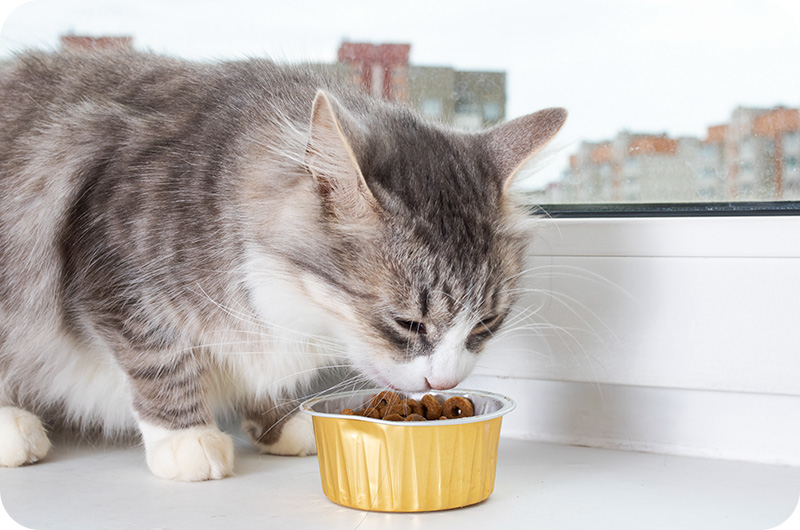 Can you freeze dry cat food?
While it may seem plausible, experts do not recommend story kibble or dry cat food at all. There's a reason why this type of food isn't frozen and just kept in tightly sealed bags. The biggest enemy of kibble is moisture and freezing the food will introduce crystals into the food.
Upon thawing, the food will become moist and will spoil faster. So, if you are thinking of transferring all that extra kibble you have at home into containers for freezing, don't.
Leave your kibble in their original packaging materials and just let them be. Follow the manufacturer's instructions on storing your dried food and canned food, and you should be good.

How Can You Tell If Cat Food Is Bad?
How to know if dry cat food is spoiled? There are several signs that dry cat food has gone bad. The first indicator is visual – check the dry food for signs of moistness and spoilage. The standard yellow, light brown, or dark brown colors of kibble will change over time as the kibble absorbs moisture and the moisture kick-starts the growth of bacteria or molds.
Kibble is produced with intense heat – more than enough to kill bacteria and any lurking spores that can make the kibble bad during storage. However, once it is open, it becomes a fair target for molds and the bacteria that lingers on fingers and palms. Also, let's remember what kibble is made of – vegetable matter and animal proteins (different kinds).
If the cat food passes the visual test, the next step is to smell the food. Viable cat food would smell fresh and pleasant – just bits of odors from the ingredients. However, suppose you smell something rotten, sour, or otherwise bad. In that case, it's possible that the cat food is currently undergoing decay, and you should probably throw away the entire batch as it can cause a problem if you continue to feed it to your pet.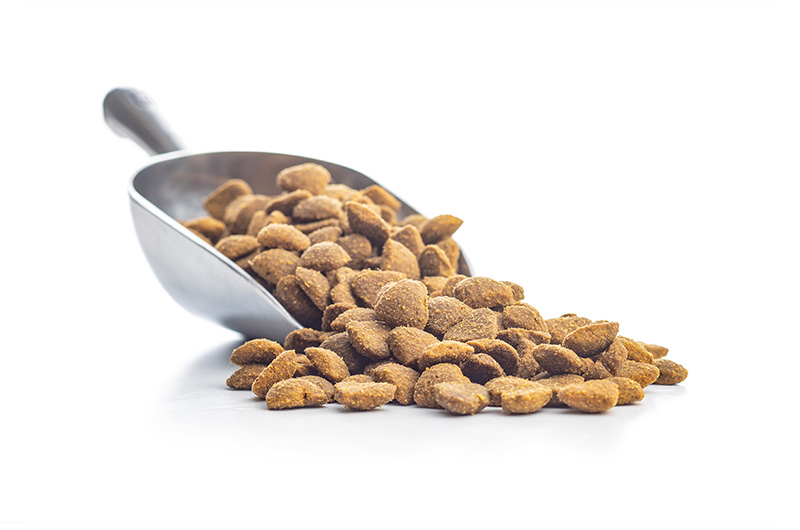 How Long Is Cat Food Good for After opening?
Discard canned food after four hours, and any leftover can be refrigerated for a few more days. Anything that is over a week old, even in the refrigerator, should not be given to your cats. Canned food can be frozen and can be kept indefinitely. Thaw the food first, or warm it, and then it cools it down, so your cat doesn't burn its tongue on the food. Cat food survives better at room temperature that does not exceed 50°F or ten °C.
The refrigerated temperature should reach at least 40°F or 4.4°C. The refrigeration standards for cooked human food also apply to cooked cat food, which is what canned cat food is if you think about it. The only difference is that cat food comes ready to consume, while canned food for humans has to be prepared a little, so it tastes better on the plate.

The ideal setup is to discard all unconsumed food in your cat's bowl after a day and replace it with a fresh batch. Whether dry or not, Days-old food is bad news and is likely already harboring pathogens that cause disease. This applies most especially to food bowls placed outside the home or if you live in a home with several animals in tow.
The freshness of the food is very important to cat health (and dog health, too), so you mustn't top stale food with fresh food. Washing the bowl is also a good idea. Stainless steel and aluminum bowls are less likely to harbor bacteria. Plastic bowls may be scratched over time, creating crevices where bits of spoiled food can enter and cause problems.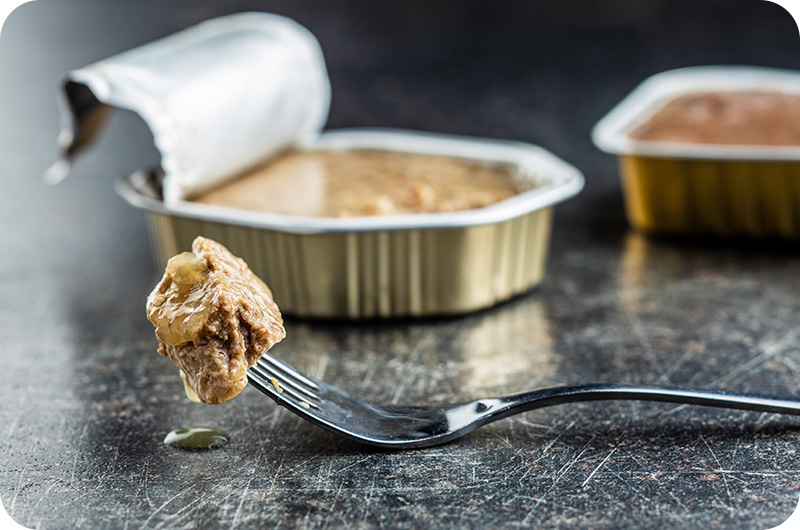 How to store dry cat food
The best environment for dry cat food is also a dry environment. A moist environment marked by high humidity will almost always cause faster spoilage. This is why dry cat food tends to degrade faster in tropical countries or hotter states with lots of humidity. On the one hand, if you live in a hot environment with low humidity, the heat is good for the kibble as it will keep the kibble dry.
Seal an open bag of cat kibble as tightly as you can to reduce the chances of contamination, too.
Next on your reading list: