The dog cone or the Elizabethan collar is one of the most disliked tools in veterinary practice because of some pop culture connotations. However, it's essential to understand that it serves a good purpose, one that cannot be ignored, especially after your dog undergoes any surgical procedure.
Can A Dog Wear a Cone in a Crate?
The answer is a conditional yes, simply because there are factors that affect the effectiveness of the E-collar or the Elizabethan collar on your dog when your pet needs to be crated. For example, if the crate is big enough for your dog to turn a little and settle down as it would when it is not in a crate, then yes, you can use the E-collar on your dog.
If not, and your dog has a surgical site that is still fresh, you must get a giant crate, especially if you are planning to travel for a few hours. A small, cramped space can cause severe discomfort to a dog that has just had surgery, and this is something that we'd like to avoid because we want the canine to be as comfortable as possible.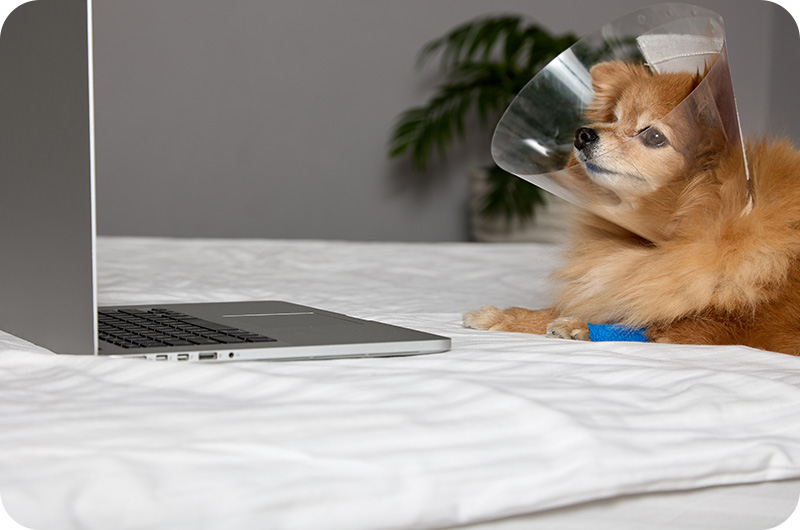 The Elizabethan collar or E-collar is one of the most hated veterinary tools because it has a negative connotation. It is also commonly called the "cone of shame" on social media.
In reality, the E-collar or the "lampshade cone" is a critical implement that prevents dogs and cats from biting and licking areas that need to be kept safe from such intrusions. E-collars are also used in clinics when the pet patient is uncooperative, and there is a risk of biting the vet staff.
Some forty years ago, vets didn't have access to the commercial E-collars sold on Amazon now. Instead, they had to fashion the Elizabethan collars from used x-ray film, and they fashioned the neck cushion and the binding mechanism with ordinary tape.
What made commercial E-collars more viable is the shift from having pets in the backyard to having dogs and cats living exclusively indoors. However, there is the common problem of pets being like crazy bulls in a shop full of porcelain.
When pets get the "zoomies," they can easily knock over expensive things, and the house can end up a mess in the process. It becomes more problematic when an already active dog has an E-collar on. There are some alternatives to the E-collar that you may consider if you are interested in shifting to something that looks better:
Pillow collars– Pillow collars have the same function as the plastic E-collar, but they look slightly better on dogs and cats, and they're more comfortable to wear because they are essentially neck pillows. Some models are also collapsible.
Cloth cones– Built in the same design as plastic E-collars, cloth collars also provide some aesthetic benefits and prevent pets from turning and reaching surgical sites.
Donuts – These are probably the most comfortable among the choices for commercial alternatives to the Elizabethan collar. However, the problem with donuts is if they are not fitted properly, the dogs can still reach problem sites, and you could wake up to a bleeding suture in the morning if you happened to have bought the wrong size.

Should Dogs Wear Cones While Sleeping?
Yes. If your vet placed a cone on your dog with instructions on how long the cone should stay on, you should not remove it within that period. There is a big chance that your dog would wake up in the middle of the night because of some irritation, and dogs respond to licking, biting, and scratching to almost anything that causes them discomfort.
While dogs can still scratch at a site, biting and licking will cause a lot of damage to a surgical site.
While uncomfortable, dogs will still be able to sleep with the E-collar on, and it will take a couple of days before they become fully accustomed to it. While it seems uncomfortable, you must follow your vet's instructions at all times about the collar.
Another method would be to buy an alternative to the E-collar, as we have outlined earlier, but you must communicate with your vet, too. Not all commercial options to the plastic collar work, and your priority is to keep your pet healthy. And if that means your pet has to wear a collar for a week or two weeks, then we have to do that.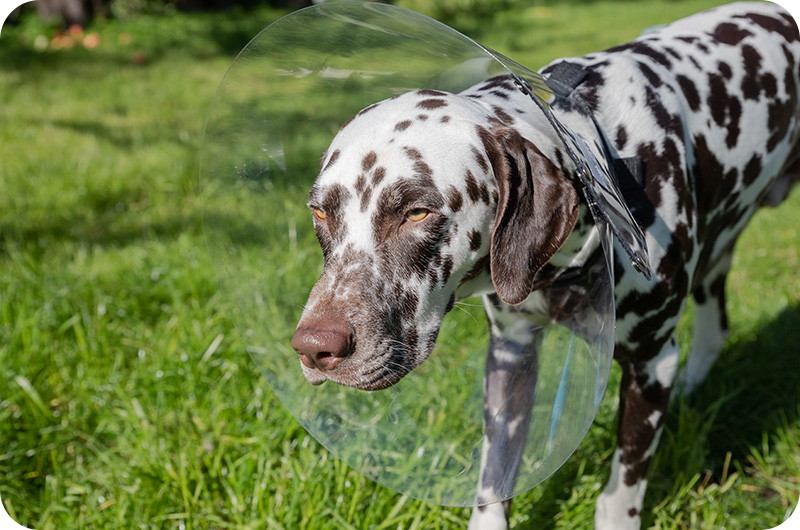 How Do You Crate a Dog with a Cone?
Crate a dog with a cone as you would any dog. The first consideration would be the size of the crate. If the crate is too small for your dog plus the cone, then there's no way you would be able to crate your pet comfortably.
Your only choice would be to travel with your dog inside the vehicle, or you can buy a giant crate. If there is sufficient space inside and the dog has a reasonable amount of room to move even with the E-collar on, then you are good to go.

Do Cones Make Dogs Depressed?
There are many viewpoints about the use of dog cones. However, if we take the complete view of veterinary practice, the benefits of using dog cones post-surgery far outweigh any disadvantages or risks. Since post-surgery is already problematic and surgery is naturally traumatic because of the pain, medication, and recovery period, vets have to take into account the shortening of the healing period.
Severe changes can make dogs depressed, and changes like having a dog cone for weeks can cause depression.
As a pet owner, you have to make your dog feel better during this period. One of the easiest ways to achieve this is by rewarding your dog now and then and increasing socializing or bonding time.
Dogs are highly social pack animals, and now more than ever, your dog needs help from you—simple things like having your dog nearby when eating can boost your dog's psychological profile and mood.
Sadly, your dog's depression is not a sufficient reason to avoid putting on the cone, as licking can significantly prolong the healing process.
Next on your reading list: