Nothing says, "I love cats" more than Amazon cat toys, especially if you've invested some time into researching the best ones. A fish cat toy is something that your cat will greatly appreciate as it is out of the ordinary, and it breaks the boredom so well. A cat kicker fish toy can easily turn a bored cat into a joyous and active one.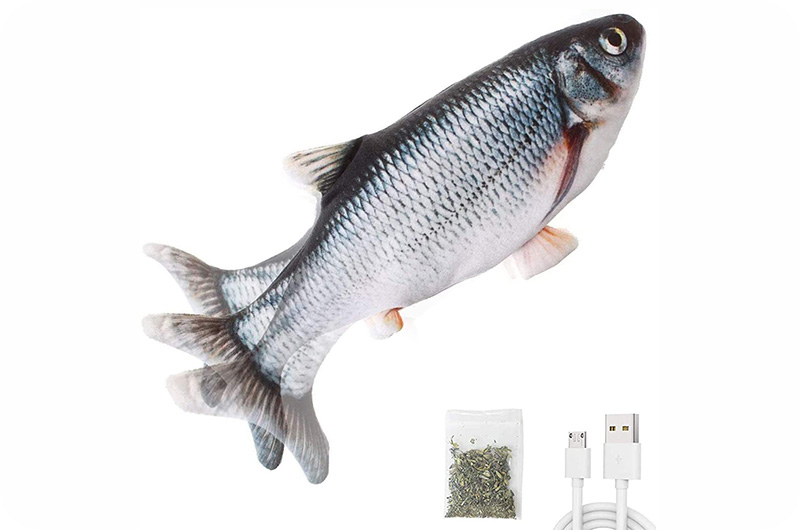 No other cat toy can be more interesting than a kicker toy or a flopping fish cat toy. It has a look, feels, and movement that stimulates cats to no one. Potarama's flopping cat toy is guided by an automatic touch sensor that makes it move whenever it is touched or moved, too.
This is an automatic teaser toy that will keep your cat entertained for hours at a time. The manufacturer of this toy has worked hard to bring the most realistic fish movement possible for the price. The toy is naturally eye-catching and ensures that your cat is always alert and attentive during play. It can be challenging to keep cats entertained without the right toys.
Sometimes, you're just flat out tired from working, and you may not have the energy for some physical playtime for an hour or two. Not to worry. This toy will take care of all the physical aspects of play for you.

Additionally, it is an ideal toy to give your pet when you need to go to work, so your cat doesn't get too lonely at home when you are away. Boredom alleviation is so important if you want to control your cat's behavior.
If you have been noticing an increased frequency of acting out lately, it's possible that your cat is just bored. Cats need lots of stimulation to avoid getting too bored. Your cat's mental health is at stake here. The toy also has a secret catnip pouch to make the deal evens sweeter. The toy can be charged with a regular USB cable.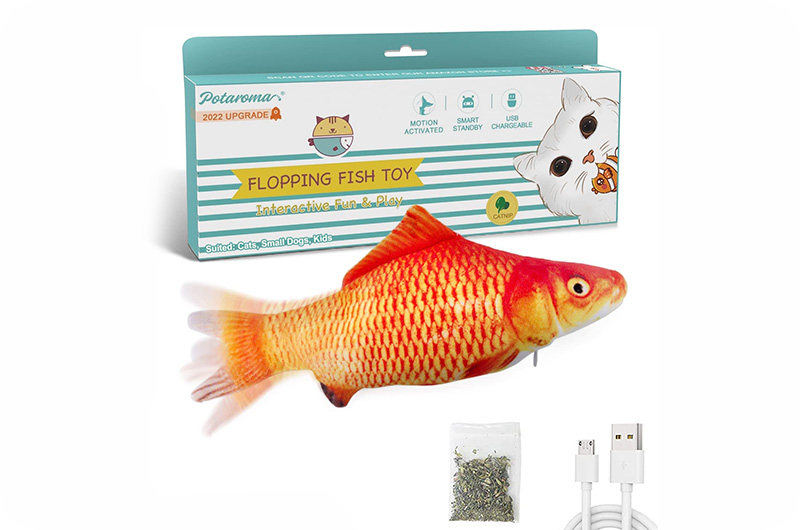 Designed as a huge goldfish or koi, this 10.5" Potarama cat kicker is one of the biggest kicker toys we've seen so far. It's huge! These fish wiggles, flop, and kicks like the real deal. It also has a durable catnip section to add some catnip and leave your cat when you need to go out to work.
 Like the previous toy, this fish has an efficient motion and touch sensor that responds to stimulation from the outside. What makes this type of toy so effective is that it triggers the natural hunting instinct of kitties.
The machine inside is surrounded by a durable cotton plush layer that is non-toxic and safe for cats. The catnip isn't just for the momentary buzz – studies show that catnip can improve a bored cat's mood and alleviate stress. Indoor cats are prone to stress, and there are tons of stories from cat owners that the stress has to be dealt with fast if you don't want your cats to act out.

The toy works better if there is a scent to it, so add a little catnip before activating the toy. The toy comes with a USB cable that you can use to charge the device. Flick the switch, and the toy will activate. The fish will begin to flop as your cat touches and moves it.
When charging the toy, the red LED indicator light will turn on. Once the battery is ready, the light will switch off automatically. The manufacturer has also included a small fresh catnip pack that you can place in the fish's belly. After use, wash the cover of the toy. Remove the device from the belly area before washing.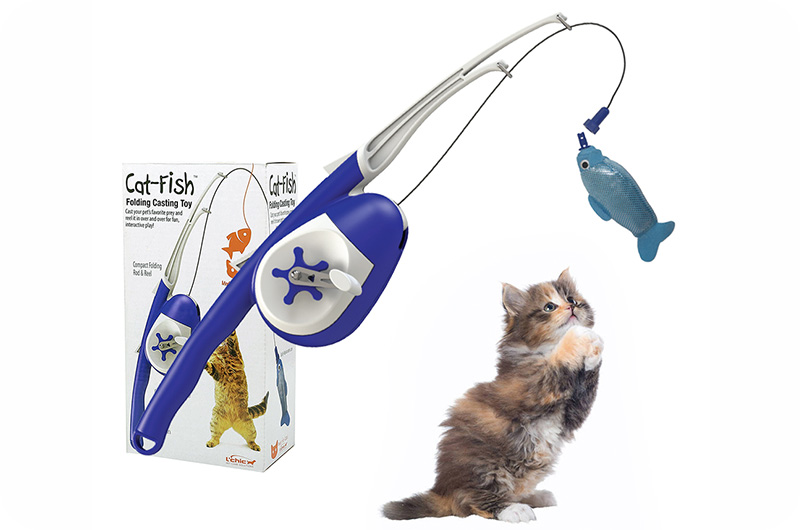 Manual teaser toys are great for active play. This one from Yoyipet allows you to enjoy "a real fishing experience" while your pet goes mad with joy as it tries to catch the fish. "Catfishing" gains a new definition when you play using this reel. The toy comes with two meters of cord and a fish lure. The fish lure can be removed from the top of the cord by simply unscrewing the end. As of this writing, the store is also offering additional lures to add more fun to your play at a lower cost.
We encourage pet owners to use toys like this one because they are best suited for physical play. The fishing rod is foldable for easier storage, and the cord they've added to the rod is super durable and fit for long hours and days of play.
The winding mechanism is also durable, and it won't break on you while releasing the lure to the cat; despite the length of the fishing rod, this toy will be easy to store, and you can stow it like your other cat toys, so they don't clutter your living room.

Customer reviews show that buyers are generally happy with the Yoyipet brand of cat teasers. One customer said that her kids love using this teaser toy. The buyer said that the toy is super easy to use, and it's still working, which means despite repeated usage of kids, the plastic doesn't bow or break quickly.
Can toddlers use it? We think so. Parents normally buy this type of toy because they want their kids to interact with cats safely.
As cats tend to nip and scratch, there's a huge problem when kids play with cats with their hands. You never know what might happen, so using toys like this one is a good option.
Another customer said that the casting and reeling functions of the toy also work perfectly. This is a bonus for cats as they can chase after the lure over a longer distance.
Next on your reading list: