Hearing cats fighting can be incredibly stressful. As a feline owner, you're probably concerned about cats fighting suddenly. Why are my cats fighting? We're going to find out today if your cats are fighting or playing.
What's the Reason Cats Start Fighting?
The most common reason for cats fighting is territory. Like dogs, cats are highly territorial, and they prowl the grounds that they consider theirs. They might share this territory with you and the family, but it's a completely different thing altogether when other cats are involved.
With being territorial comes the need to defend that space that has been claimed. Cats claim territory in various ways, and one of the most common ways they do it is by marking their territory with urine.
In an alternate situation, feral cats or neighborhood cats may think that your cat shouldn't be marking and playing in a particular area. Your cat may inadvertently encroach on an area that has been claimed by one or more feral cats. Should the feral cats be there, expect that some commotion would occur if both territorial felines came within striking distance.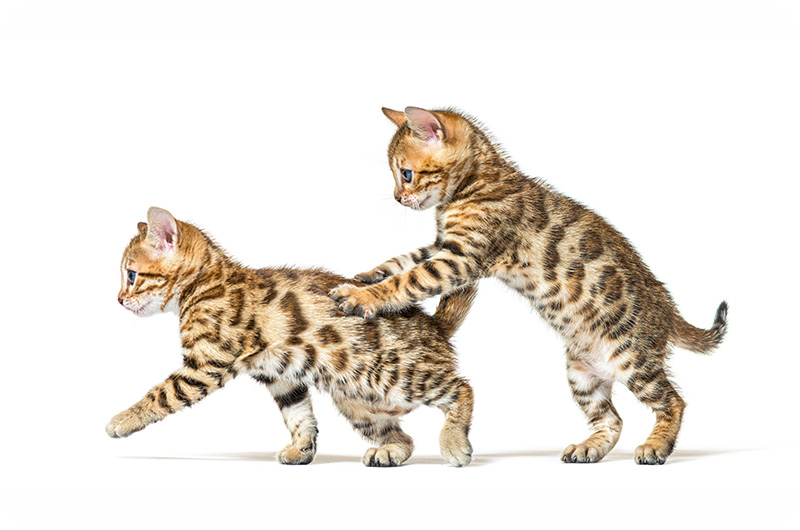 What Is the Reason Behind Cat Fights?
As explained earlier, cats can fight because of territory. Your cat will defend your home from other cats and the adjacent property. If your cat roams at night (as all cats do, if given the opportunity), it will eventually cross areas that are also defended by other feral cats.
There may also be a chance that your cat will get into fights outside your home as well. Should you be worried? Unless your cad has disabilities and has not gotten its shots, you probably shouldn't be worried. Cats rarely fight to the death. Catfights are more of power exhibits, where one cat asserts its dominance by duking it out with the other cat.
They won't do it until one is dying. Cats break away from fights as swiftly as they enter them, and when they feel that they have already been overpowered, they will try to escape as quickly as they can to survive.

But you might be wondering: why do cats from the same household fight, too?
What's interesting in cats is their marking and territorial instincts do not dissipate even when they are housebound and living with other cats. They might tolerate other cats because they are used to their presence, but when one cat feels that his territory is being crossed too much, it will lash out against the offending cat.
So, when you see your cats fighting and socking each other while wailing or vocalizing, they are fixing their hierarchy and establishing basically who is boss (for that moment, at least).
Another possible reason is natural aggression. You will notice that toms or male cats get into more fights than female cats. Toms will also exhibit behavior consistent with asserting dominance with queens. It's rarely a good idea to have male and female cats in the same home unless both have been 'fixed' (or neutered and spayed).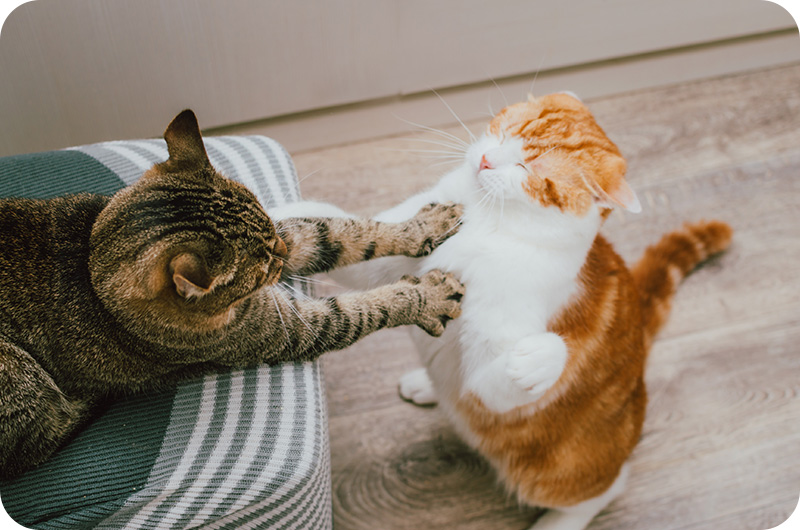 Toms that have not been neutered will also be extra aggressive during mating season, and they may act out by being aggressive with your furniture and even you. The downsides of not having your cats fixed are too many, and unless you are dedicated to raising multiple litters per year, your females should not be able to conceive.
The third possible reason is that your cats want to try roughhousing. The tendency to dissipate energy through rough play is present in many species, including humans. Roughhousing among brother and sister cats is mostly harmless, but you may disapprove of it, and it may worry you because they're pouncing and hitting one another.
Cats also tend to pick fights with strange cats for no good reason. This probably has something to do with a lack of familiarity. Instead of allowing the strange cat to pass by your cat may think that it is a better idea to assail it and pick a fight – just because it wants to.
If your cats are fighting at the moment, either with each or other cats, we do not recommend that you get in the middle of the fighting. It is never a good idea to try to break up catfights. You may get injured in the process. One or both cats may end up lashing out at you. Cats are known for going for the face (especially the eyes) when they lash out with their sharp claws. Trust us; you don't want to be in that kind of situation.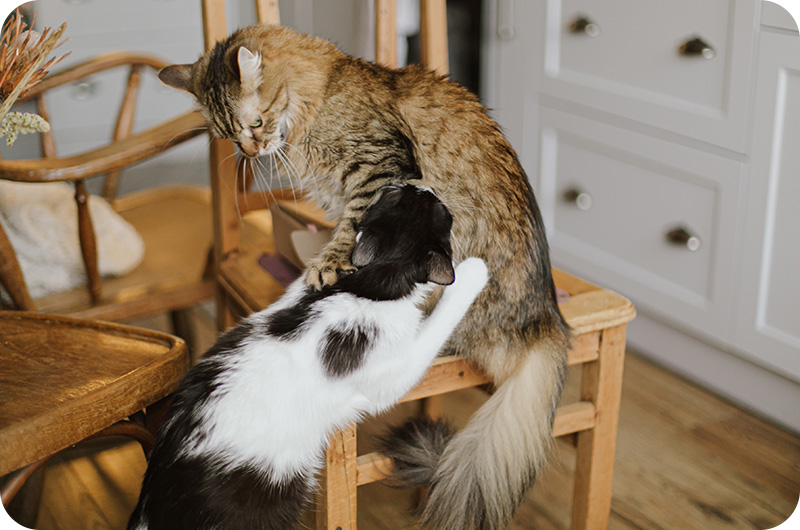 If you are dealing with your sweet felines inside, the best way to approach a catfight is by distracting them. Perhaps you can get a toy or a rattle and present the toys to them. Cats can be easily distracted anyway. A toy is much more appealing than pouncing a house cat.
Should you punish or hit fighting cats? Never. If you hit an adult feral cat, the feral cat may chase after you, so there's a huge risk of injury. If you hit your cat, that would be sending the wrong kind of message. We only want to use positive reinforcement when we are dealing with our pets.
What should you do when a cat targets your cat whenever it is outdoors?
This can happen, especially when there are feral cats in the neighborhood. Older and bigger feral cats are known for attacking gentler and milder-mannered homebound cats. It would help if you ingrained in the feral cat that it is not good to bully your cat. You can probably call animal control if you think that the cat has no owner. If the cat belongs to someone, you must contact the cat's owner/s so they can do something about it.

Next on your reading list: