In the battle of cat food tuna vs. human tuna, who will win? Cat owners often ask, "can I mix tuna with cat food?" Homemade cat food is preferable for many cat owners, but how effective are these for maintaining your cat's health? Let's find out in today's definitive cat food blog.
Is Cat Food the Same as Tuna?
In a nutshell, cat food is never identical or the same as tuna made for humans. You can provide tuna to your cat every once in a while, but it's not the best diet for your cat, and it won't give all the nutrients that your cat needs. This is just something that cat owners have to remember – you can't take human food and provide it to your pet and assume that it's complete nutrition.
We are not saying that human tuna does not provide protein. It does. However, when tuna is soaked in salt water or oil, the fish's composition changes, and it's meant for human consumption, not feline consumption. The downside of giving cats tuna is that they can be addicted because it's high-quality fish.
However, it doesn't have the right ratio of vitamins and minerals that cats need to stay healthy. A cat would have to eat many tunas to get essential nutrients necessary for strong bones and a nice coat. The food that cats need the most must be formulated for either development (for kittens) or adult cats' maintenance.   
How Much Is Tuna Safe for Cats?
There is not much literature involving the consumption of tuna by cats. However, it has been established for many years now that tuna has mercury and feeding tuna to cats exposes them to heavy metals and Microplastics found in fish. Only 25% of cat food is made from tuna, and the rest are made of chicken and other terrestrial animals.
Until scientists can provide a good amount of data about mercury poisoning and tuna consumption of small animals, it would be best to limit your cat's consumption of human tuna to the barest minimum. Cats will jump for tuna because it's fish, but at the same time, we don't know exactly how safe human tuna is for cats.
If you think your cat has suffered from mercury poisoning, your best option would be to consult with your vet. Some of the symptoms of heavy metal poisoning – mercury poisoning is loss of physical balance, walking difficulties, etc.
Mercury toxicity is uncommon but not entirely outside the realm of possibility, especially if you feed your cat tuna and other canned human food products with fish as the main ingredient.
If you need to give your cat some tuna because you want it to enjoy a treat, avoid albacore tuna because it has the highest recorded mercury level among all the different kinds of tuna.

Can Tuna Kill a Cat?
Is tuna bad for cats? The idea of giving human food to cats has bad news written all over it. This includes giving cats tuna that was meant for human consumption and not feline consumption. Tuna won't kill your cat outright, but over time it can cause gaps in your cat's diet that cannot be remedied immediately. As the cat owner, we recommend that you set a good foundation for your cat's diet so that it will suffer from fewer nutrition-related issues later on.
Should you want to feed your cat some tunas, please don't overdo it, and offer only a small quantity, like half a can, and don't do it every day. Tuna that is soaked in oil is also bad news for cats because the pancreas of cats can't take that much fat at all.
Giving cats oily table scraps is a ticket to pancreatitis complications. Both cats and dogs don't do very well when given fats of all kinds, so keep this in mind when you're determining what types of treats you want to give to your pets.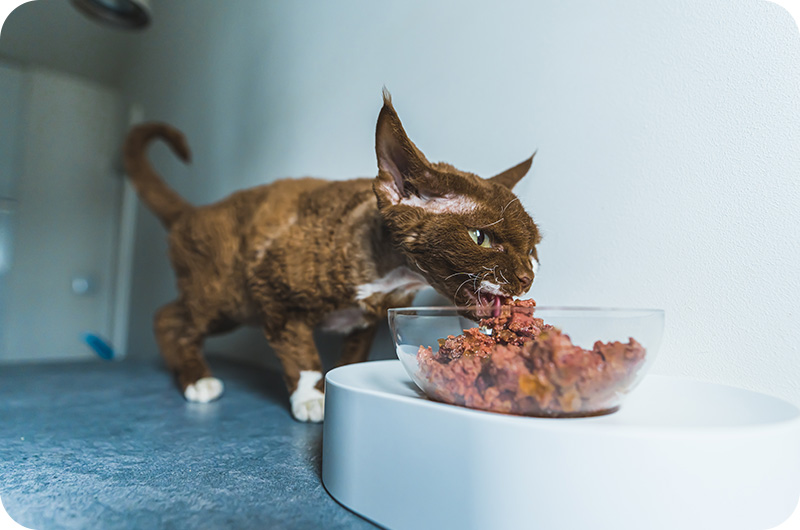 If there is confusion about the use of tuna in cat food, it's true that some manufacturers still use tuna. However, they only use the types of tuna with a much lower residue of heavy metals overall. So, cats still absorb some heavy metals from tuna-based cat food, but not so much if consuming human tuna. Some additional information – the tuna used in cat food production is not the same as what is used in human tuna. The list below should enlighten you as to how they use fish in cat food:
Dark muscle – This is the part of the tuna that has an abundance of blood vessels. This is the most common part of the fish that is preferred for making all sorts of canned meat, including the meat used for processed cat food made of fish.
From fish protein – This is one method of grinding and processing tuna meat to become more stable if made into another product. This is an industrial product that ensures that cat food doesn't spoil easily, and the resulting protein can be used in a variety of products, not just cat food.
Tuna byproducts – The other parts of tuna that are not commercially sought-after are considered low-value parts. They are eventually turned into products like fertilizers and, yes, cat food.
But don't distress – while it is true that they will use byproducts to create cat food, cat food manufacturers add more ingredients to the cat food to make it more palatable and nutritious for cats.
On its own, tuna does not contain 100% of the nutrients needed for the healthy development or maintenance of cats and kittens. We can say that tuna only forms a portion of the foundation of healthy nutrition for cats.
Next on your reading list: