Simple robotic cat toys can make your cats' lives that much more interesting and happier. Think about it: these toys are automatic, they're always moving (as long as they have power), and they have that element of being irregular in how they interact, much like real animals or creatures.
We've rounded up some awesome robotic cat toys that your pets will love this coming 2021. Buy some during the holidays and add that element of love to playtime during the Yuletide season! Let automated cat toys save you time while bonding with your cats, too.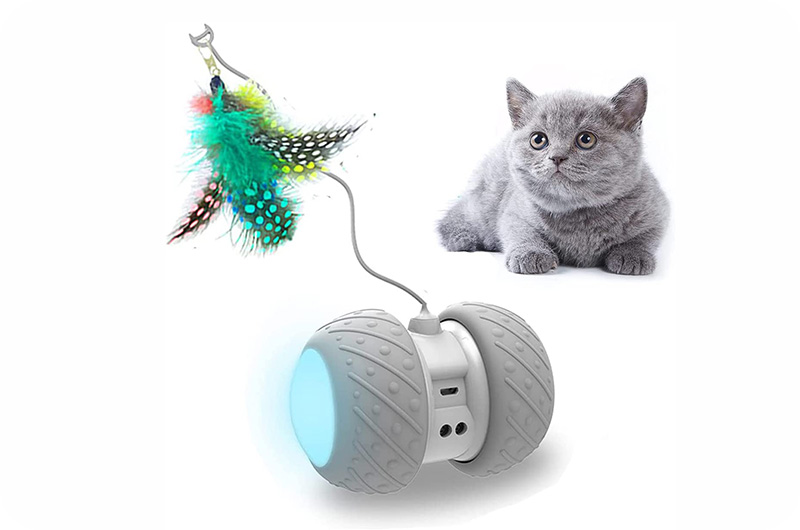 The PetDroid Robot Cat Toy is a feature-filled robotic toy that fully stimulates and plays with your cat all day long. It is a rolling interactive robot capable of 360° of motion and movement across different floor types. The main job of this rolling robot is to mimic human movement when holding a feather wand.
The robot is equipped with two powerful motors and rubber tires that can grip and sustain its movement easily regardless of the surface. The robot also has a carpet mode so that it can move more easily across textured carpets. The robot is made of ABS plastic, which is naturally durable, will not easily split or crack. The robot has four types of movement to ensure satisfaction during playtime.
It can roll across a surface in a straight line, run circularly, run in an eight-pattern, or run in an S-pattern as well. This toy comes with a heavy-duty battery that can run for three to four hours per full charge. There is a built-in standby mode that comes into play after ten minutes of idle time to conserve battery power.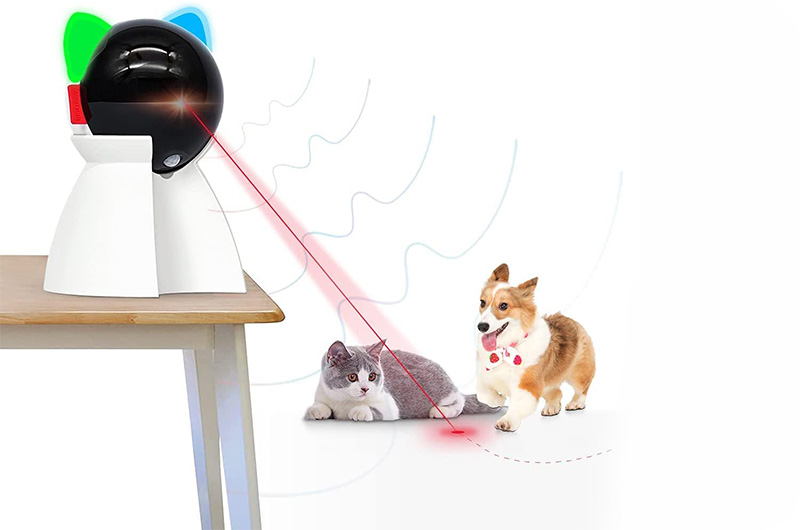 Saying that cats love lasers is an understatement. Cats adore lasers, and your cat will have hours of fun with it. The toy has an automatic shut-off mechanism after every 15 minutes, and it will turn on every 3 hours afterward, so your cat will always have adequate playtime even when you are not around at home to operate the laser toy. The manufacturer recommends that users place the laser toy on a higher perch for better results. The laser will travel longer distances, and your cat will be happier as a result.
Interestingly, the manufacturer will accept changes without asking for the bad product to be returned. This guarantee will run for an entire year after you have purchased the product, too. The toy can be charged via USB and has battery saving modes, so you won't have to recharge frequently. All in all, this provides great entertainment and is a nice addition to your other robotic toys. By automating playtime, you can save minutes or hours per day while keeping your cats happy.
The toy also accepts four AA batteries if you don't have time to recharge or if you want to use the toy ASAP without having to charge it. The toy has slowed and fast modes and an auto-off and auto-on option. A motor takes care of the laser inside and the head's rotation for the dispersal of the laser. The circling range also auto-adjusts to keep your cat occupied.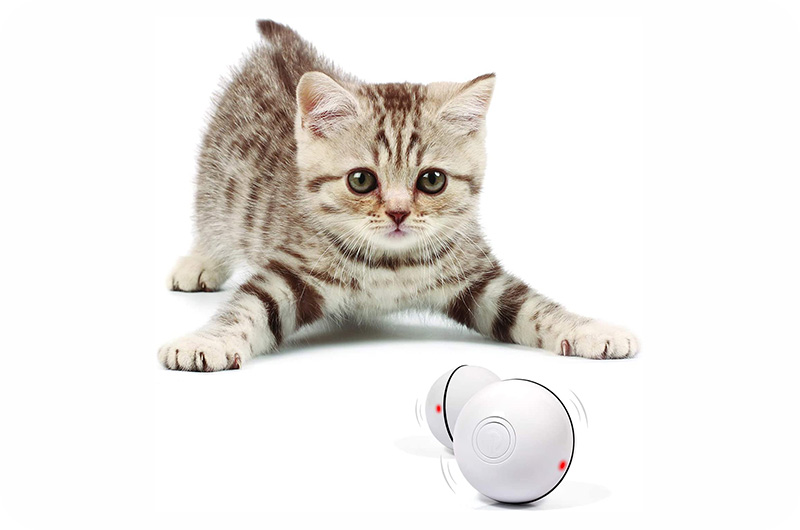 YOFUN has devised an excellent way to keep your cats occupied during the holidays and beyond with their Android rolling ball that seems to have a mind of its own. Several things make us go wild about this robotic toy. First, it's USB-rechargeable. There's less waste in the long term because you don't have to keep switching batteries. It also has a built-in mechanism to spin LED lights and lasers, making the rolling ball super fun.
Movement is already a huge come-on for cats, and the addition of the LED lights will make this automatic cat toy even more awesome. The ball only weighs 100 grams and is also made from durable ABS plastic to prevent cracking and damage. Be sure to get one ball per cat in your household so there would be no more fighting between your furballs.
This rolling ball cat toy is completely autonomous, and it will work on any surface, from hard floors to thin carpets. This product is not ideal for thicker carpeting, though, so be sure to release it on most smooth surfaces to move properly. The ball will also automatically turn off after forty minutes to conserve its battery and prevent damage to its motor. What's great about this toy is that you don't have to watch your kitties anymore while playing. The rolling ball will take care of your kitties in the process. This automatic cat toy is another great time-saver if you think about it!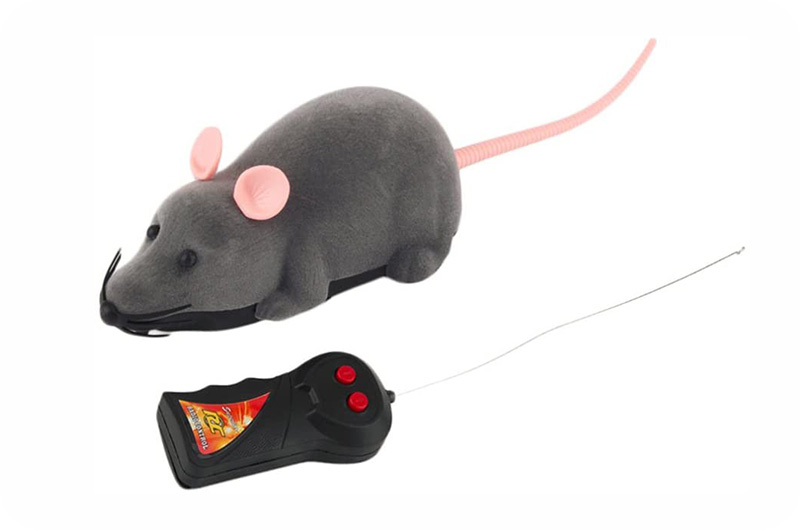 For more hands-on playtime with your cat, we recommend this awesome plush mouse toy from Rose nice. The rolling mouse toy can go in any direction, and you can even use it for pranking your family and friends. Who wouldn't shout in surprise when they see a big, fat mouse running around the house? The remote control fixes the main direction of the mouse as it zooms forward and backward.
The mouse's rotation as it moves sets the finer direction, and the movement is very natural, too. This toy is made of plastic and has a very smooth gray coat for realism. All in all, we are satisfied with how the toy turned out. Customers are generally happy with it, too.
One user said that she was pleasantly surprised that the remote-controlled mouse toy worked as well as it did. She makes the toy go around in circles before zooming away from her cat. Toys that can move fast automatically trigger a cat's hunting instinct, making them even more excited to play.

Next on your reading list: