"My cat is sneezing" may sound like a funny line from a comic strip, but in some cases, it can mean that your feline is sick and requires veterinary intervention. A variety of factors may trigger cat sneezing. Observe your sneezing cat find out what may be causing the reaction.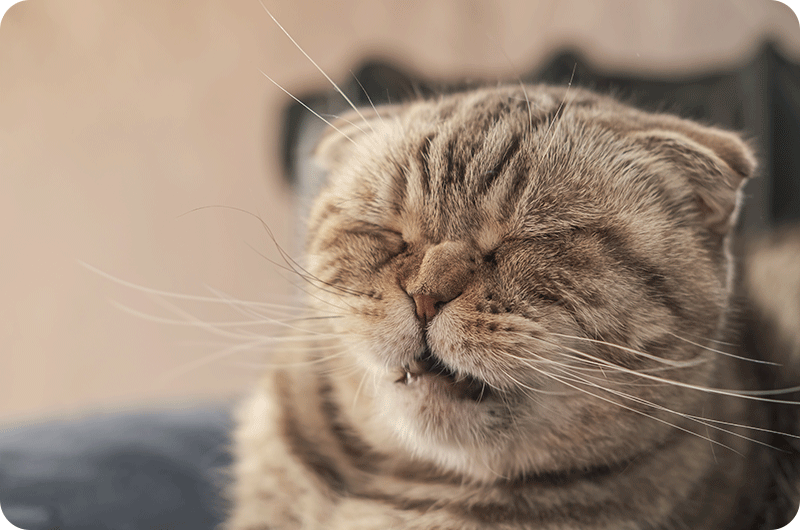 Why Is My Cat Sneezing?
Sneezing is a common and useful function observed in different animals, not just cats, and dogs.
Fowl is also known for sneezing (especially chickens). Would you believe that even lizards sneeze, too?
Sneezing helps expel irritants before they cause any more damage to the upper respiratory tract. When a cat sneezes (albeit infrequently), the animal is probably just clearing its nostrils as something irritated it. Like humans, cats can sneeze when they smell something that they don't like.
Admittedly, sneezing in cats can be challenging to diagnose. A veterinarian often has to see a cat in action to determine the possible cause of the involuntary reflex.
Cats can also exhibit various related involuntary reflexes related to the nose and mouth, including gagging, sneezing in reverse, retching, wheezing, and even hiccupping. All these other reflexes can also be misidentified as sneezing by some pet owners because they might sound like sneezing.
The best recourse is to take a video of the reflex if you can, so you can show it to your veterinarian when you bring your cat for a visit. There can be no definite explanation of why your cat is sneezing unless your veterinarian makes a diagnosis.

Why Is My Cat Sneezing So Much All of a Sudden?
The most common cause of sneezing in a cat is upper viral respiratory infections. The most common bug that causes this infection the feline herpesvirus. An estimated 90% of all cats eventually become infected with the feline herpesvirus.
When this virus comes into the picture, the infected cat usually exhibits common signs of upper respiratory distress, including discharges from both the eyes and the nose and frequent sneezing. If your cat is stressed, then the symptoms become worse, the same way they do in humans who have the cold virus.
While some experimental drugs are in the works, conventional veterinary knowledge shows that the symptoms could be lifelong once a cat gets the virus. The infection will only ease up when the cat's immune system is healthy. Other pathogens can cause similar symptoms, such as the calicivirus.
The feline calicivirus causes not just distress in the feline respiratory system; it also causes oral disease. This is a highly contagious feline pathogen that can be passed on quickly in cat colonies. This disease is also common in animal shelters where cats are forced to cohabit with multiple other felines from diverse origins.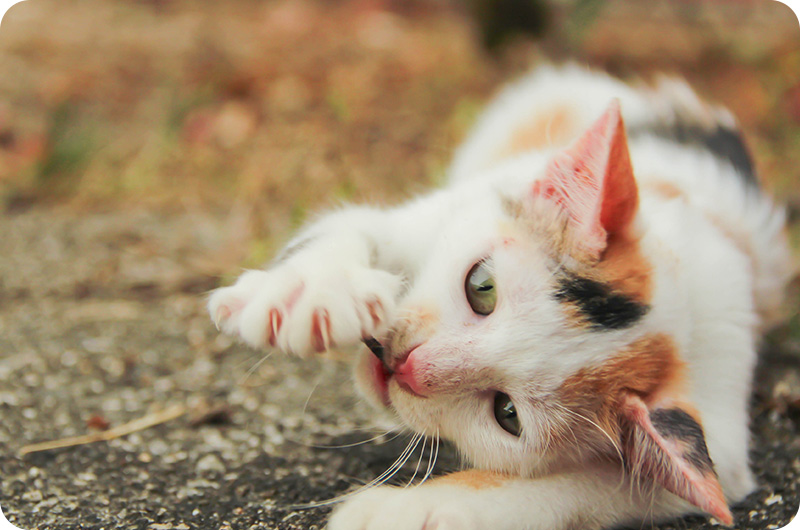 FCV (feline calicivirus) comes a large family of viruses that primarily infect domestic animals and livestock, including reptiles, amphibians, rabbits, and other vertebrate species.
The human nano virus is part of the larger family of Accipitridae. The nano virus can cause some digestive distress in humans, but the distress and symptoms don't last long enough to cause any mortal injuries to infected human hosts.
There are vaccines against FCV, and you can ask your veterinarian about getting your feline vaccinated.
However, keep in mind that, like other viruses, FCV tends to mutate and create different versions of itself. This is the main reason why FCV outbreaks are still common today, decades after the first FCV vaccine was first developed for veterinary use.
Unfortunately, FCV can be passed on quickly in multi-cat spaces or environments. At least a 25% chance that strays and other cats might be carriers of FCV, and only minimal contact is needed for a successful infection to occur.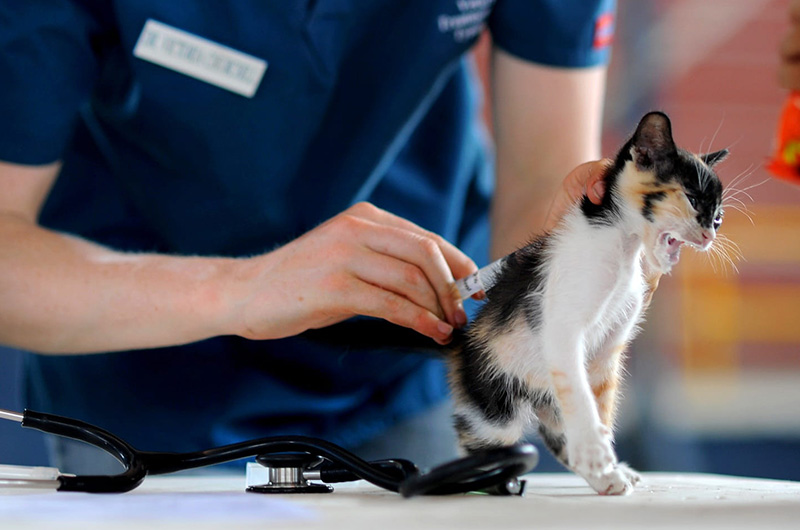 The FCV is often passed through the saliva and discharges in the eyes and nose. A closer inspection of the virus' genesis shows that FCV fragments can find their way through a cat's blood, feces, and urine, too.
During the first, primary infection, cats who FCV will shed the virus continuously for up to three weeks. After that, symptoms dissipate, but they can become carriers (on and off) for months at a time. Cats can pass on the virus through water bowls, food bowls, and by merely interacting with other cats.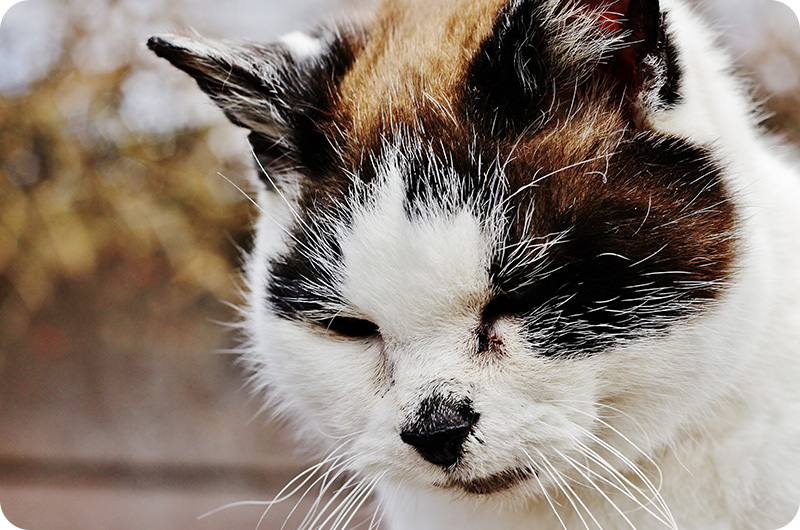 When Should I Worry About My Cat Sneezing?
It would help if you began to worry about your sneezing cat when the sneezing becomes frequent or uncontrollable. Watch for other related symptoms that may point to an upper respiratory infection, mainly discharges around the face.
Some changes in behavior as well can point to a possible viral or bacterial infection. Keep in mind that feline infections can continue for weeks or months at a time, and they can continue to be contagious long after the symptoms have disappeared.
You must have your cats checked immediately, especially if you have several cats at home.
We want to avoid the scenario where one sick cat can cause a widespread infection that can affect two or more cats in the same household. It can be challenging to keep infection control once it has begun, especially if your cats are in an enclosed space.

How Do You Treat a Sneezing Cat? Is a Cat Sneezing Seriously?
If your cat keeps sneezing but is not showing signs of any other ailment or distress, then it may be merely clearing its airways and nostrils. It's normal for cats to sneeze upon waking up or if the immediate environment is dusty or dirty.
Like humans, cats are reactive to environmental irritants and pollutants. However, if the sneezing continues unabated and your cat becomes weak as a result, there might a need to call your vet to make sure.
Remember that viruses and bacteria are abundant in nature, and your feline can pick up pathogens easily because it explores the world with its paws, nose, and mouth.

Next on your reading list: