"My dog is constantly scratching and biting himself!"
We know the feeling of being helpless as you watch your dog becoming overly itchy in the evening. It's even worse when the behavior seems to have no precedence since you take care of all your dog's needs. Today's post will help you understand why dogs suddenly have a round of itchy feelings at night and why some allergy symptoms suddenly appear out of nowhere.
Does your dog have itchy ears only at night? Discover how we can deal with this problem once and for all.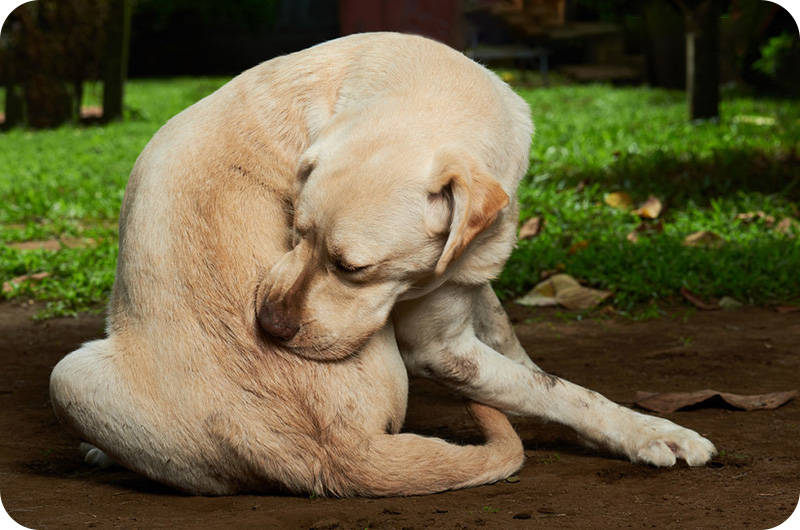 Why Does Dog Itch at Night?
Vets don't have a direct answer for the nighttime component of itching. Dogs tend to scratch themselves more at night just before going to sleep. The problem with this scenario is the behavior can become compulsive and may lead to damaged skin, bald spots, etc.
Take into account all of the behaviors linked to relieving itches: licking the paws, scratching the ears, etc. There are several possible causes of itching at night.

The first cause is that the itching may not be actual itching but is a symptom of compulsive behavior. Some of the more common reasons are:
Your dog is bored. Dogs need regular stimuli, just like humans. If you are not bonding with your properly for days or weeks, then the boredom can translate to compulsive behavior.




It's obvious what you should be doing – you need to give your dog more quality time if this is the case.

Your dog may be stressed out or anxious for some reason. Stress can be caused by a variety of triggers, too. For example, if there is a newcomer at home or a new baby – these events can turn your dog's world upside down. The stress from these changes can easily translate to abnormal behavior and compulsions.

Your dog is experiencing pain. Dogs can't talk, and they can't exactly tell us where the pain is. Dogs usually address painful spots in their body by pawing, licking, or scratching them. It's the equivalent of humans touching and massaging their neck when they're in pain. We hold on to the spot that hurts us because we want the paint to stop.

Your dog has allergies. Many things can trigger allergies in dogs and eventually cause compulsive scratching, biting, and licking. The most common offender is pollen, which occurs everywhere in the world. Molds also spew spores that can stick to the fur and skin of dogs, making allergies worse. If you can't identify exactly the cause of the allergy, speak to your vet about how to medicate, to relieve the itching and the allergy response. Remember, allergies are an immune response, so it has to be treated from controlling the natural response of the dog's body to the potential allergens.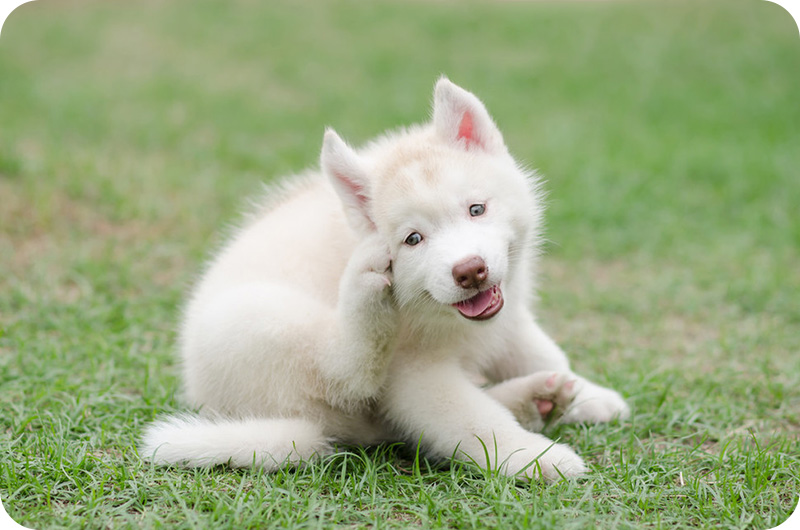 What Can I Put on My Dog to Relieve Itching?
The following remedies are available remedies for skill allergies and itching for dogs.

Colloidal oatmeal – Colloidal oatmeal baths are prepared specifically for bathing pets. Oatmeal has a long history of being able to soothe irritation and itching in both humans and animals. Colloidal oatmeal baths are very gentle on the skin and can help your dog's skin to heal more quickly. When the itching is addressed, the many cuts on the skin's surface can heal in peace, without additional nibbles and scratching from your dog.

Apple cider vinegar – Take a spray bottle and fill it with 50% water. Fill the rest of the sprayer with apple cider vinegar. ACD is a wonderful remedy for itching, and it also has antibacterial, antiviral, and antifungal properties. Try to identify where the common itchy spots are and concentrate the sprays on these areas. Perform daily spraying and observe if the remedy has any effect on your dog's behavior. If all goes as planned, the ACD solution should help your dog's skin heal by addressing the itching and maintaining the cleanliness of the skin and fur.

Virgin coconut oil – Buy the highest quality virgin coconut oil you can find and chill the bottle in your refrigerator. The solid form of the oil can be applied like a salve on your dog's skin. Coconut oil has many natural health properties that can also benefit dogs, so don't worry about your dog licking some of the coconut oil off its fur. The important thing is you have a salve that you can apply any time to your dog's itchy spots. Coconut oil smells good, too!

Green tea soaks – Fill your tub halfway with warm water and allow several bags of green tea soak first. When the water begins to color, allow your dog to play and soak in the tea water for some time. Allow the tea to be absorbed by your dog's fur and skin. The itching and abrasions on the surface should lose their itchiness in due time. This is an economical method of addressing canine eczema, too. Chronic skin conditions often require daily maintenance and natural remedies that are gentler than commercial ones.

Aloe vera – Who hasn't used aloe vera before? Aloe vera is super friendly to human skin, and it can also act as a shield for your dog's skin. Cut a fresh aloe vera off the mother plant and apply it directly to your dog's skin. If you don't have fresh aloe vera at home, you can always use pure aloe vera gels sold commercially. Please ensure that the pure aloe vera doesn't have fragrances and other chemicals, as these may not be pet-friendly at all.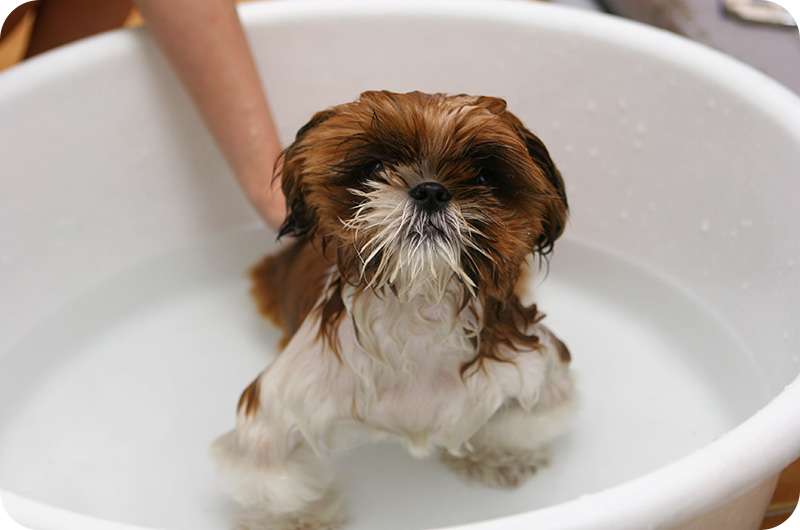 Why Are My Dogs Allergies Worse at Night?
Dog allergies can be worse at night because of the humidity levels and temperatures. Cooler temperatures cause the skin to dry out. Low humidity levels can also do the same. When the skin is dry and cracked, it begins to itch, and it becomes inflamed, too.
Next on your reading list: