Many pet owners have asked this question at least once when they observe dogs romping around the yard or any other environment where grass freely propagates. A dog eating grass is a natural occurrence and should not worry about pet owners.
When a dog eats grass, it is mostly just fulfilling its instincts. A dog eating grass frantically is no different. However, when symptoms occur, it is also possible that a dog is allergic to grass. Call your vet if this seems to be the case. If you ask, "should I let my dog eat grass?" then the answer is yes, you should allow your canine to explore its world freely, even if it means eating some grass from time to time.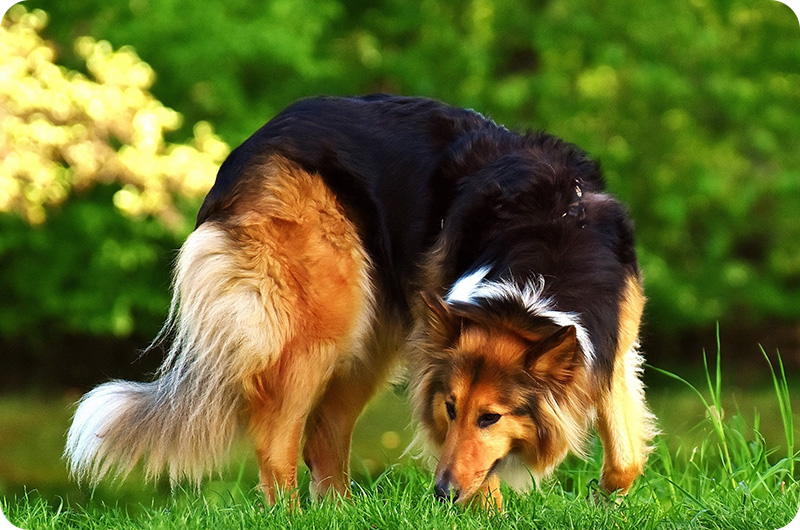 What Should I Do If My Dog Eats Grass?
Most species of grass will not make your dog fall ill, nor will they cause any vomiting. This being the case, you should allow your dog to eat grass whenever it wants to.
But why do they do it?
If we look at wild canids, which are descendants and relatives of dogs' domesticated species, we can easily see that they scarf down almost anything that will help them fulfill their dietary requirements. Dogs and their ancient ancestors are opportunistic species, and they also show scavenging tendencies. This is the reason dogs go for garbage bins and other spots that hold a promise of a free and easy meal. Scavengers abound in the Animal Kingdom, and there's absolutely nothing wrong with being a scavenger.
The simplest explanation for grass-eating behavior is that dogs like the taste of grass. Remember – dogs don't have the same idea of 'tasty' as humans. They nosh down on socks and other things that you wouldn't consider palatable. Dogs enjoy smells and different tastes differently than us. Dogs also have a too acute sense of smell and taste, and what we perceive without inferior human taste buds and olfactory nerves aren't even close to what dogs have at their disposal.
A third explanation also exists, though this is mostly theoretical. The theory goes that all wild animals and their succeeding predecessors will almost always seek out possible curatives in nature when they feel something's wrong with them. This behavior can be seen in wild canids that eat various kinds of grass and even herbs.

From a veterinary point of view, what can grass possibly contribute to a domestic dog's health?
This may be related to how the blades of grass can 'tickle' the stomach and the throat, causing the dog to vomit. This angle can be quite useful from the perspective of the dog's health. If the dog is seeking out a curative by eating grass, it may have an existing condition, like gastric bleeding or an irritated stomach lining. If the grass-eating behavior is persistent, you can take that as a possible sign that your dog is ill. To be sure, have your dog checked out by your veterinarian to ensure that there's nothing wrong with it.
Should You Let Your Dog Eat Grass?
For the most part, you should allow your dog to be a dog. Natural dog behaviors, for the most part, won't harm them, unless a dog comes into contact with risky things like nightshade plants and outright household poisons. However, grass-eating is a minor behavior and won't pose a severe threat to your dog.
But let's say that your dog, for some reason, developed an extreme liking to biting and eating grass. Should you try to stop the habit? Before you punish your poor puppy, it's essential that you first take a look at the bigger picture. How healthy is your dog at the moment? Is your dog showing any symptoms that the grass-eating is causing any harm to it? Your vet will likely ask questions about how your dog is doing before the grass-eating behavior manifested.
Like humans, dogs can suddenly change their behavior in response to new factors that impact their mental health and physical health.
In rare instances, severe grass-eating can result in some mild to severe diarrhea and weight loss instances. These symptoms may be triggered by vomiting from the consumption of grass.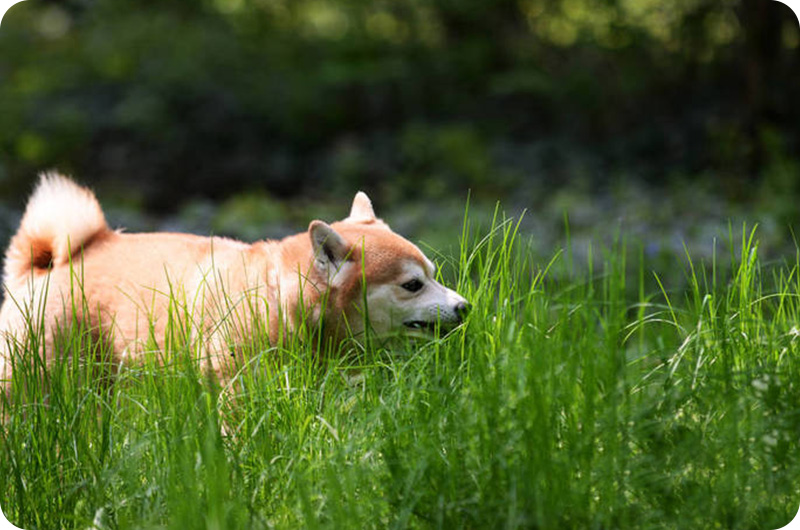 Why Is My Dog Eating Grass All of a Sudden?
The scientific term for the behavior is pica. While we note that the behavior is mostly harmless, some vets agree that there may be some instances when do engage in pica because of possible nutritional deficiencies.
The behavior itself is a compulsion, which may be indicative of an underlying disorder. What specific disorder it is would have to be determined by your vet when he/she examines your dog. For the most part, physiological issues have to be ruled out through actual physical examination and tests, such as blood chemistry and urine analysis.
How prevalent is the behavior in dogs? One study showed that up to 79% of dogs had exhibited pica, specifically grass-eating behavior at one point. The statistics are conflicting at this point. There is no concrete proof that dogs who engage in pica are sick or nationally deficient. But some dogs are nutritionally deficient, and they are driven to feed on non-edibles or non-conventional dietary items.
Experts recommend that pet owners be only observant when they see dogs eating grass. If the behavior is infrequent and your dog looks healthy and active, it's probably nothing to worry about. However, when the behavior suddenly increases for no apparent reason and becomes habitual, that's when you should start getting worried. Pica is still a symptom, and care should be given to determine the said symptom's potential cause.
Conclusion
Pica or grass-eating may be a sign of an underlying disorder in dogs. Non-habitual eating of grass is considered safe and a minor concern. Discuss with your vet the potential reasons for the behavior and have your dog checked out.


Next on your reading list: