My cat sleeps on me! We often hear this from cat owners everywhere. The habit might be just a little annoying to a small number of feline owners, but it would be great if you know why cats sleep on their owners in the first place. If you want to improve your cat's sleeping habits, you can do the following:
Play some calming music and allow your cat to acclimatize to the music.

Examine your home's spaces and determine if your cat has a safe space that it can use to sleep at night. The more secure space, the more likely it would be for your cat to fall asleep at night.

Evenings are normally when cats are awake, so if you can't change your cat's sleeping routine immediately, don't feel bad. It's just your cat following its instincts.

Some senior cats suffer from feline dementia, and this may cause your cat to have erratic sleeping routines. Sometimes, senior cats suffering from cognitive decline may not sleep as much anymore, which can produce further complications.

Avoid stressing your cat. Stressed cats will have a higher insistence on acting out, and this includes not sleeping properly.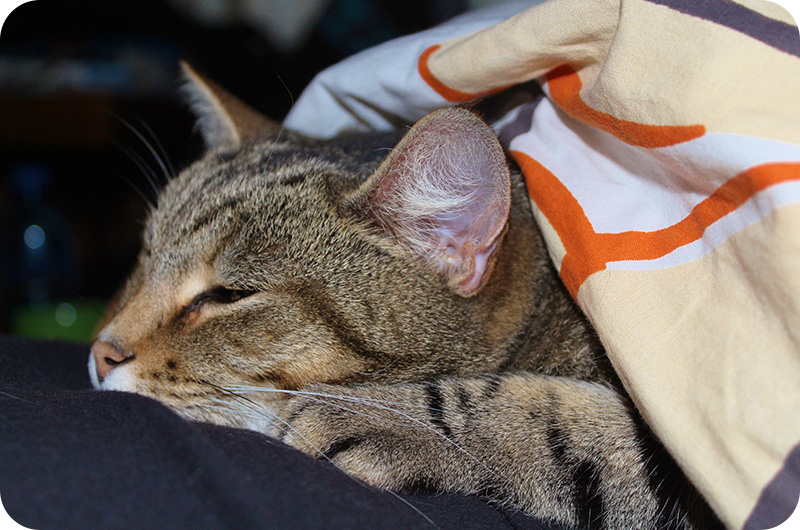 Why Does My Cat Like to Sleep on Me?
Why does my cat sleep on me? Cats spend long periods sleeping during the daytime because they are mostly nocturnal. That's why you can find them sleeping all day, only waking up for short bursts of play and eating. There's a good reason why they seem to be lethargic when the sun is up. Mornings and afternoons are not their elements. But why do they like snuggling up to humans and sleeping?
Feline experts agree that a cat that chooses to sleep near or on its human is in love with its owner. Cats also express their desire to bond more with their humans by staying close to their own, much like how they bond with other cats. It's common to see clowders of cats sleeping together, laying on top of each other. You are also a cat that your cat loves very much. Socialization and bonding are important to cats, so there's no reason for you to take that away from your feline companion.
What you should be monitoring is if the bonding includes biting and scratching. Licking is not a problem, but cats can get playful and begin to claw at their owners, too. Claw action between two cats is rarely problematic, but you don't have the same antibodies as cats so that you can suffer from infections.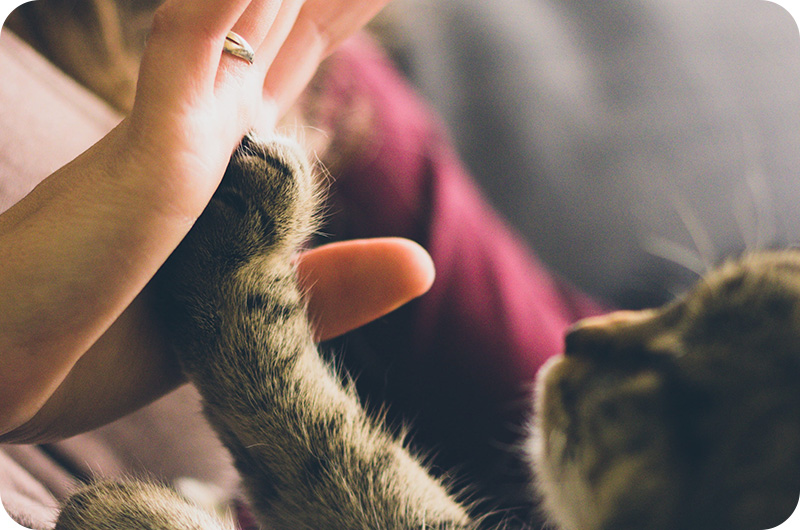 Is It Good If Your Cat Sleeps with You?
Generally speaking, it is a good sign that your cat is sleeping with you. Let's talk about a cat's sleeping habits and what sleeping with humans can mean.
Cats can sleep for a total of 15 hours daily. The rest of the day, they hunt, romp and run around the neighborhood (if your cat has access to the outdoors). Indoor cats may learn to be even less active if they're just at home. It's no surprise that they would choose to spend some of their snoozes around their owners. Cats are social creatures, and it's not true that they don't need interaction and bonding with their human owners.

Let's not forget that cats are predators, and they are descended from wild cats that roam forests and deserts. If you live in a place like a forest, you can't be too relaxed even if you are sleeping. Cats have evolved so that even if they are asleep, their senses of hearing and smell are still alert.


Why are we talking about these things? Think about it – your cat is sleeping with you because you provide another layer of protection or security to the equation. You are part of the cat's clowder, and you provide additional defense. Sure, it's unlikely that anything would ambush your sleeping kitty, but hey, that's their instincts at work.


Cats acknowledge their vulnerability while sleeping, and they approach the ones that they know will keep them safe. It's a very loving gesture that you should cherish as a cat owner because most cats are aloof and very independent. Of course, this may have something to do with the cat's breed as well. Some cat breeds are just more attached to their owners.

Cats may also gravitate to areas of your body that are naturally warm. This means a cat may approach any part of your body and nap there because the entire body tends to be warm.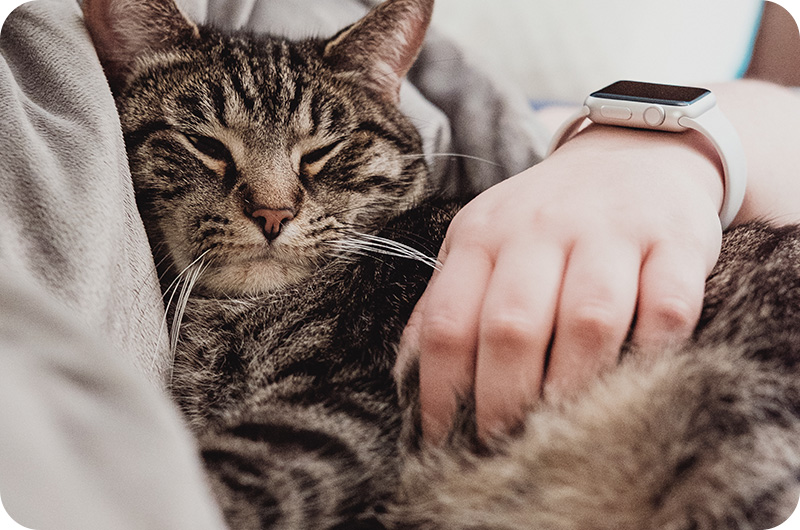 Why does my cat sleep on my head?
The head is easily accessible, and cats can twist a bit and get to your head before napping. Some people don't like this because they obviously cannot breathe if there is a chunky cat on top of their noses. Unlike cats, we don't have an extended nasal region that will allow us to breathe even if there's something on top of our faces.
As for the preference for your head, your cat may sense that your head is somewhat warmer than other parts of your body, so it has developed a preference for the top of your head or even your face. Don't get mad – remove the cat from your face. Repetition will eventually drive home the message that you don't like being sat on the face.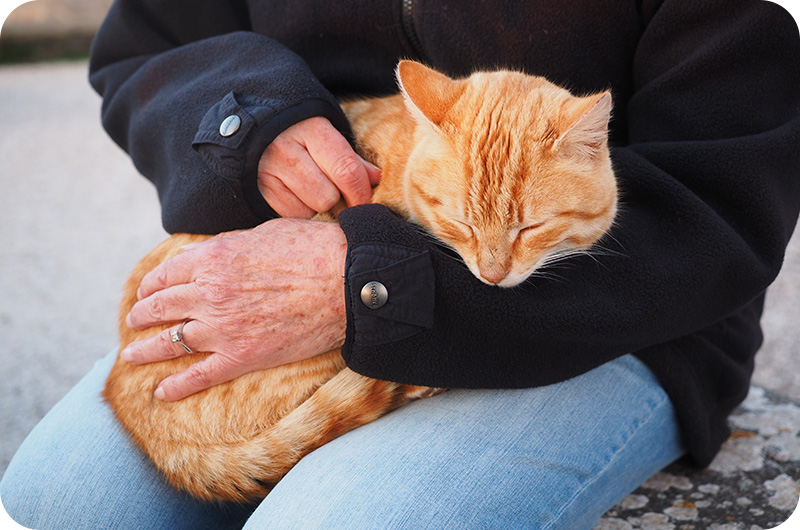 Why Does My Cat Sleep on My Legs?
The legs are among the body's warmest spots, so it's natural for cats to want to be around your legs.
Why does my cat sleep between my legs?
Two legs are better than one! Cats will normally position themselves between the legs or near the feet at least. You must know how to maneuver your legs when sleeping as you might accidentally kick your cat.

Next on your reading list: