Wild Earth
Wild Earth Dog Food features a high-protein formulation best for active dogs that need more amino acids and calories for daily activities. The manufacturer says that their dog food brand doesn't have any "filler ingredients," which is a massive issue in the dog food industry since the beginning.
While the minimum of 18% protein is attained, more than 50% of the calories in dog foods are recovered from lower quality ingredients that do not have high nutrient bioavailability for canines. Humans and dogs are different, and the food items that fit us aren't always the right choice for dogs.
Fur parents who have invested in Wild Earth Dog Food are, on the whole happy with their purchases, except for a few who are grieving the price increase when the brand became more popular in recent years.
One user said they bought Wild Earth Dog Food because their dog has a messed up digestive system and the canine was sensitive to other dog food brands. Wild Earth is typically used as a prescription diet for dogs that do not respond well to dog food brands with many vegetable or plant-based components.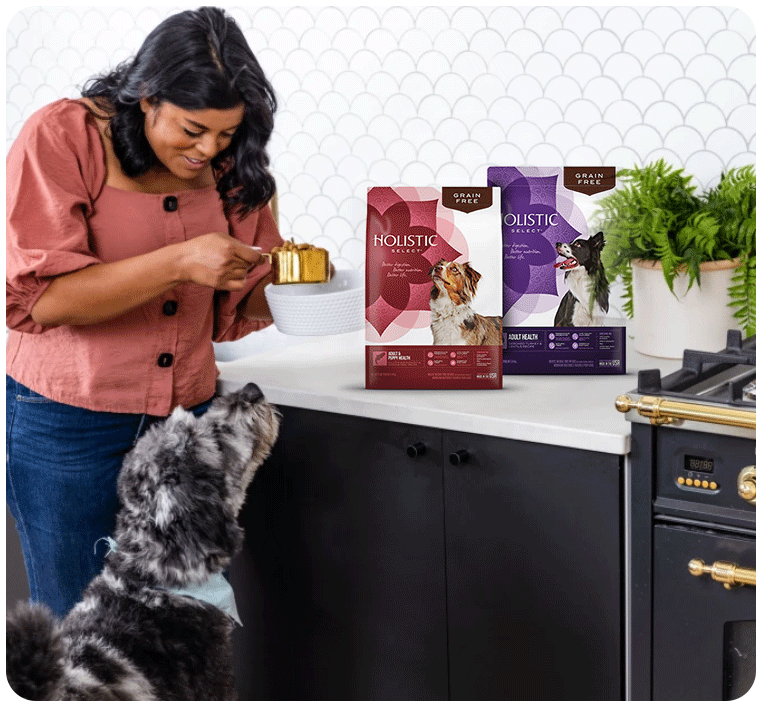 Holistic Select
Holistic Select Dog Food is advertised as a "grain-free" alternative dog food. Holistic Select veers away from the old formula of adding wheat, flour, and other plant-based ingredients to beef up the dog food's weight and provide energy to pooches.
The company behind this dog food brand focuses on providing optimal protein levels and other vital nutrients to dogs. They have also added prebiotic and probiotic components to sweeten the deal.
Keep in mind that this brand uses salmon as one of the primary sources of fat and protein. Salmon is an ideal source of nutrients that are good for your dog's coat and cardiovascular system.
Users who have ordered this brand and have fed Holistic Select to their dogs have reported that the dog food size is smaller than the usually blueberry-sized pellets. This means that Holistic Select can be given to smaller dogs and elderly dogs from different breeds who may have less than ideal oral health and have trouble chewing through tougher pellets. Users also say that this brand is excellent for maintaining digestive health and is ideal for stopping many foods allergy-based issues in canines. It appears that Holistic Select truly lives up to its name.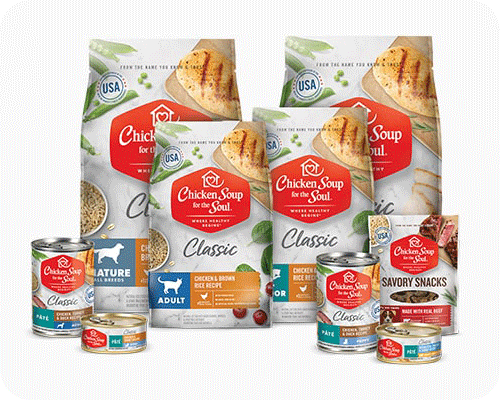 Chicken Soup for the Soul
Chicken Soup for The Soul Dog Food provides high protein meals to dogs by combining turkey and chicken meat and byproducts. The brand boasts of having "real chicken" and "real turkey" in the dog food, which leads to "better-tasting meals."
The formulation is meant to provide healthy and shiny coats, with the added boost of both omega-six fatty acids and omega-three fatty acids. Each pack of Chicken Soup for the Soul Dog Food also contains super foods that provide holistic support to dogs, from the immune system to having healthier coats.
Customer reviews show that on the whole, Chicken Soup for the Soul Dog Food provides optimal nutrition to different kinds of dogs, from small dogs to big dogs. One user claimed that it is one of the best foods today because it is balanced.
Some dogs cannot tolerate high-protein diets and fare better with the addition of grains. This is true: some dog breeds respond poorly when there are too much fat and protein in their diet. Another user said that for what you are getting, the price was just right.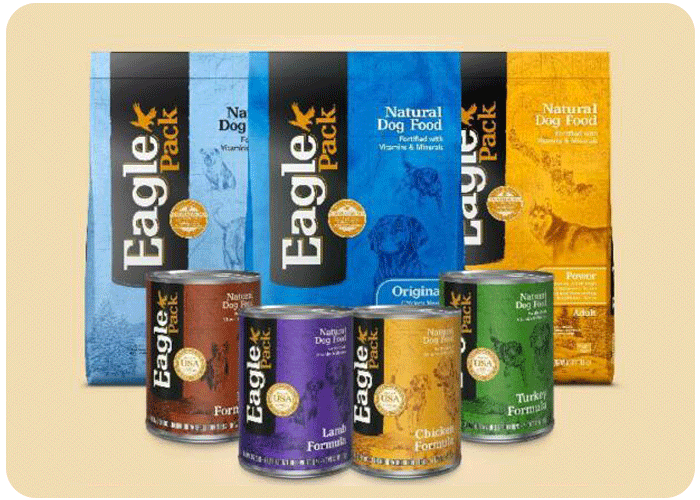 Eagle Pack
Eagle Pack Dog Food is an especially formulated dog food brand designed to provide peak energy and a holistic balance of nutrients. The manufacturer states that the dog food contains just the right carbohydrates, fat, and protein for daily activities. We see an emphasis on performance here, so if your dog is training for something other than following basic commands, brands like Eagle Pack would be a good idea to boost your dog's nutrition. Eagle Pack Dog Food contains added glucosamine for optimal bone and joint health. It also contains an ideal number of antioxidants required by the canine immune system to remain robust and ready to fend off infections.
Eagle Pack Dog Food users recommend this brand of dog food for larger or giant dogs' breeds as it provides higher than usual levels of calories and nutrients. A broad look at current customer reviews shows that it's a top pick for many dog owners in the United States as they say it is similar to Royal Canin prescription dog food.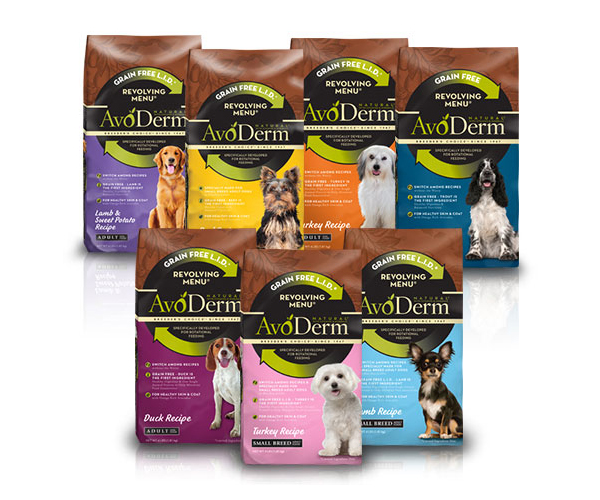 AvoDerm
Anoderm Dog Food is an excellent prescription dog food for dogs with immunity and skin issues. This is a specially formulated dog food with grain in it (brown rice – for carbohydrates, trace nutrients and dietary fiber), and avocados. Avocados are the central ingredients because avocados are high in fat and provide many additional nutrients necessary for optimal coat and health.
We like the idea that they've been careful and conservative with the formulation and different dog breeds appreciate the food at various phases of their life. This dog food is free of corn, wheat, peas, legumes, and potatoes. The main plant-based ingredients are avocado and brown rice.
Many of the Anoderms reviews we've encountered are dog owners who have canines suffering from various skin disorders. Many dog owners also say that they have tried everything before, from expensive skin medication to shifting diets.
Anoderms Dog Food seems to have solved its problems quickly by simply changing the dog's diet. This is a boon to people who need a quick and safe solution to dog skin issues that emanate from food allergies. Food allergies are problematic and can cause chronic and continuing pain and inconvenience to both owners and dogs.
Next on your reading list: