What is the best food for cats?
Cat owners are often confused about the right diet for their feline companions. The sheer number of cat food brands in the market is enough to make any cat owner dizzy. But did you know that hidden in different cat food brands are sneaky ingredients that might make your cat ill?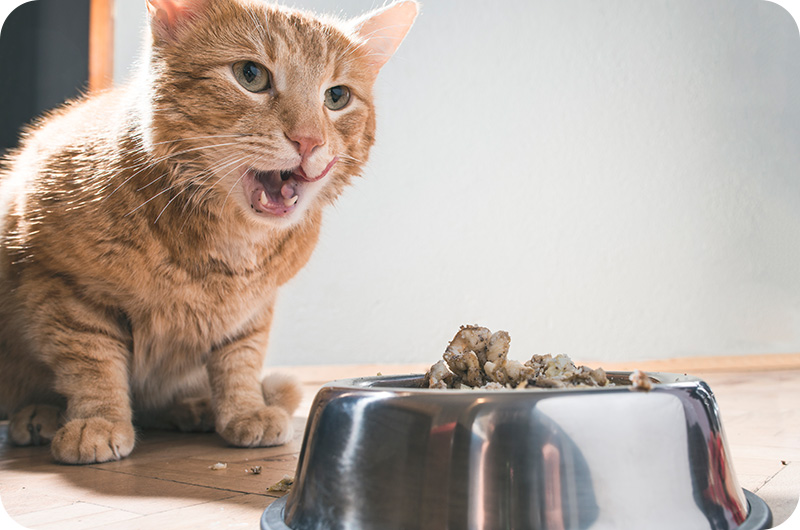 What Foods Are Toxic to Cats?
The worst cat foods are the ones that are usually meant for humans but are given to cats by pet owners who don't know any better. Avoid giving cats table scraps and just human food (and beverages) because cats' nutritional requirements are so different from humans.
Anything with alcohol – While humans can consume large quantities of alcohol and still wake up the next day, just one tablespoon of alcohol can damage the brain and liver of felines to the point of death.
Chocolate – The darker the chocolate, the more problematic it is when fed to cats. The theobromine found in chocolate is a known cat poison that can cause muscular tremors, cardiac anomalies, and even death in higher doses. It's the same substance that can kill a dog if a dog eats a sufficient amount of chocolate. While chocolate is an expensive and delightful treat for humans, it's poison for other mammals; keep it away from your cat.

Caffeine – There is caffeine in coffee and tea and many other beverages like soda. Caffeine does not benefit cats the way it benefits humans. A single dose of caffeine can affect cats' heart activity and cause tremors to emerge out of nowhere. At the very least, your cat is going to be listless and uncomfortable. If your cat is old and can't take the caffeine's impact, it can be in danger.
Lactose – Lactose is a special type of sugar found in dairy products, including cow's milk. The old image of a cat happily slurping away at cow's milk is a dangerous practice. Some cats have severe lactose intolerance that can result in the painful regurgitation of the stomach's contents.
Animal fat trimmings – Beef trimmings, pork trimmings, salmon trimmings – these are all packed with fat that can make the little pancreas of adult cats well. Pancreatitis is a dangerous feline condition that can cause the mortality of healthy cats. Cats need smaller quantities of fat, and the portions associated with the meat consumed by humans are too much for the cat's organs to handle. A few bits might not trigger the condition, but go over that, and you can kill your cat.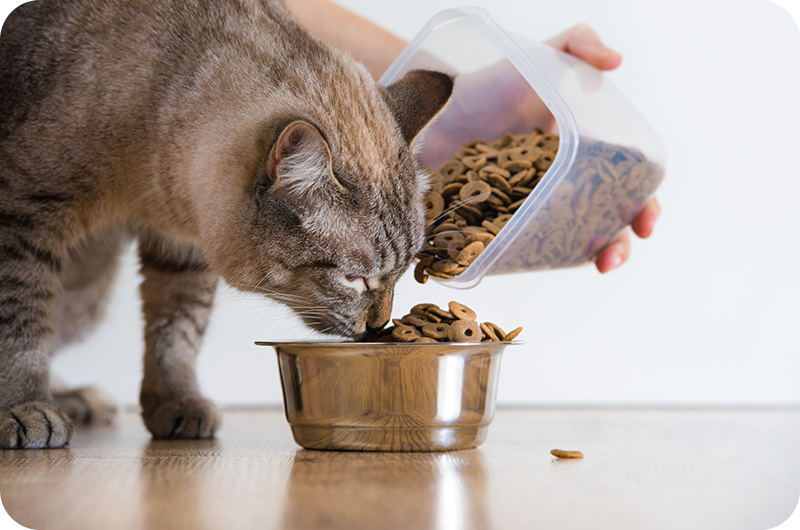 What Ingredients in Cat Food Are Bad for Cats?
The sticky issue with commercial cat food is manufacturers have to keep the food as fresh as possible within at least six months after the milling or preparation date. Stabilizing agents are also foreign to feline bodies, and some of them may be carcinogenic, too. Below are some ingredients that have a bad track record and will likely shorten your cat's lifespan.
Ethoxyquin, BHA & BHT – These three chemical agents are used to preserve animal proteins and fats but be potentially carcinogenic. Both dogs and cats are known for developing cancer in different tissues, so it's not a good idea to feed them anything with these three chemical preservatives.
Meat byproducts – While meat byproducts aren't exactly poisonous, there's nothing about them that is good for cats. No one is certain about the condition of the meat byproduct when it was heated and compacted. There's no clue what else they added to the cat food after. The protein in meat byproducts is considered inferior to the protein present in real meat – actual cuts of meat from animal carcasses.
Cornmeal, gluten, and other carbohydrate-laden products – We've mentioned this before – cats are obligate carnivores, and anything that is excessively loaded with carbohydrates is not good for cats. Many cat kibble brands can be 50% carbohydrates, despite prior knowledge that cats need a lot of protein. Excess carbs in a cat's diet can trigger diabetes, and older cats can die from diabetes if they continue to get the wrong diet.
Is Dry Cat Food Bad for Cats?
Dry cat food is normally full of carbs, so they're not considered ideal for cats. If the cat food's carbohydrate content is 50% or more, your cat will be getting far more carbohydrates than what it needs in the first place. Beware of low-quality cat kibble.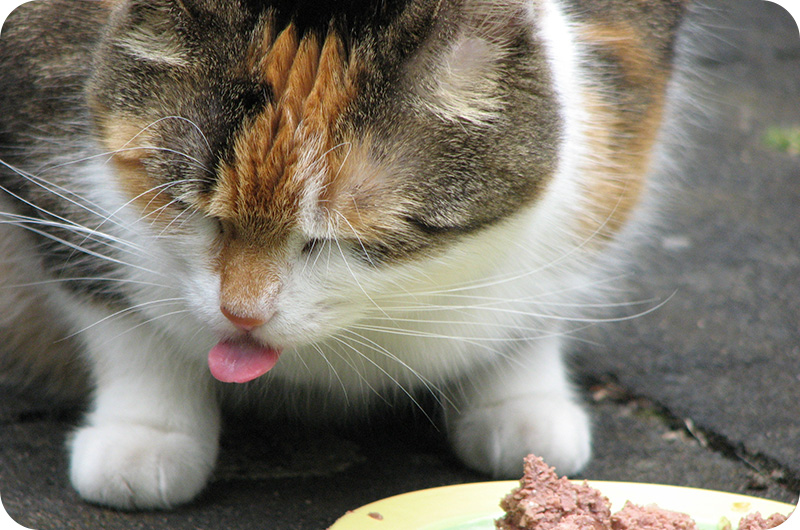 Is wet food bad for cats?
A purely wet food diet can be bad for cats because it is known in the veterinary community that ordinary wet food for cats is usually less dense in essential nutrients and macronutrients.
So, there might be more moisture, which is good for cats, but the protein content, for example, might be lower than what is provided in dried food. It's a tough balancing act.
Is wet food bad for cats' teeth?
No, there is no proof that wet cat food can cause tooth decay. Tartar accumulation occurs when cats eat both wet food and dry food.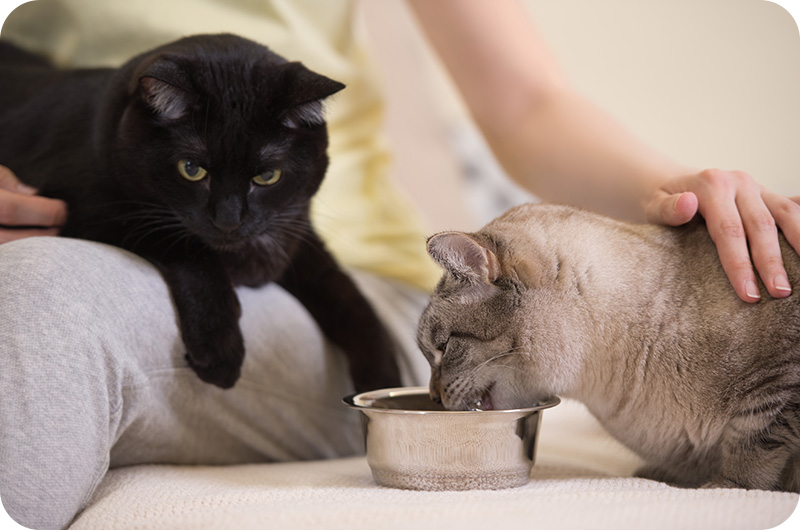 How much wet and dry food to feed a cat?
The usual computation for wet cat food is one can per day, matched with two to three pounds of the cat's body weight. The usual quantity is one-third cup to one-half cup per meal for average-sized cats as for dry food.
Can Cats Live on Dry Food Only?
Cats that feed primarily on dry food tend to have highly concentrated urine because they need to drink more water to offset the nutrients' concentration. While the answer is technical, yes, you need to make sure that your cat is drinking enough water and that the cat food brand provides a good ratio of nutrients.

Next on your reading list: