If you have been around the block as a pet owner, you've probably heard or read about using catnip for dogs. You're probably wondering: is catnip bad for dogs? Is catnip safe for dogs? Let's take a closer look at catnip, what it does, and we're going to add some bonus reviews at the end of this blog, too.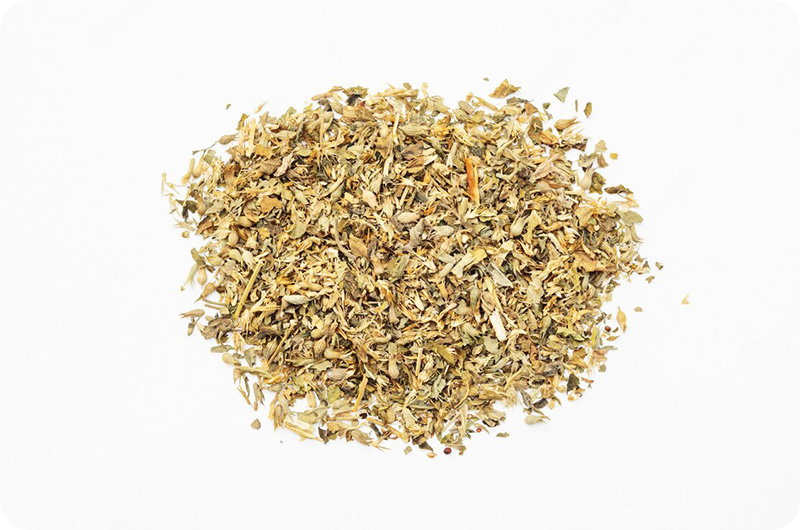 What Is Catnip?
Catnip, otherwise known as the plant Nepeta cataria, is an herb that hails from the larger mint family. It contains an active compound called nepetalactone that causes different effects on both cats and dogs.
The volatile oil that affects cats and dogs can be found in the plant's leaves and stems. Cats that smell catnip will exhibit behavior that is typical to females or queens in their heat cycle. A cat will begin rubbing its head on objects (or on their owners).
They may also vocalize continuously, jump around and salivate. The effect of catnip is short-lived, lasting on average, just ten minutes. They will not respond to catnip again for about thirty minutes.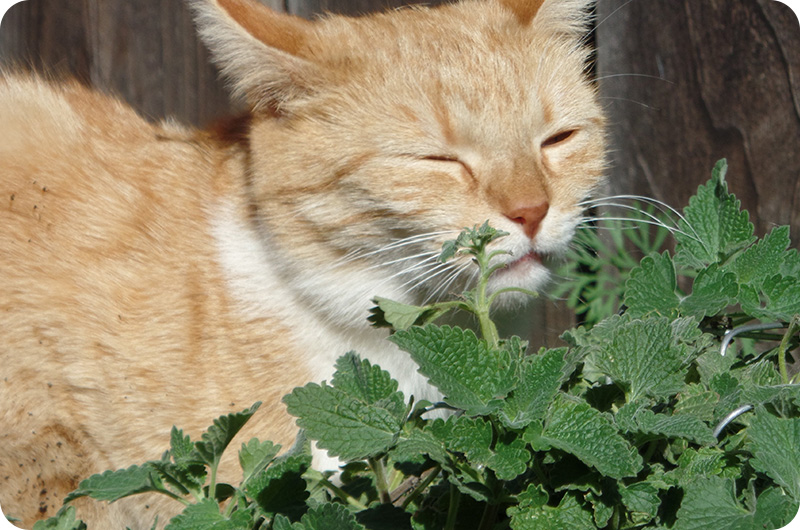 After half an hour, they will be susceptible to the plant again and repeat the behavioral changes. Up to eighty percent of all cats are affected by the catnip plant.
The age of the cat is also a determinant of their response to the catnip plant. Kittens that are younger than six months will have little or no response to catnip. It appears that cats that have attained sexual maturity are affected mostly by the volatile oil in the catnip plant.
The catnip plant is native to many regions, from Asia to Europe. It was only brought to North America by settlers a few centuries ago. Catnip has now increased all over the US and is considered a weed.
Many people also grow catnip at home in their gardens, in the ground or pots, because they own cats. Don't worry catnip is not an addictive plant, and it is wrong to assume that it is like marijuana for cats. The effects are completely different.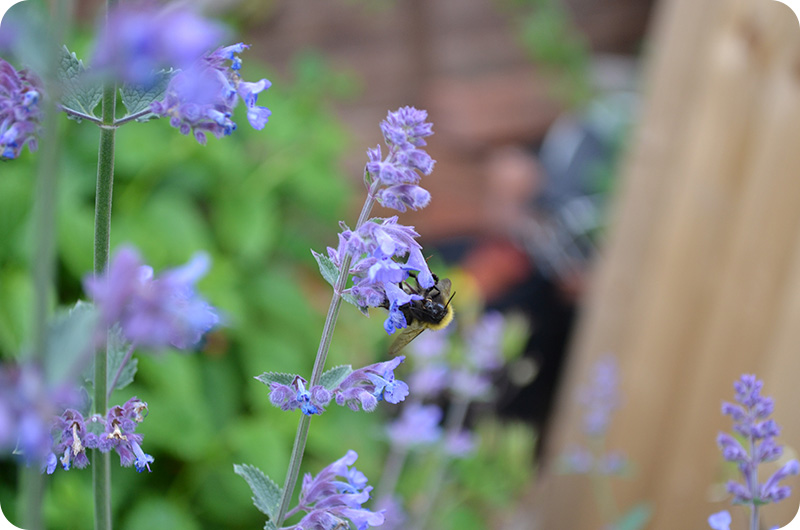 What Does Catnip Do?
It is believed that compounds from the catnip plant enter the cat's nasal region and interact with different brain regions all at once.
Nepetalactone is also believed to interact with the cat's hypothalamus, responsible for different drives, from the cat's emotions to hunger. Catnip acts as a powerful stimulant of cats because the plant compounds are perceived to be sexual pheromones by queens.
Interestingly, in larger mammals like dogs and humans, catnip produces a completely different effect. In Native American culture, catnip is used as a remedy for infant colic. When added to tea, it will mildly sedate the person drinking.
The same effect is observed in dogs. While cats and dogs are evolutionary cousins, the effects of catnip are quite the opposite of dogs.
Since this plant will have a sedating effect on your dog, be careful when to give it to your dog.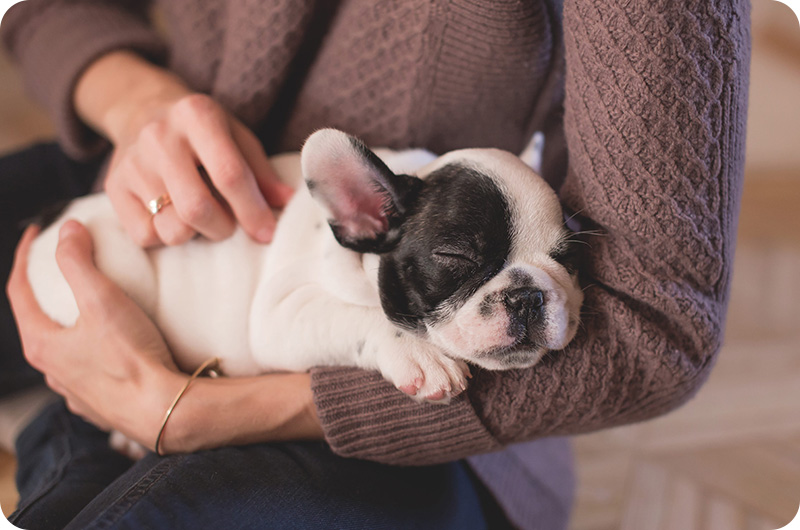 Don't worry. It is safe for dogs to consume catnip. However, if you don't want an exhausted dog, don't give it as a treat. Some circumstances when it's right to give dogs catnip are:
When your dog needs to be calmed down, dogs can suffer from fear, aggression, and anxiety for various reasons.




Loud holidays, going on trips, visiting the vet, having a new person in the household – all of these events can trigger anxiety and bouts of over-excitement. Catnip can help by sedating your dog for a short period, so you won't have trouble getting your dog to calm down.

When your dog needs help sleeping, sleeping issues occur in some animals, not just humans. If your dog is overactive at night or when he's supposed to be calm and sleepy, catnip can help reduce hyperactivity.

Catnip can also help heal wounds as it has natural antibacterial properties. Small cuts can be remedied with small quantities of fresh catnip.

BONUS REVIEWS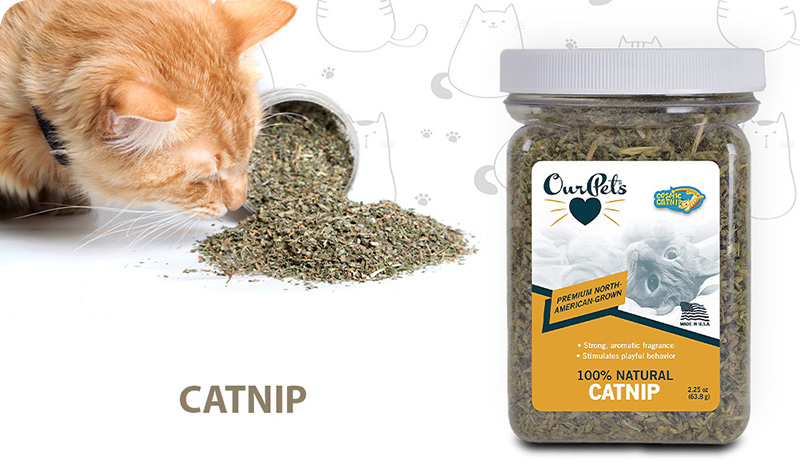 The Our Pets brand of catnip is 100% American-grown. The manufacturer promises the most enticing aroma for your cats and dogs and is the perfect addition to your accessories and treats at home.
Customer reviews show that cats love Our Pets Cosmic Catnip, and they respond immediately to its presence. Homebound cats love it so much that they make ways to reach the catnip from the top shelves even if the owners bar them.
Keep in mind that 20% of cats don't respond to catnip, so if you don't see an immediate positive response, your cat is part of the 20% that is not affected by the volatile aromatic oil of catnip. Dog owners have also given the catnip to their pups, and the puppies eat the catnip and feel relaxed almost immediately.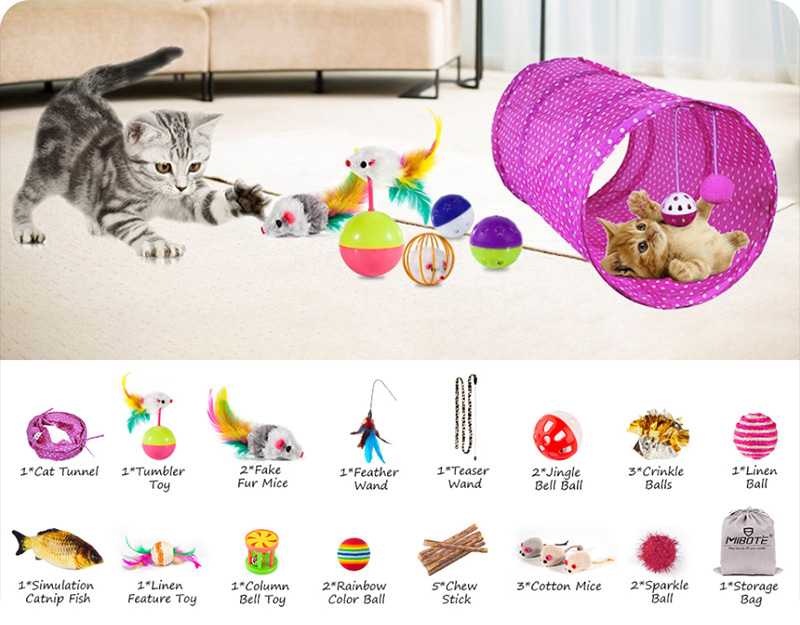 If your pets are tired of their old toys, why not buy a large pack of assorted toys for both cats and dogs? This set contains various colorful and interesting toys, including mice, fluffy objects, crinkles, bells, balls, and even a tunnel.
Top reviews of this package of toys indicate that pets love the set, especially the tassel and wands, which are unique to this set – you don't need to buy other toys because this set already has them all. As for the tunnel, some cats liked it, while others didn't.
If you have a larger than usual cat at home, we recommend that you skip the tunnel as some customers said that their bigger cats struggled to get in and out. You would know if the cat tunnel were too small when you get the package. All in all, this is still an excellent investment for your small dogs or cats at home.

Next on your reading list: