The hairless dog has existed since the dawn of human history. The most popular are the Peruvian hairless dog and the Ecuadorian hairless dog. These hairless dog breeds are perfect for households with allergy issues as the hairless dog breed usually loses most of its hair after puppyhood.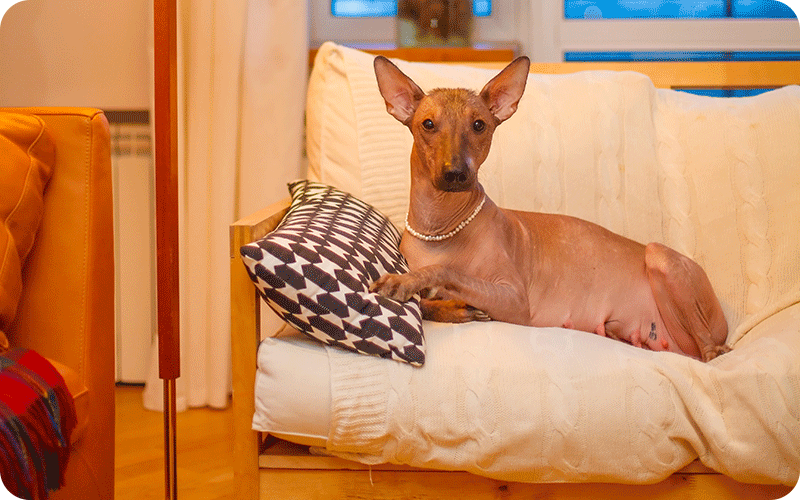 Are Hairless Dogs Hairless?
Yes, hairless dogs are genuinely hairless—the hairlessness results from a dominant gene that encourages hairlessness early on in the dog's life. Hairless dogs were not selectively bred.
The hairless varieties of dogs also occur in the wild. When humans came into the picture, they selectively bred hairless dogs for a variety of purposes. Some hairless dog breeds can have some hair around their eyebrows and tail, but their bodies will be very smooth.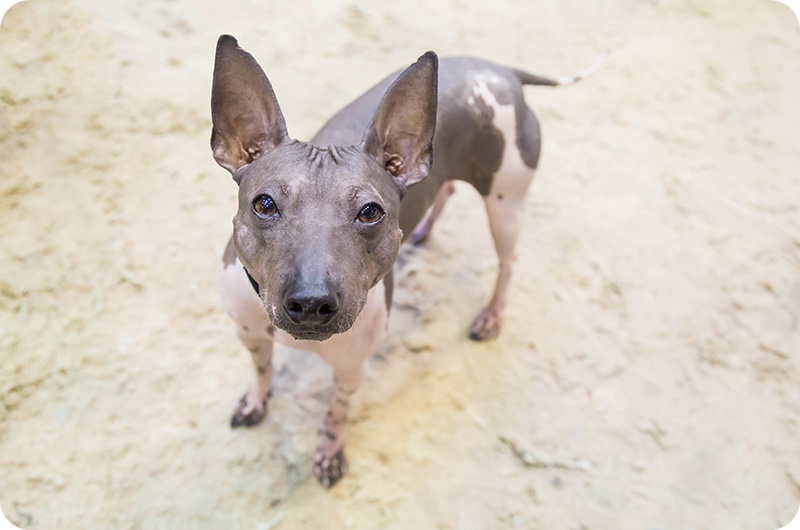 Remember that organizations like the AKC do not approve and recognize all kinds of selectively bred variations of dogs. When you encounter one, and you don't see it on the AKC website, that means that it has not been formally recognized (yet).  

Can You Get a Hairless Dog?
Yes, you can get a hairless dog. In the United States, there are three recognized hairless dog breeds: The American Hairless Terrier, the Peruvian Inca Orchid, and the Xoloitzcuintli.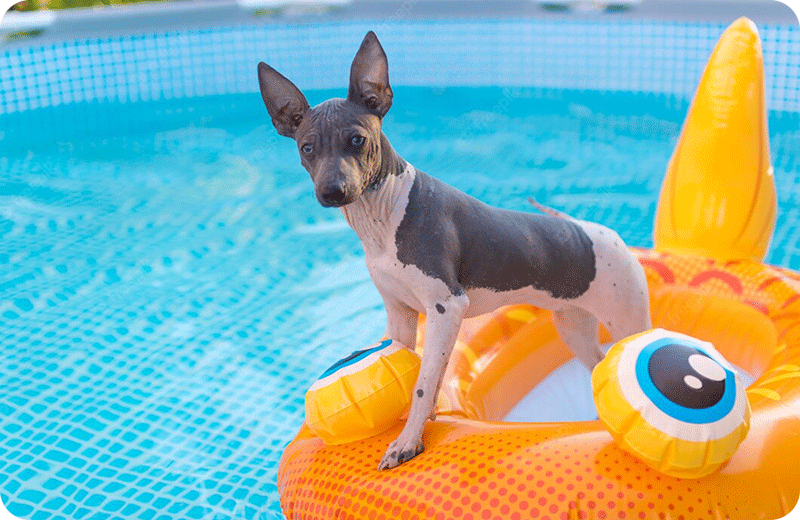 The American Hairless Terrier can reach a height of sixteen inches. There are two varieties: the one with a regular coat and one with no coat. The American Hairless Terrier may still have some facial and tail hairs, but the rest of the body will be smooth.
This variety also has warm skin that is a delight to touch. Keep in mind that hairless dogs are prone to sunburn, and in cold weather, they require extra protection, so they don't get sick. Unlike dogs with thick coats, hairless dogs are not weather-proof, and they need to be brought indoors or at least brought out of the rain when it starts pouring.
American Hairless Terriers are excellent family dogs, are very loyal, also naturally making them excellent home guardians.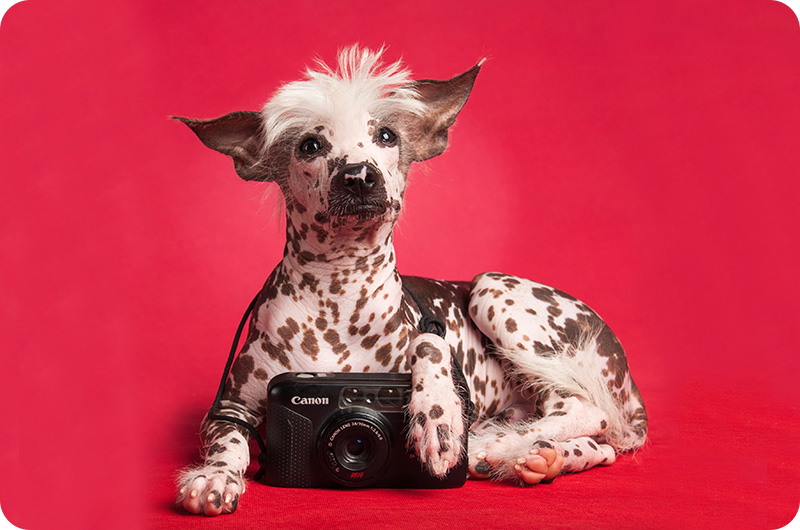 The Peruvian Inca Orchid is probably the most famous of the hairless dog breeds in the world. This dog breed has a handsome and muscular profile and a slim body fit for dog shows. The Peruvian Inca Orchid has a regal and dignified bearing and is naturally affectionate and loyal to its owner/s. There are three varieties based on size: small, medium, and large.
The small Inca Orchids can reach a height of 15.75" in adulthood, while the medium variety can grow to 19.75". Finally, the large variety is the tallest, as it can reach a height of 26.75". Expect an Inca Orchid to reach the ripe old age of 14 in human years.
The Xoloitzcuintli occurs in three sizes: toy-sized, miniature-sized, and regular-sized that can either be hairless or with a coat. This dog has tight-fitting skin that is often dark.
You will find a variety of colors in this stock, from red to bronze. The slate-dark varieties are more common. They are naturally graceful and loyal to owners, and despite the hairless condition, these dogs are agile and hardworking animals, too. They don't get sick quickly, and you can expect long years of companionship when you get a Xoloitzcuintli.

The Xoloitzcuintli is somewhat a mid-range dog in terms of popularity, but you can expect this breed to continue making waves as people have revered hairless dogs for centuries.
The regular-sized variety can reach 23" at the shoulder point and weigh a whopping 55 pounds (standard size). The Xoloitzcuintli has a longer lifespan compared to the Incan Orchid, as it can live at least thirteen years to a maximum age of eighteen in some cases. Take note that the Xoloitzcuintli is a non-sporting dog.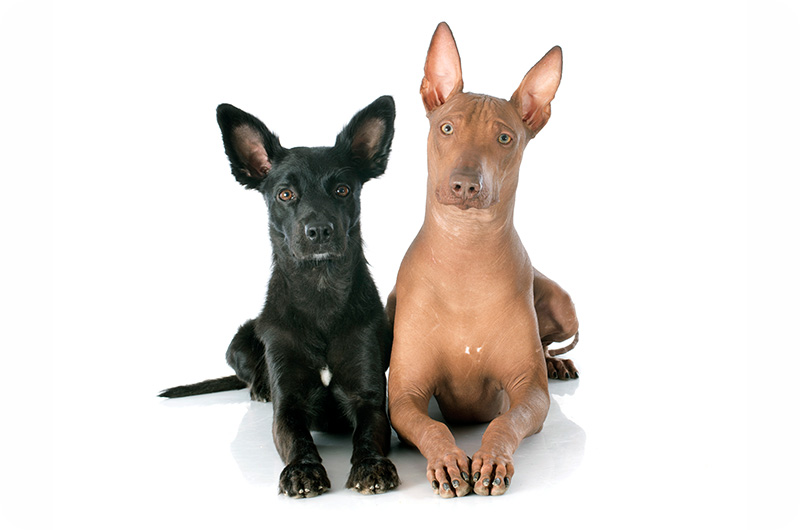 How Much Is a Peruvian Hairless Dog?
The Peruvian Hairless Dog or the Peruvian Orchid has two variations: the one with a coat and the hairless one. A puppy will generally cost anywhere from six hundred dollars to eight hundred dollars. The rarity of this breed contributes to the price of acquiring one. If you are looking for one with show quality, then the price tag goes up again.
If you don't want to buy from breeders, you can always check out dog shelters and rescue organizations. The cost of acquiring a Peruvian Hairless Dog from these places is much lower. Some adoptions only cost $50 thought; sometimes, the fees can amount to about $400, which is still lower than the cost of buying one from a breeder.
We recommend that you focus on acquiring a puppy that is healthy and free of abnormalities. Caring for any dog is a huge undertaking, and you will have an easier time caring for a new puppy if the puppy has no medical issues, to begin with.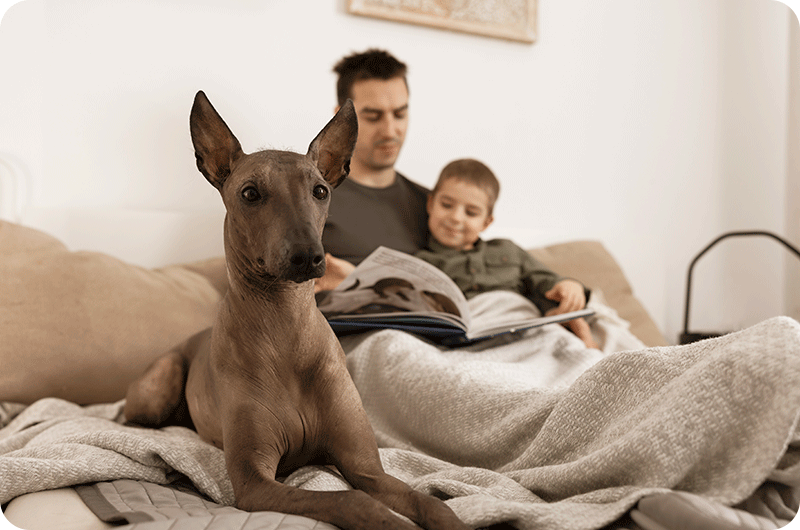 Do Hairless Dogs Smell?
Like other domestic animals, hairless dogs can still develop natural odors as their skin secretes oils and other substances. Proper and regular maintenance of the skin Is necessary.
While it is true that there is almost no coat to take care of, the skin needs to be cleaned, so it does not end up becoming smelly and, eventually, oily. The same rule applies to humans – if a human doesn't shower regularly, he will develop an awkward smell from the combination of grime and body oils.
Another issue that you may encounter with owning a hairless dog breed is that they don't have an outer coat to shield its skin from the surroundings, a hairless dog breed may leave oily marks on furniture and other surfaces into contact with. The oily marks in question tend to have an organic and awkward smell.
Use mild soap designed for dogs and be sure always to rinse your hairless dog thoroughly to remove oils and grime from the skin. With sufficient care, you would barely notice that you have a special breed of dogs at home.

Next on your reading list: