What do you do if your dog has diarrhea but acts fine, or if your dog has bloody diarrhea but is acting normal? There are many possible reasons why this has happened, and today, we are going to clear the air about the likely causes of diarrhea in dogs.
What Is the Most Common Cause of Diarrhea in Dogs?
The reasons for dog diarrhea vary depending on your dog's specific situation. In many situations, diarrhea is only the symptom, not the exact disease. There are always underlying reasons why a dog would get diarrhea.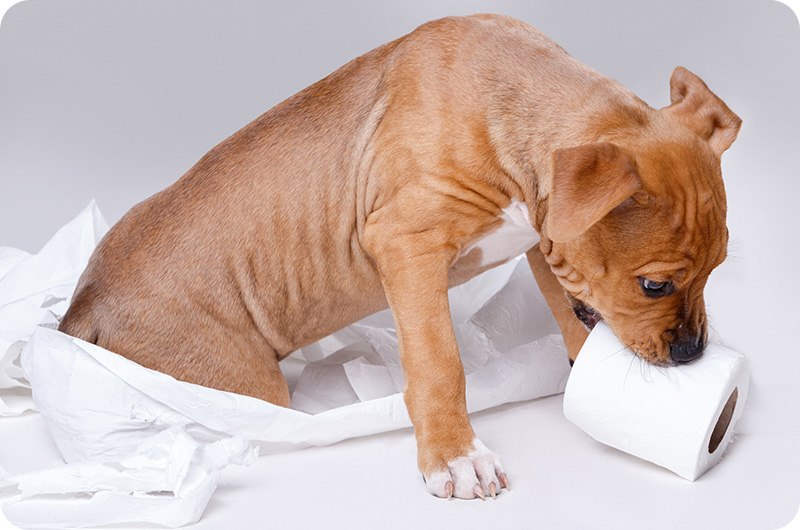 Why do dogs get diarrhea?
The major causes of canine diarrhea include dietary changes, large intestines, metabolic disorders, poor digestion, and disorders that affect the small intestines. Dogs with disorders of the small intestine may be suffering from any of the following:
Ulcers in the stomach
Having a short, small intestine (inborn defect)
Cancer
Giardia parasite
Viral infection of the small intestines
Bacterial infections
Protein-losing conditions
Inflammation of the bowels
On the other hand, dogs with poor digestion may have defective or disease-ridden pancreases or issues with their gallbladder or liver. Dietary problems include gluten sensitivity and food intolerances. Dogs with food intolerances have allergies and would periodically produce symptoms involving frequent pooping of liquid poo.

There may also be physical blockages such as tumors that are impeding normal digestion and excretion in some cases. The canine's physiological response would be to speed up the expulsion of solid waste. Some of the dangerous metabolic disorders that can cause diarrhea include hormone-secreting tumors, drugs, toxins, having urine waste accumulating in the blood, adrenal gland disorders, and gallbladder disease.
Additional issues in a canine's diet that can be evaluated are major changes in the type of food given to the dog, low dietary fiber, and possible ingestion of foreign material.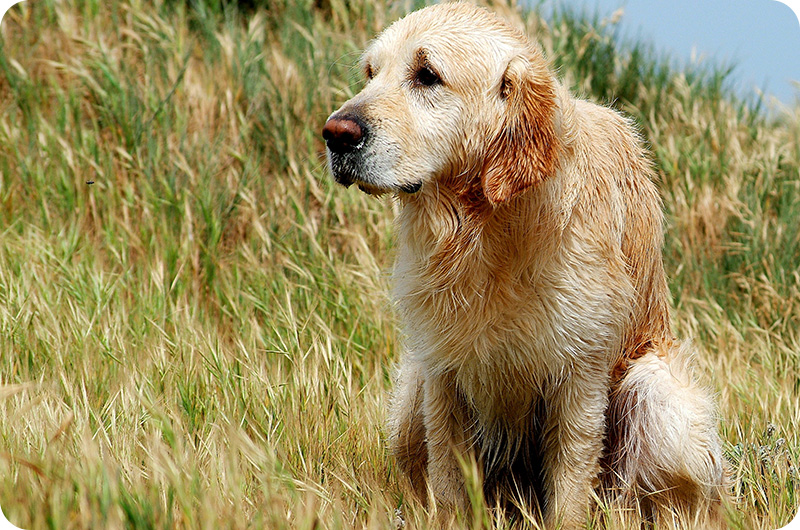 What Can You Give a Dog to Stop Diarrhea?
The best recourse is to consult with your vet. However, if you are looking for simple remedies that may help soothe your dog's stomach, we have one that would help recondition your dog's bowels.
When a dog seems to be reacting to the new food, it's best to stop the regular dog food and revert to canned pumpkin, boiled skinless chicken, and some brown rice combined with any broth.
Feed your dog small quantities of food throughout the day and observe your dog's stool. If the liquid stool goes away, you can begin adding back the regular dog food. If not, your dog may have to subsist on this special diet until its digestive tract is back to normal.  

When Should I Take My Dog to The Vet for Diarrhea?
If your dog has diarrhea but acting normal and eating, you can probably observe it for another day or so if diarrhea continues. In general, however, any substantial changes to a dog's normal activity and physiological processes should be treated seriously. We suggest phoning your vet and describing the symptoms so you can get some general advice about what to do.

When Should I Be Concerned About My Dogs Diarrhea?
Be sure to provide your dog with immediate veterinary care if it experienced diarrhea symptoms in puppyhood or senior hood. Very young dogs and senior dogs can deteriorate rapidly in diarrhea, as it can easily trigger dehydration. Preexisting canine conditions that may seem to have no connection with the symptom (diarrhea) should also be investigated. Diarrhea can have debilitating effects on a dog that is already physically vulnerable from another physical ailment.
Call your vet if you observe the following:
Your dog is pooping too frequently. Compare the current frequency with how many times your dog poops before.
Your dog's stool has many blood streaks. The blood can either be fresh or darker, meaning the blood comes from a higher colon region.
Tarry stool, indication possibly heavy bleeding.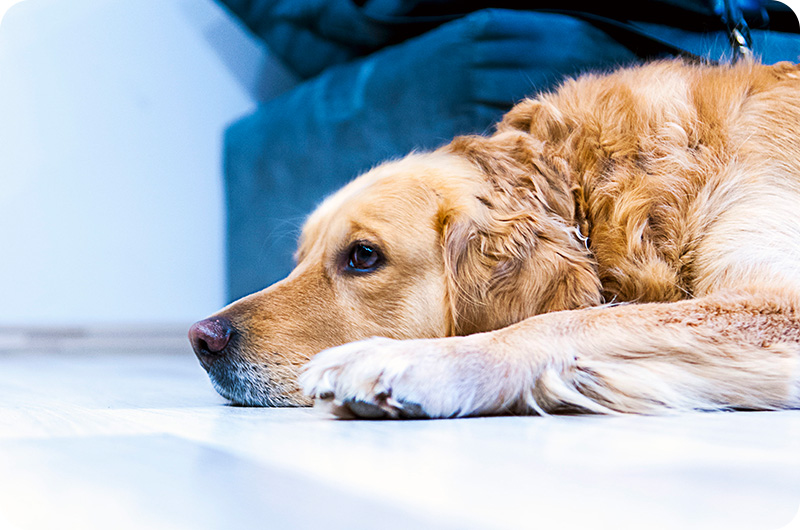 Severe diarrhea can also be accompanied by other serious symptoms that your vet should know about ASAP, including profuse and uncontrollable vomiting, sudden lethargy, depression and inactivity, and visible signs of your dog being in pain. The last symptoms are most alarming and can indicate that your dog may be suffering from a more serious health condition.
For dogs with acute diarrhea that may have been triggered by something more benign like a sudden shift in diet, here are some reminders:
­Clean water is essential to dogs with diarrhea. Like humans, they can become dehydrated. Dehydration can lead to shock, and we don't want a situation where we have to rush a collapsed dog to a vet clinic or animal hospital.
Sweet potatoes, pumpkin, and boiled chicken are nurturing bad stomachs. If your dog can't tolerate the current dog food you have, either shift to home-cooked meals or ask your vet for a special prescription diet for dogs with sensitive digestion. Either way, your dog's current food will have to be removed from the equation so your dog can recover.
Twenty-four hours is the maximum for acute diarrhea. If your dog worsens the next day and the new food has done nothing to quell the liquid poo, it's time to bring your dog to the vet before the situation worsens even more.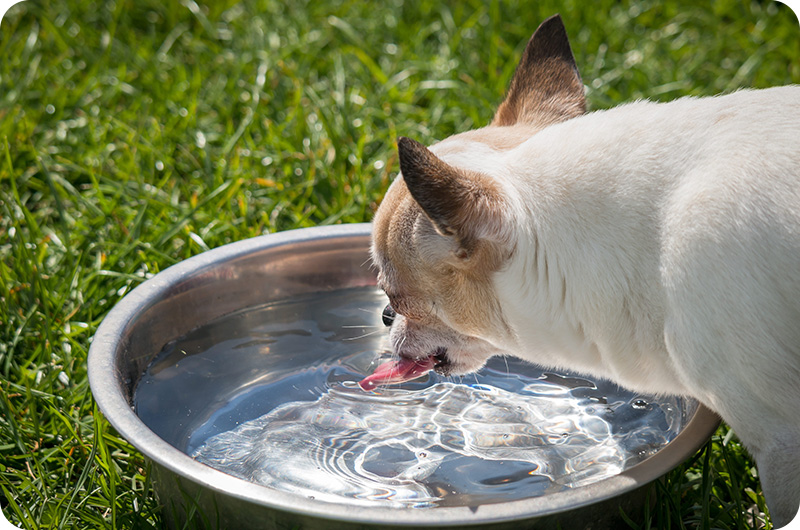 Some additional guidelines to follow:
After the onset of diarrhea, remove all food for eight to twelve hours to allow your dog to clear its colon first. If it ate anything that made its colon swollen or infected, it should remove the previously eaten food first.
Make water available all the time and be sure to offer the water to your dog. If your dog is lethargic, it won't be able to look for water.
White rice and boiled chicken can be given after eight or twelve hours if your dog has not vomited.
After the first small meal of rice and chicken, observe for two hours and if nothing bad happens, offer the same type of food again.

Next on your reading list: