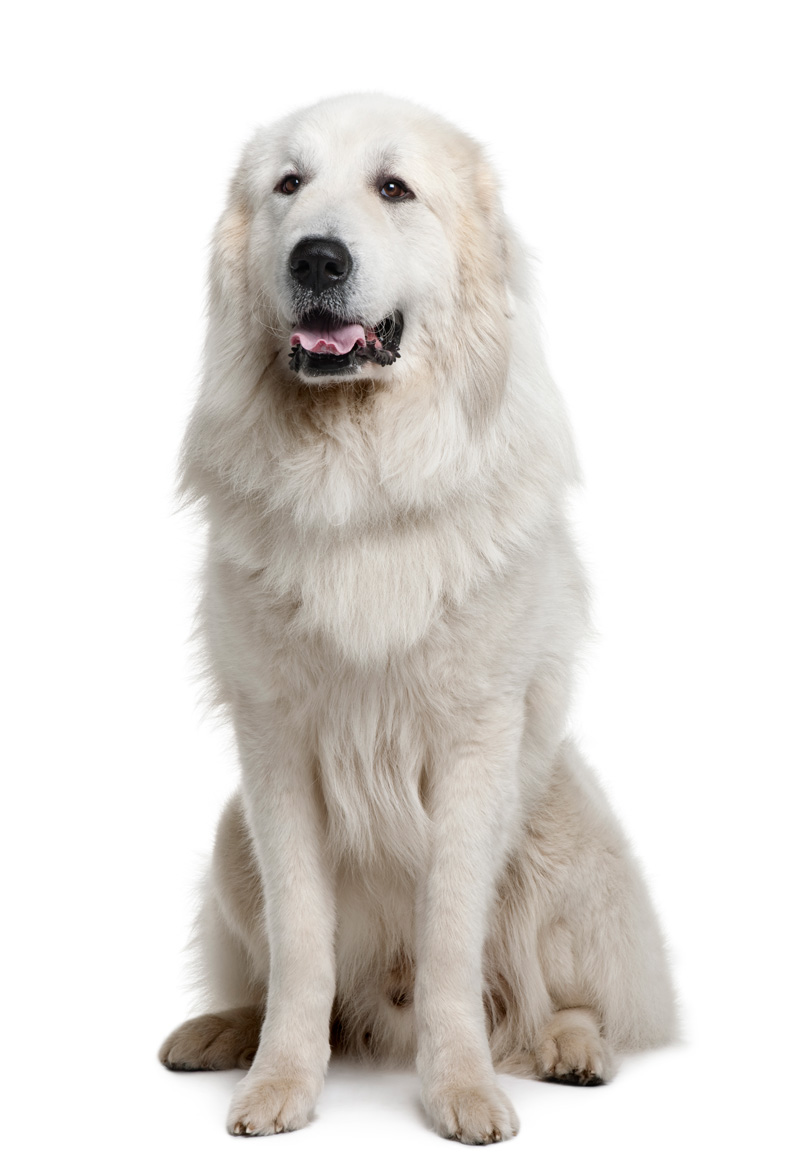 Are you fascinated by large white dog breeds? These dog breeds can be incredibly majestic, and they have a natural dignity to them that people love.
Interestingly, the legendary big white dog is that several white dog breeds and many hail from working dog bloodlines. You'd think that working dogs would all be earth-toned and musclebound.
Well, think again – many of them are graceful and look more like the King's favorite pets more than anything. If you have been considering getting a large white dog as a house pet, it would be best to understand the dog's temperament that you will be purchasing or adopting first. Not all big white dog breeds are suitable as house pets.
What Is the Largest White Dog Breed?
By far, the largest white dog breed around is the Great Pyrenees. The Great Pyrenees looks like a cuddly bear because of its mass and friendly face. However, the Great Pyrenees is a working dog to the bone and was selectively bred in the beginning as a means of deterring wolves who were after livestock.
In short, these gentle hulks stood in the way of rapacious wolves and helpless livestock.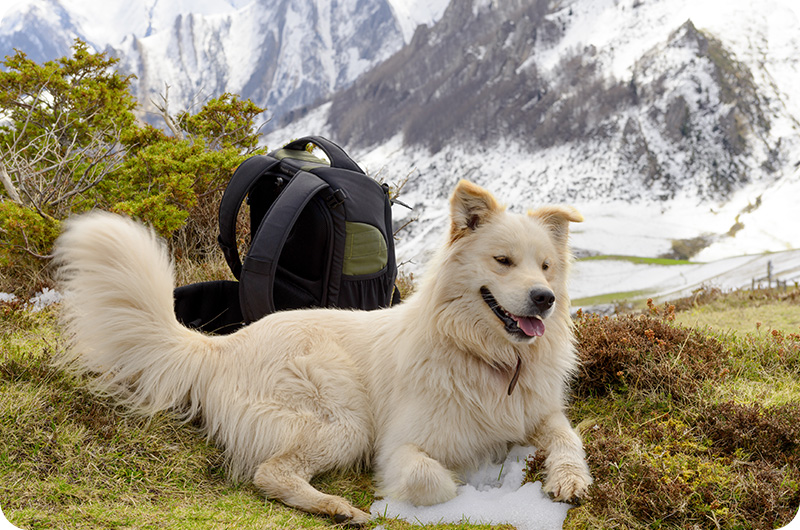 The Great Pyrenees is one of the most legendary and popular dog breeds in the United States, ranking #66 out of 196 recognized dog breeds of the American Kennel Club. Males can reach a height of 32 inches.  Great Pyrenees females can stand at 29 inches. In comparison, average big dogs only grow to a height of 20 inches. Can you imagine how huge these dogs are when they rear up and stand?
The average lifespan of a Great Pyrenees is 12 years, though some have been reported to live as long as 14 years. Genetics plays a huge role in how many years a dog will live. If a dog came from a line of dogs with long lives, it might also have a longer lifespan than usual.
On top of the huge build is a thick coat that rivals any other thick-coated pooch bred for working conditions and withstanding the cold. Keep in mind that this dog does fine in the mountaintops' low-oxygen conditions, and they don't even budge in snow. In short, these dogs are the power representations of working-class dogs. With the proper care and training, you will be one happy dog owner having a Great Pyrenees around.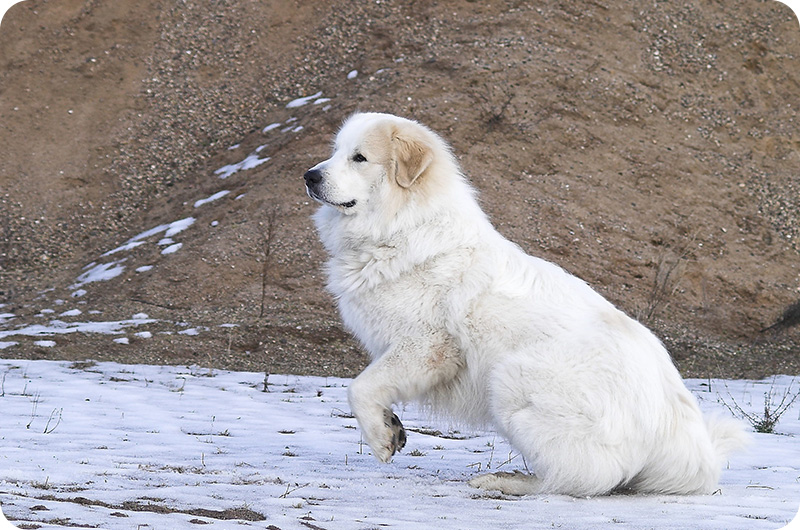 Upon maturation, male Great Pyrenees can weigh in at over one hundred pounds easily. Give your Great Pyrenees good food and proper exercise, and you can create a hulking white dog effortlessly. Their mass complements the harsh life of living in snow-capped regions, so they become more durable against harsh outdoor conditions as they grow bigger.
Other Great Pyrenees may be born with light streaks of other colors, such as reddish-brown, tan and gray.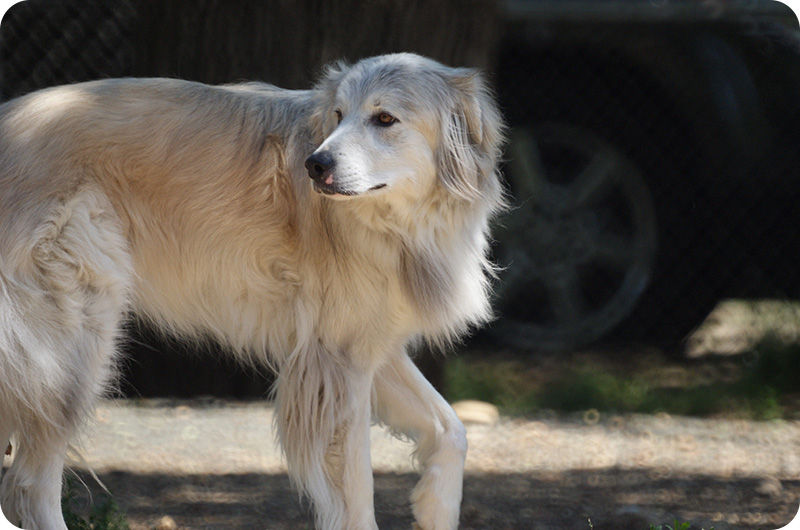 What Breed Is a Large White Dog?
If you saw a massive white dog with a large head that somehow resembles a St. Bernard, then you may have seen a Great Pyrenees. The Great Pyrenees is a working dog that specializes in surviving in freezing conditions.
If you saw a dog with pointy ears and a medium build, you may have seen a Japanese Akita Inu. The Akita Inu is one of a handful of native Japanese dogs, and they are also selectively bred to withstand the harsh conditions of snowy mountainous regions. An Akita Inu may exhibit additional streaks of color in addition to a predominantly white coat.
The Borzoi has the look of a British Greyhound, but it is much bigger and has extremely long legs. The Borzoi originates from Russia and is a sighthound that can be used to hunt for rabbits and foxes, too.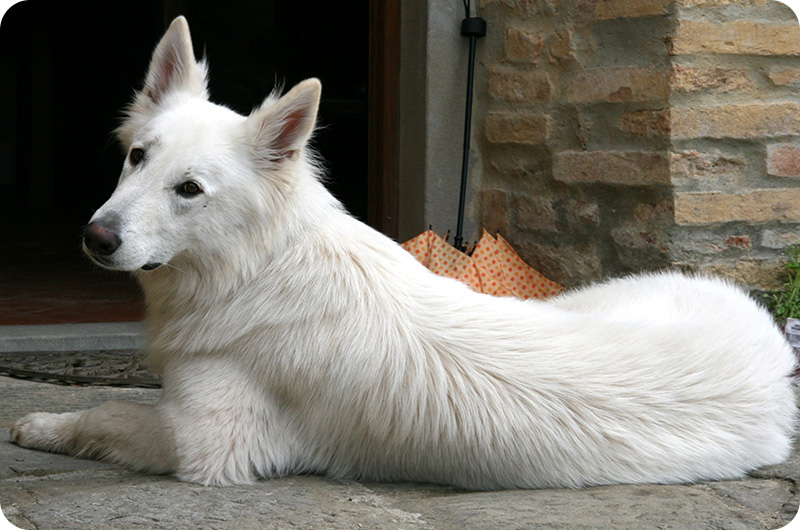 Are White Shepherds Aggressive?
A white Shepherd dog is the white variation of the German Shepherd. White Shepherds should not be considered as 'different' from other German Shepherds. They possess the same traits, psychology, instincts, and tendencies.
Some people mistake pure white Shepherds as being more aggressive or unpredictable. In reality, white Shepherds are gentle souls, but they will react to protect your family or the pack.
There's a reason why German Shepherds are used for police work. These hardworking dogs are reliable, intelligent, and have the strength, mass, and brawn to take down a human and protect their human if their master's life is at risk.
There have been many stories of German Shepherd police dogs saving their handlers' lives. While the reaction is due to training (knowing when to react is important in this context), the dog's loyalty to their handlers makes them go all out when someone's life is at risk.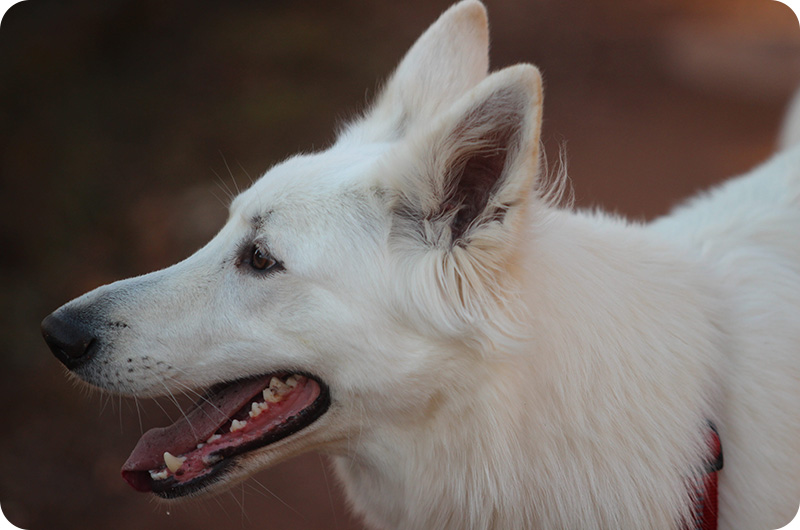 White German Shepherds have two distinct sides. Their "guardian" or "lookout" side makes them largely aloof in the presence of other humans. This means they are watching other people that they don't know in the immediate vicinity. If they are unsure, they will be somehow skittish and watchful.
The second side of the White Shepherd is the playful side. When a White Shepherd is relaxed, it will be most curious and playful. They love to bond with humans, even kids. While a White Shepherd can be fine in a house with a small child, it would be best to have it trained to reduce risk and avoid accidents (like accidental nipping).
Also, keep in mind that all German Shepherds require plenty of exercises. They are extremely active animals, and the more exercise they get, the better they feel. A well-exercised dog is a happy and relaxed dog. People who say that their dogs are acting out may not be properly exercising their dogs, and therefore, the animals have not natural outlet for their energy. This can lead to further acting out and even aggression.

Next on your reading list: