A doghouse heater is a necessary component for both indoor and outdoor dog houses. Outdoor dog houses would need added insulation and heating, especially during the colder months of the year. If you take care of feral cats and other animals who regularly seek shelter during the colder months, make sure you have several doghouse heaters available outside, like a Climate safe doghouse heater.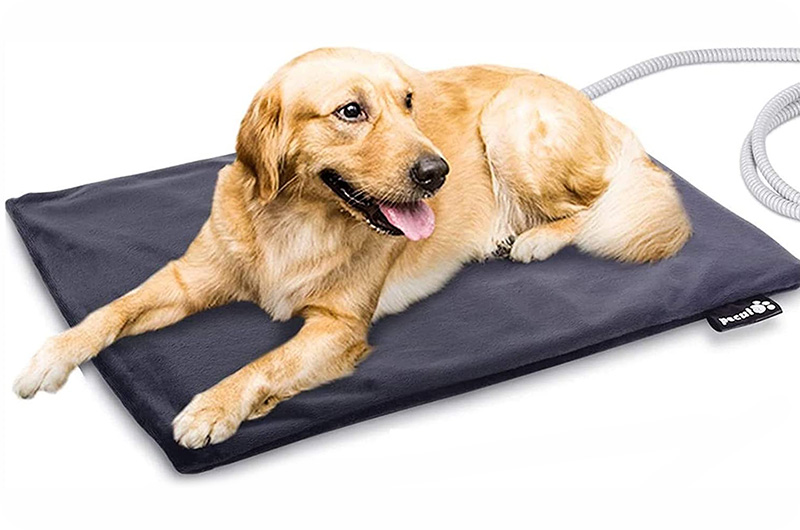 Pecute introduces a low-voltage heating pad that works best for cats, dogs, and other animals who don't do well with nippy weather. This is an upgraded version of Pecute's older model that has two flannel layers (both removable). The flannel cover is naturally soft and comfortable and also naturally promotes sleep in small animals. This heating pad is most suitable for older dogs and cats who need help relaxing and falling asleep. Please provide the best experience for your senior pets so they won't have trouble getting much-needed rest. Does your pet have arthritis, too?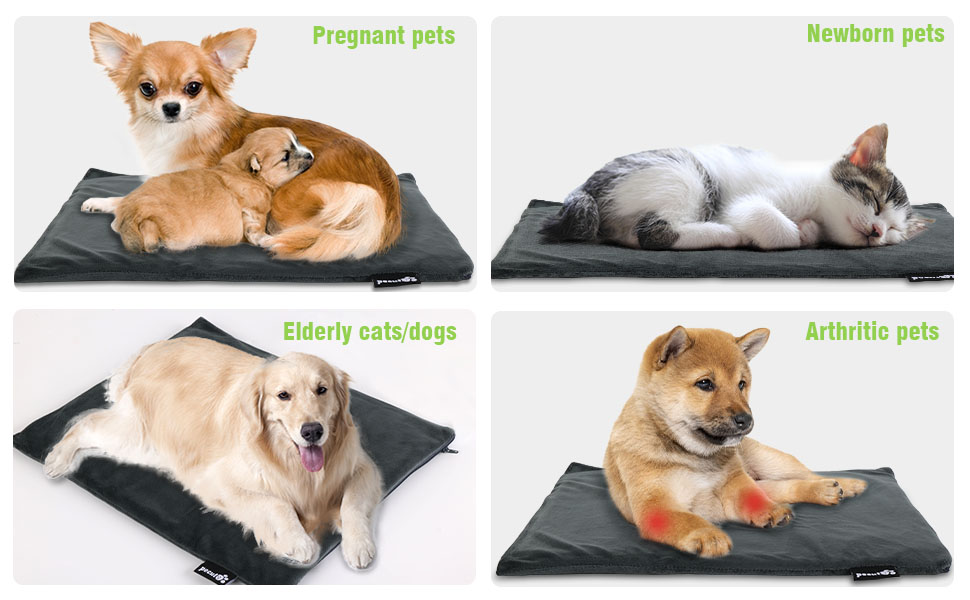 Arthritic animals often suffer from inflamed joints and paws when they have to sleep on the cold floor. Heat resolves the pain and allows them to rest better. This will also be good for their arthritic paws. Pets that have just emerged from surgery also need palliative support. Veterinarians regularly recommend heating pads to provide additional comfort and healing to pets who have gone under the knife. This heating pad limits temperatures to 55°C/131°F, and it has a smart, built-in circuit that prevents any overheating that may harm your pets.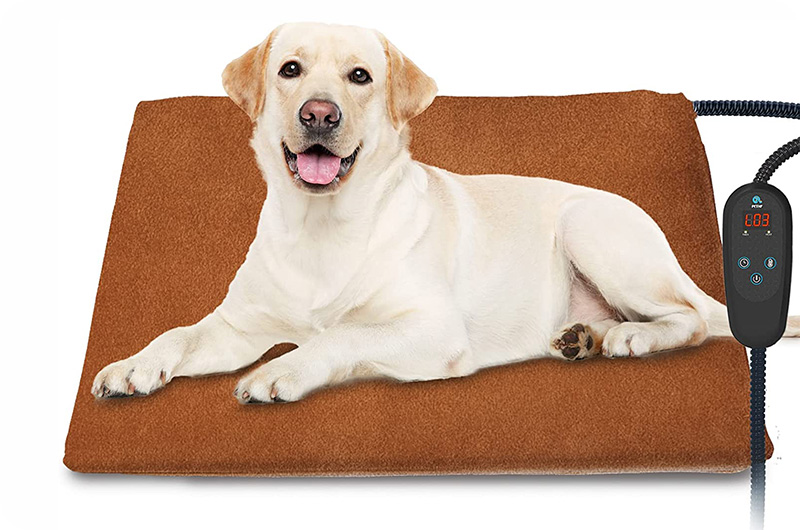 Petnf provides an excellent heating pad for dogs of all breeds and sizes. This heating pad was also designed to resist scratches and bites. The heating pad will last longer because of its durable materials, and it won't have any problems being used by multiple pets at a time.
The Petnf heating pad comes in three sizes. Pick the right size for your pet, or pick the biggest one so all your pets can have a go at it. We also recommend placing a heating pad in your outdoor dog house, or if you have any space outside, you reserve for feral cats. If you want to keep your feral friends warm and comfy, this is the best way to do it.
However, it would be best to make sure that the heating pad is resistant to bites and scratches to protect your investment. The largest pad measures 23.6"x35.4", making this pad significantly larger than your average indoor dog house. Be sure to match the indoor house's size and the mat so you won't have problems adding this pad to the indoor house. This pad also comes with a timer. You can set the pad to heat up for at least two hours, all the way to twenty-four hours if need be. There's also the option of bypassing the timer and just keeping the pad warm all the time.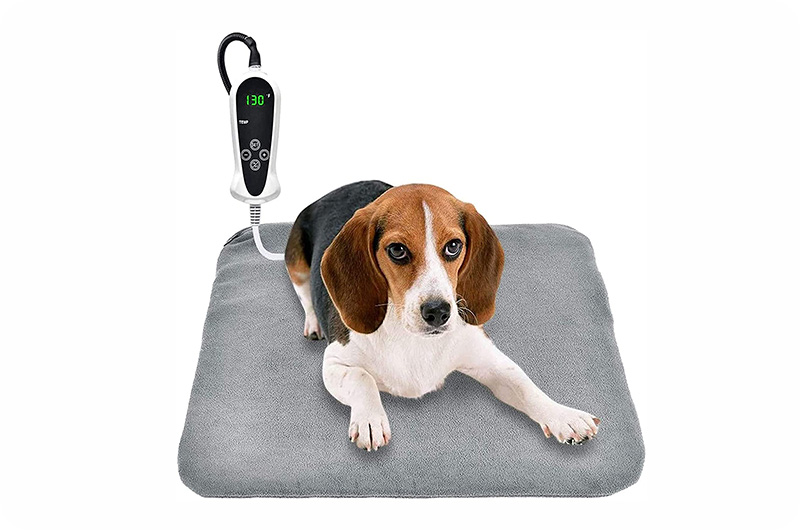 RIOGOO's heating pad design is one of the best in the industry, based on our observations. RIOGOO uses a total of seven different layers to secure your pets during the use of their heating pad. The base has a durable polyester cover, which is best for heating pads, followed by a waterproof PVC material that prevents urine and soiling from reaching the electrical parts. Above the clear PVC is the first layer of refracting wool, which helps spread and insulate warmth—two layers of refractory wool sandwich high-quality heating wires that produce the heat for your pets.
Two additional waterproofing layers surround the heating wire for extra protection. This is a 2019 upgraded design that has an auto-off feature and timer (12 hours only). This heating pad can raise the temperature to 80°F to a maximum of 113°F. Check the warmth indoors before setting the temperature to provide the most comfortable experience for your pets. Use the convenient in-wire remote to set the temperature and the timer and just let your pets enjoy their new comfortable heating pad.
Customers who have purchased this heating say that their senior pups love it, especially the most arthritic ones. As we have mentioned before, older dogs need a bit more help resting and falling asleep because of the infrequent (or regular) pains associated with their conditions. Cat owners are equally happy with their purchases, too.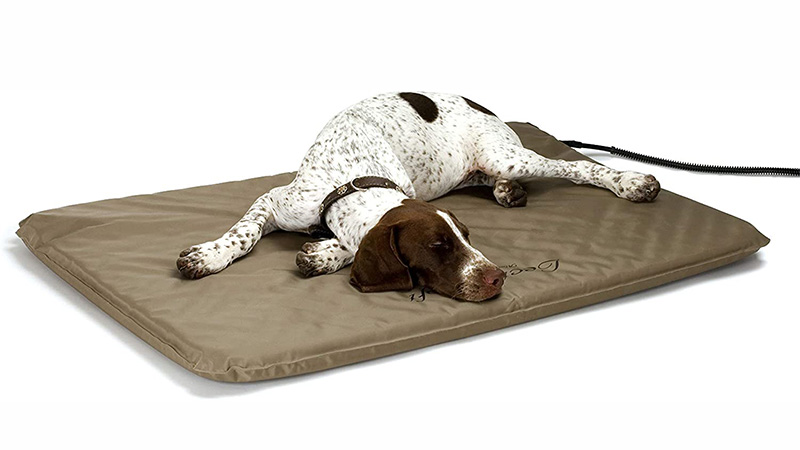 K&H Lectro-Soft Outdoor Heating Mat is the first heating pad in the series that has been outfitted with orthopedic foam, covered by fleece. This heating mat has thermostatic technology, which is more advanced and provides better heating over some time. The heating mat also senses changes to your pet's body temperature to ensure optimum heating and comfort.
Unlike the other heating pads, this one can be safely placed in the barn or garage, or any other spot where your pets typically stay when they are outside. It also comes with a steel-wrapped wire, measures 5.5 feet, and only consumes sixty watts of power. Additionally, this heating pad comforts JOCK Dog Food Vs. Montego  / Can a Dog Wear a Cone in a Crate? USA/CA standards for electrical safety and MET Labs have independently tested the pad.
What makes this heating pad special is it adjusts itself never to exceed the animal's body temperature. Without the sensing technology used by this pad, other pads may overheat your pets. This ensures that the overheating never occurs. Dogs and cats have different temperature ranges (comfort levels, that is), then an auto-sensing pad makes a lot of sense.
Customers who have purchased it say that the thermostatic control saves them money, and the bed does adjust to the ambient temperature of the environment. This bed may be slightly warm for feral cats, but all the same, it works perfectly for adjusting automatically to the body temperature of animals.

Next on your reading list: