Dressing up your dog with cute costumes is not just a passing phase in the New Normal. Rather, it's one of the best ways to appreciate the natural beauty of our pets. From UPS delivery guys to Halloween costumes, check out the best dog costumes ever from Amazon in today's fancy costume review.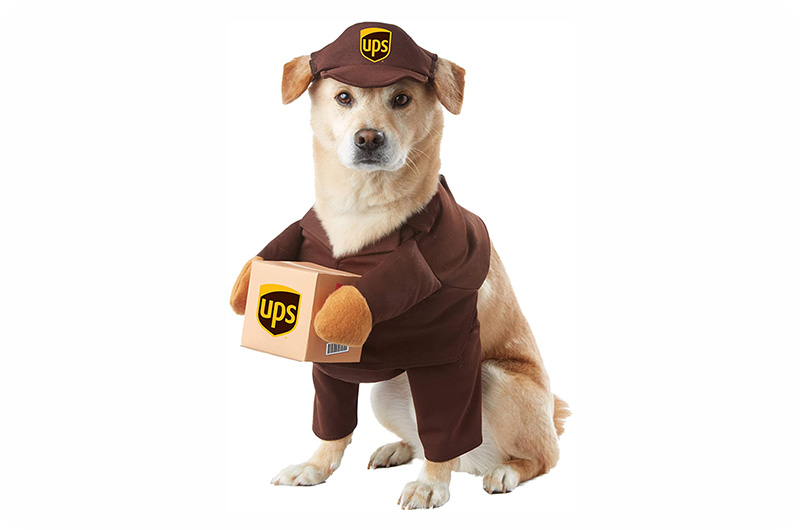 This Amazon's Choice costume is a riot. Who hasn't seen the iconic UPS guy, with this brown shirt, peeved expression, and the legendary UPS box? This costume comes in four sizes: extra-small, small, medium, and large.
The costume is also made with breathable polyester and has been fiber filled with the softest fillings ever. The manufacturer used polyurethane foam for this one. The shirt's sleeves will fit your dog's front legs perfectly, and your pet will be able to move easily as if nothing's there. 
The costume also fastens securely around your dog's neck with Velcro. Velcro is the preferred fastening material for dog costumes because they're hard to remove, and they can easily be undone in case your dog doesn't like to wear the costume at some point.
The costume also has stuffed arms that move naturally when the dog strides, making the costume even more fun and natural. We honestly feel that this costume is something you'd buy for a collection because it's so naturally witty and funny. We love the proportions as well, and the dog looks so natural wearing it.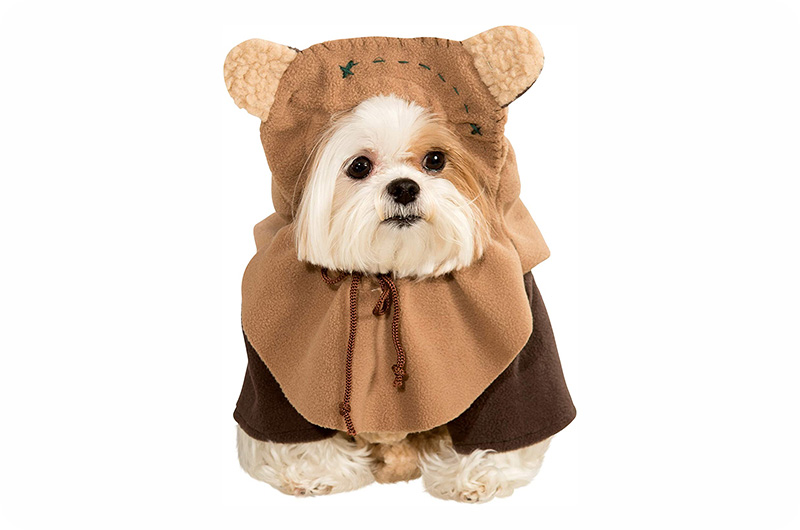 If you are a fan of Disney dog costumes or Star Wars, you'll love this Ewok dog costume from Rubie's Store. The costume comes in four sizes, from small to extra-large. The costume was designed for all dog sizes; you have to get the proper fit when you buy it. This is a cowl-neck style costume and is made from super comfortable polyester.
Keep in mind that this is an officially licensed dog costume – it's the real thing, and Star Wars collectors out there should certainly grab at least one dog costume for their collection. This costume will likely have a lot of value in the coming years, as with all things Star Wars.
The brown top is a step-in one, reducing the difficulties associated with bringing your dog into the costume. The store asks dog owners to be reasonable with their expectations as dogs' circumference and dimensions differ. If you are in doubt, we recommend buying one size larger than your estimate.
Additionally, the store asks dog owners to select this costume not based on the breed but the dog's shape. This costume is primarily for dogs with stubbier legs, for instance.
Customers who bought the costume had a lot of fun taking pictures of their puppies after. One lady said that they loved the costume, but their dog hates them now. What a riot! Another buyer stated that this isn't a small costume, but rather a medium for bigger toy dogs.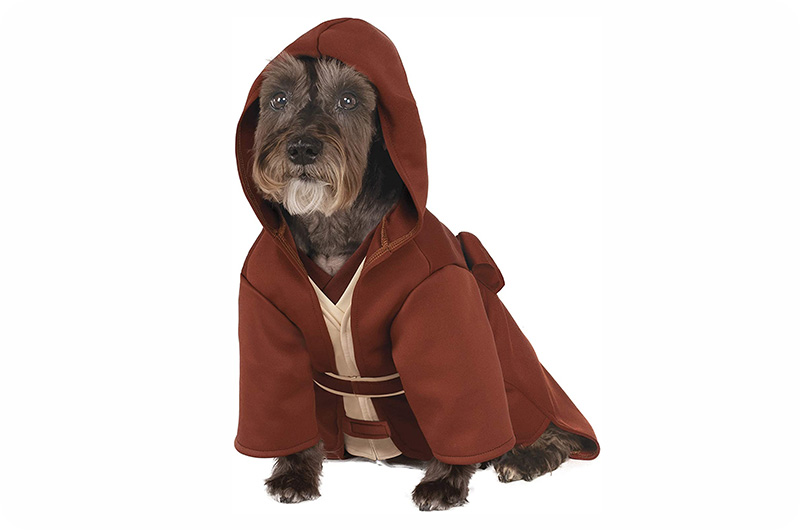 Nothing looks better on a cute dog than a representation of Good. Well, some people like the Dark Side, but we like to make things fair for everyone. Both the Jedi and the folks on the Dark Side can look cool.
This Star Wars dog costume is just so well-designed that we'd love to put it on our dogs 24/7. Like the previous dog costume, this one comes in four sizes, up to an extra-large. It is a multi-color design and is also an officially licensed dog costume with the Star Wars theme.
Again, if you are a collector, you're going to love the fact that you can have an actual licensed Star Wars collection dog costume at home. Plus, your dog gets to have bragging rights with his fellow canines. Kidding aside, this pet costume has all the amazing small details that make it a good investment overall.
Be sure to read the sizing information of the store before buying, so you can get just the right size for your dog. As expected, buyers are extremely satisfied with their purchases.
Based on our survey of the photos from the review pages, this is a pretty good choice for toy dogs and medium-sized dogs. It offers a good fit, and the dogs appear to move quite nicely when you fit the costume for the first time. Another dog owner said that her dog didn't try to escape the costume this time, so the material doesn't irritate her dog's skin.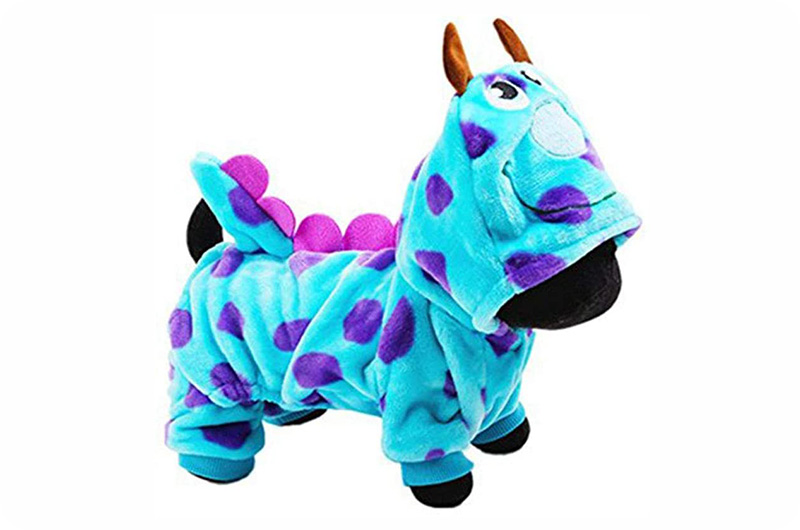 If the last three costumes didn't catch your fancy, perhaps you're looking for something simpler but no less eye-catching. This bubbly blue dog costume is perfect for small pets, and it is specially designed to keep your dog's warmer during the nippier months. The fabric is incredibly soft, and the costume does not shed or spread polyester fragments even after washing.
Warmth-retention is the number one thing that customers love about this casual hoody. The cartoon design is also awesome if you want your dog to stand out from the crowd during a party. It's not as unique as the Star Wars costumes, but it has enough oomph to turn heads. Expect your pup to get plenty of compliments while at the party as he mingles with other Halloween-themed dogs.
Unlike other costumes, this one covers the entire body and all for the legs. The soft fleece material also ensures utmost flexibility, so your dog won't have any problems moving and playing when the costume is on.
Allow up to 2 inches allowance for the sizing of this costume. Also, keep in mind the shape of the costume. This costume requires shorter-legged furry companions. If your dog has somewhat longer legs, there won't be as much coverage, so you must pick the costume based on the animal's body type. Other than this, expect the costume to be a crowd favorite.

Next on your reading list: