Looking for the right cat beds, Amazon can be a pain in the neck, especially if you aren't sure what exactly your cat is comfortable with. Luckily, there is a wide array of heated cat beds, marshmallow cat beds, and crochet cat beds on Amazon. A self-warming cat bed is most comfortable and suitable for many cat breeds, especially those that are more susceptible to the cold. Here are our top picks for cat beds this season – it's time to make your felines feel comfy during the holidays and beyond!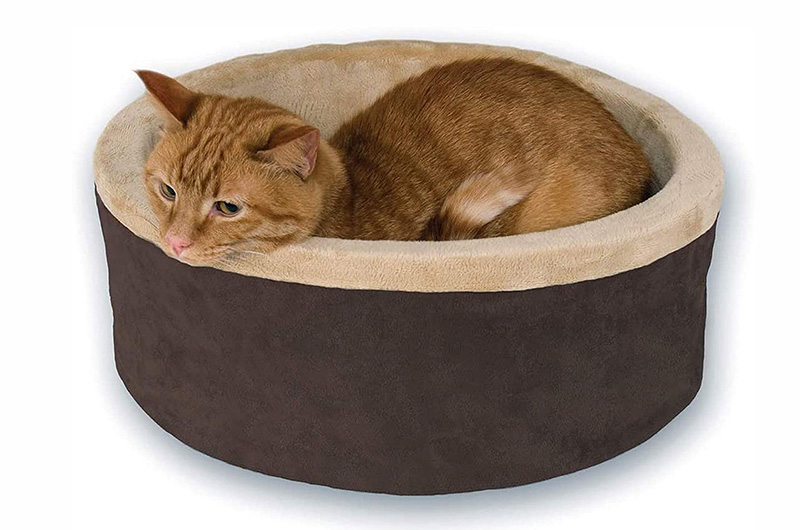 Solidly built to last, K&H Pet Products' Thermo-Kitty Heated Pet Bed is an excellent addition to any home with small to medium-sized felines. The bed has six-inch walls and a total resting space measuring sixteen inches. This is an electric cat bed with an automatic thermal control unit to ensure the best temperature for your cat.
The bed responds automatically to the ambient temperature around it. When it is warm enough, it automatically shuts off to allow for a most comfortable nap or sleep, any time of the day. The soft outer layer is removable for easy washing and wiping, and it dries quickly, too.
The bed uses only four watts of electricity, equivalent only to a tiny LED bulb. You can keep the thermally controlled kitty bed on for days without worrying about racking up electricity charges. This kitty bed has been tested and certified by MET Labs, and it exceeds the high electrical standards in Canada and the United States. It's always important to invest in quality heated beds because we don't want any problems with faulty electrical parts as our pets are going to be sitting and napping on these.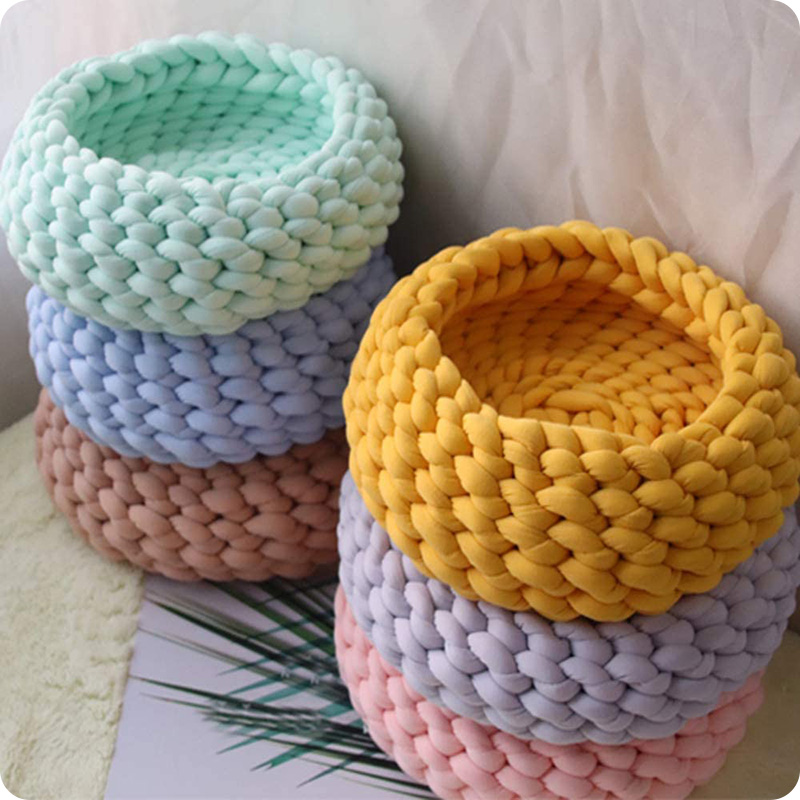 If you have been looking for something more traditional for your pet felines, we highly recommend this "cat cave" as it has everything a cat could want for naps and bedtime.
The thick, knitted bed is manufactured from cotton tubing, with extra Hollowfiber for additional cushioning and comfort for felines. The material cools when the weather is hot and warm when the weather gets nippy. The softness of the material is unmatched.
Additionally, the pet bed's shape resembles a cave, which provides additional levels of comfort and security to pets like cats who need hiding places when they feel insecure in their immediate environment.
The smallest has a diameter of 30 cm, while the largest has a diameter of 50 cm. The pet bed also comes in many luxurious and natural colors, making them a welcome addition to any part of the house.
These pet beds will never stand out in the wrong way as they will appear to be part of the natural décor of your home. The traditional knitted look will complement any aesthetic, so you can have two or three of these in a single space and still be able to maintain the beautiful look of your home.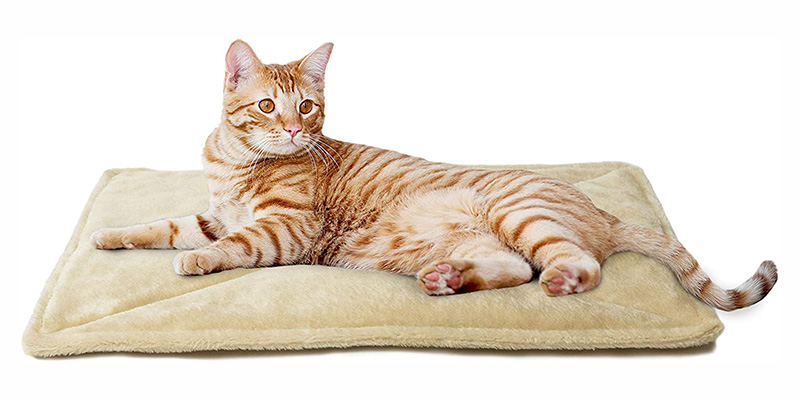 Fur haven is a well-known brand in pet accessories, and their current cat bed is just right for our furry friends. Their line of self-warming cat bed pads comes in six sizes, from small to extra, extra-large (runner pads). They also have five different variations, from shammy rugs to convertible cuddle mats. Bed pads are ideal for cats because of their size and weight.
For larger pets, you can always try the other sizes and pad variations. Fur haven also offers over one dozen colors to match your home's décor and paint. The current color patterns are sleek and modern and will not disrupt your home's aesthetics at all.
Fur haven's Thermal pad doesn't use electricity, so it's safe, and there is no chance of failure or possible injury. It is self-warming because it has insulated batting inside that doesn't waste body heat and instead returns the animal's body warmth. Your cat's body heat will have recirculated throughout the batting, resulting in better sleep and consistent, comfortable warmth as the cat rests. The surface of the mat has faux fur that is soft and breathable.
The extra layer of softness ensures that the cat is super comfortable and will love the bed pad immediately. And the best thing about all of this is that the entire bed pad is machine washable. Forget about struggling to clean your cat's favorite place to nap on, because you can wash and renew it easily.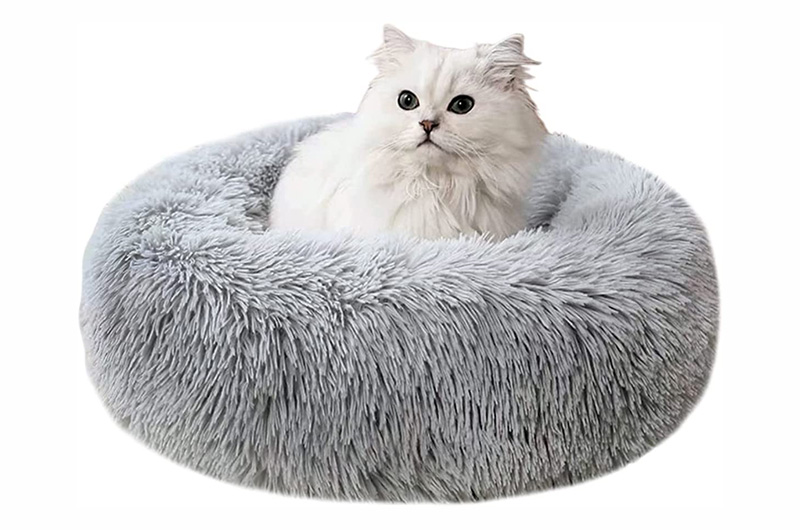 Have you been looking for a cat bed that is as fluffy as your pet? If so, the ALLNEO Original Cat Bed fits the bill completely. This cat bed looks like a powder puff and comes in three sizes. The smallest has a 20" diameter, while the largest is 28". This bed can support all kinds of pets, not just cats, up to six pounds. The outer layer of the bed is PV plush material, very durable, soft, and cuddly, just like your pet. This cat bed as a slightly raised rim that mimics the walls of more conventional-looking cat beds. It is non-shedding, and the material also does not ball up. The design provides a stable base for sleeping and napping.
This cat bed has a donut-shaped structure that puts all the weight in the middle, so it is stable, and there won't be situations where your pet will accidentally fall off if it gets too comfortable while sleeping.
Customers who bought this bed are mostly satisfied with it. The bed's center is slightly depressed, and the raised rim of the donut provides sufficient insulation for keeping your pets warm, too. The bed is slightly irregular in its shape, but that's alright as all the insulation and padding are still there, and all cat beds eventually lose their firm shape after weeks or months of use.

Next on your reading list: