Buying an outdoor cat house is a guaranteed investment for your felines because cats love staying outdoors. While you may be thinking of doing DIY outdoor cat house plans, why not get some tried and tested models on Amazon, instead?
You can add an extra outdoor cat bed and some outdoor cat furniture to spruce up these cat houses. You can also add an outdoor cat run if you have space in your yard.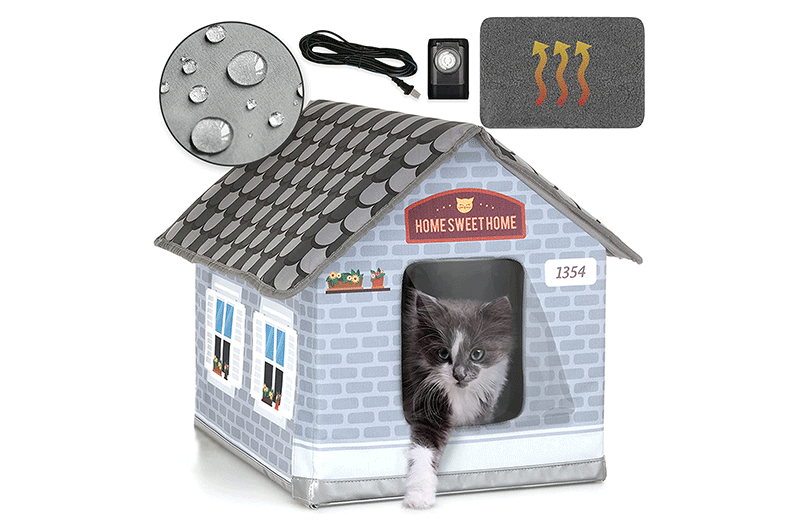 Bright, bubbly, and colorful, PETYELLA puts the "c" in cute outdoor cathouses. The current model is a water-resistant outdoor cat house that can also be used for dogs, as long as the animal is no more than 25 pounds. This outdoor cat house is ideal for cats that prefer sleeping outdoors or cats that stay outdoors more often than indoors. We all know how the cold nights can bring danger and sometimes subzero temperatures, and our feline companions must have proper shelter wherever they may be.

Customer reviews say:
This is a very comfortable outdoor cat house, especially if you want to take care of feral cats who want badly to enter your home when it's raining or too cold. Some cats may not like the flap, so if you want, you can remove the flap for the time being to encourage your cat to come inside.

Owners are praising that there are two openings, as feral cats won't be entering if there is no easy exit. This is a best practice for all kinds of cats because cats do not willingly put themselves in tight corners to be trapped. That's their hunter persona coming into the picture.

The cat house is easy to assemble and install and works great for indoor and outdoor spaces.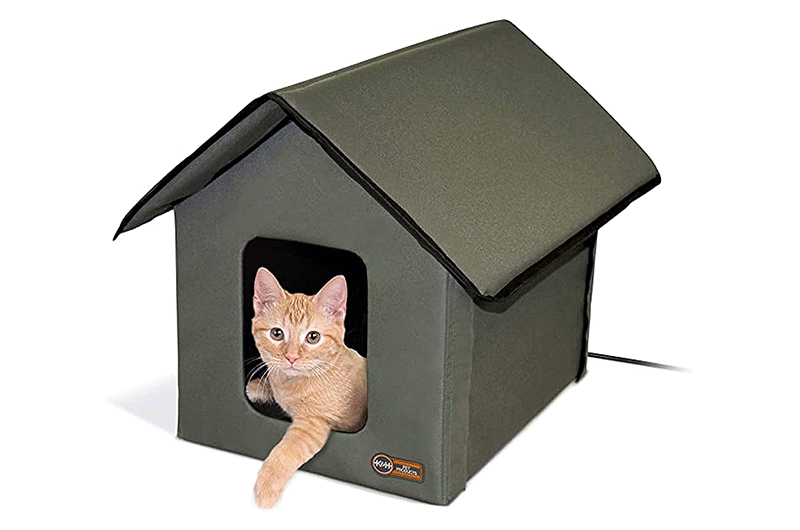 The K&H Pet Product Outdoor Kitty House comes into variants: the heated one (which we recommend) and the unheated one if you live somewhere warm or don't need it. This is the most compact and cozy design. The muted and neutral colors are perfect for the outdoor, and the heated bed that comes with a version of the house covers every spot and will make the entire house comfortable for both house cats and feral ones.
The cord length of the heated bed is 5.5 feet, so with a bit of ingenuity, you can easily ice-proof and waterproof the line and the plug with an appropriate extension cord. Use the heated version to combat subzero temperatures easily. Both entry and exit flaps are removable, and you can position this house anywhere you like in the garage, on your porch, etc. Gentle on the budget, and a plus for folks who like taking care of feral kitties!

Customer reviews say:
This heated cat house was very easy to assemble and put together, and many users are impressed with the quality. Many customers also added the heated pad to go with the original outdoor cat house. Of particular interest is how people use outdoor cat houses like this one to shelter feral cats or neighborhood cats. Adding a shelter to the equation will make feral cats trust you more quickly. The heated pad is a great way to pin feral cats in place because they enjoy the warmth so much. Best for folks who can't get over cute and cuddly feral cats.

Owners state that their cats are coming home to cuddle with warm bellies, so they know that the heated pad is working just fine even during the winter. This is an awesome way to keep cats comfy and snug even during the chilliest nights.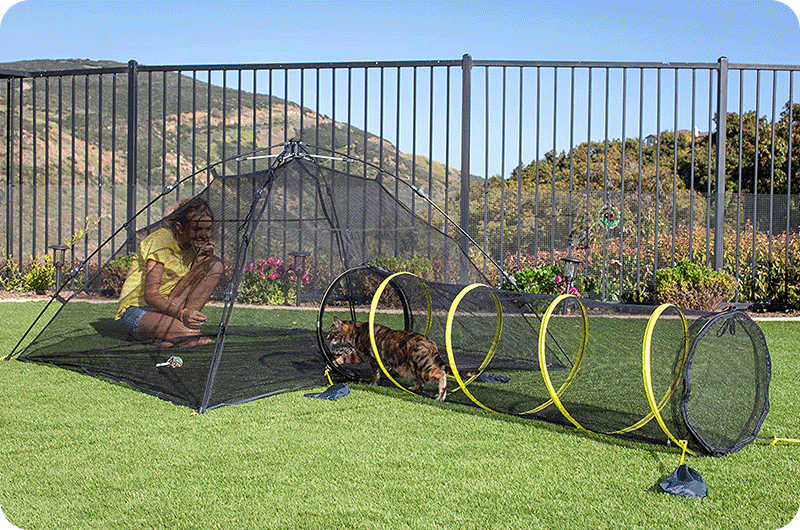 Outback Jack's Outdoor Cat Enclosure is the perfect option for cat owners who don't want their domestic cats to mingle with feral or neighborhood cats. We all know that domestic cats can get into fights with neighborhood cats easily, and an outdoor enclosure that bars other cats from your cat's space is an excellent way to deter these fights. This outdoor enclosure can be placed on your balcony, lawn, or deck and provides a clear, 360-degree view of your cat playing inside. This is the perfect example of a play tent for cats. The enclosure provides 30 square feet of space. Other small pets can also use this tent-like ferrets, rabbits, and guinea pigs. You can also step inside and play with your pets – you'd have enough space inside, too.
Customer reviews say:
This outdoor enclosure has a great design, and the chute can be angled toward the closest window, so your cat can 'escape' to the outdoors without really leaving the safety of your home. The outdoors is no longer problematic now because of this flexible enclosure.

Some users tried linking the tent with other tents from other brands – this doesn't work. This enclosure is a stand-alone unit, and the zippers do not fit other zippers. Keep this in mind if you want to create a DIY network of enclosures. This is usually done to increase the protected play space of cats. If you want to link chutes, we recommend using duct tape (lots of it) to secure the chutes.

One user emphasized that the chute or tunnel was attached only to one end. If it doesn't fit one side, spin the tent around and attach it to the other exit. This should solve any problems with fitting the entrance tunnel.

Another customer said that this tent is perfect for cats that are fifteen pounds and below in weight. Unless you have several adult Maine Coons, it should be sufficient for many average-sized cats at once. If you need more space, we suggest that you buy more than one tent at a time and position them side by side.

Next on your reading list: