When you find a cat peeing on the bed, you might be tempted to punish it immediately, to stop the behavior altogether. Unfortunately, this isn't the case most of the time, and you have to take a closer look at the problem if you want to answer the question, "why is my cat peeing on my bed?"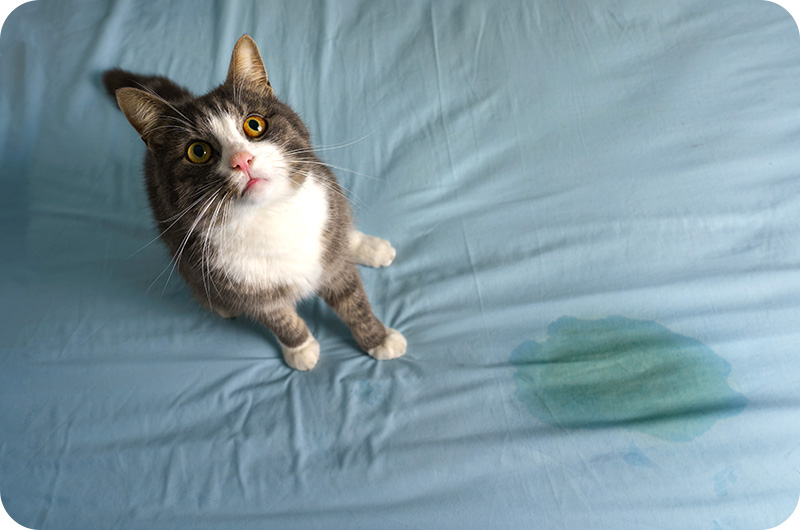 Why Is My Cat Suddenly Peeing on My Bed?
There are several possible reasons why your cat is suddenly peeing on your bed. Our first question would be: is your adequately trained to use the litterbox? If not, then your cat probably thinks that it can 'go' anywhere it, please. Litterbox training is essential and is best done when the cat is small, so it is conditioned to use just one spot for peeing and pooping. The second possible reason why your cat is peeing on your bed is the location of the litterbox.
The best location for a litterbox is away from bustling spaces at home. Your cat needs a little privacy, too. If the litterbox has been positioned in a space where there is heavy foot traffic, the presence of people and perhaps noisy appliances is driving it away to do its business elsewhere. Instead of punishing your cat, try modifying the spot where it's supposed to do its business. Be sure to reintroduce the litterbox after relocating it and observe if the behavior changes. Chances are, if the new location of the litterbox is desirable, it won't have any more issues urinating in the litterbox instead of your bed. Bedrooms are naturally private areas that have little noise, so, understandably, many domestic animals would pick this spot in the house to relieve themselves.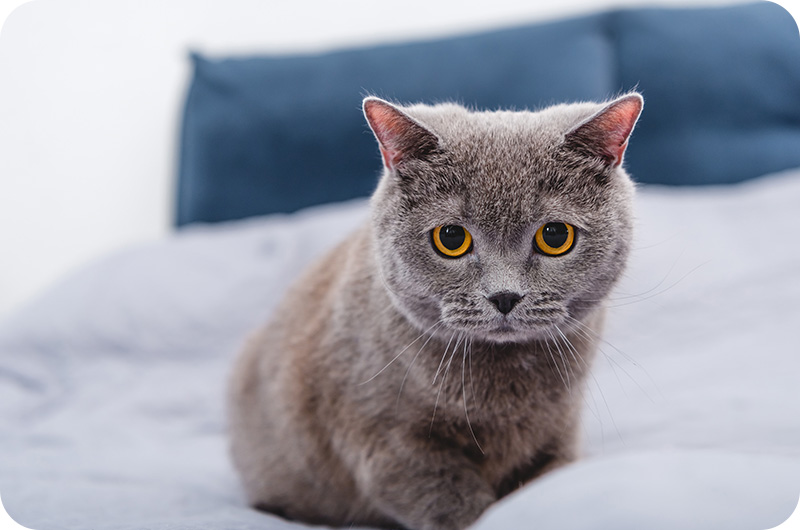 The second possible reason for the shift in behavior is that there are too many cats, and some of your cats don't want to use overused litterboxes. If you live in a multi-floor home, you may also want to place one litterbox on every floor, so your cat can 'go' whenever it needs to. If there aren't a sufficient number of litterboxes, it may just decide to do its business where it is most convenient at the moment, and that place maybe your bed.
Kittens, who have less bladder control than their adult counterparts, need more help in this regard. Having additional litterboxes can better support kittens as they master their body functions and control their bladders.

The third possible reason for the bed-peeing behavior is the litterbox or the cat litter you have used. For one, cats do not like the cover that presses up against their backsides when they try to pee or poop. The additional cover, which protects the litterbox's inner lining, may be undesirable to some cats. If you have a senior cat at home, check how accessible the litterbox is. Some litterboxes are built so that the walls or sides are too high to prevent cat litter from accidentally being kicked or spread across the room. When the litterbox walls are too high, older cats with arthritis may find it difficult to enter and exit the litterbox without experiencing joint pain.
What about cat litter? You may have your favorite brand, but your preferences have nothing to do with your cat's preferences. Declawed cats will find it painful to dig through cat litter that is tougher on their paw pads. As a result, they may ignore the cat litter completely and pee on your bed. To test this theory, place two litterboxes side by side and add two kinds of cat litter. One brand should be softer than the other to rule out any issues with the cat litter's texture and hardness. Check the next day in which cat litter was used and pawed through the most, and you have your winner.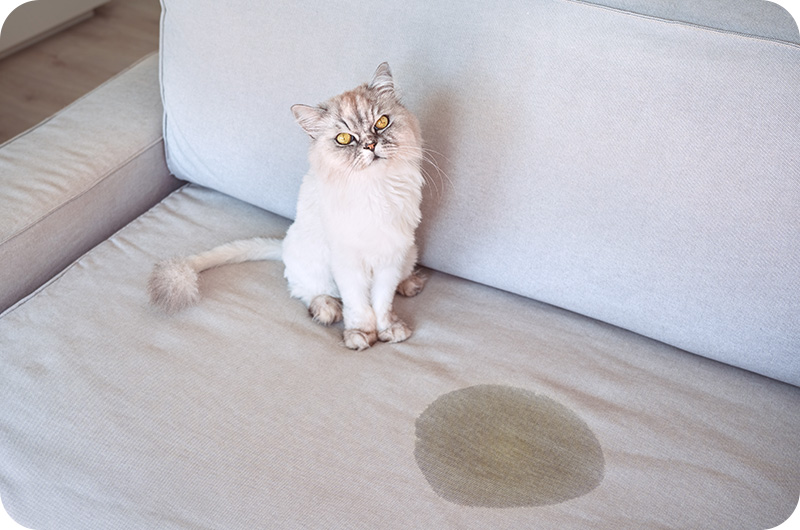 The next possible reason why your cat is acting out is a significant change in your household. Let's say someone moved in or you have a new baby. The shift in the dynamics at home can cause aberrant behaviors to surface. Cats are creatures of balance and routine. Disruptions in their environment and routines can cause stress, and the additional stress can, in turn, cause changes to their behavior. Veterinary experts call this soiling behavior. Unless you can do something about the stress, the soiling behavior may continue. We don't know a lot about cats' deeper psychology for apparent reasons, but we know that all animals react in specific ways to different stress levels.
Another critical angle that you can look at is the possibility that your cat doesn't feel secure or safe in the environment anymore. Again, minor changes that don't matter to humans can have an immense impact on domestic animals like cats and dogs. If you have many kinds of pets at home and you tend to pay more attention to some of them just because you want to, your cats may feel that they are in a downhill battle for your affection. This can lead to a chain effect that ultimately results in soiling behavior.

The great news here is that you can perform modifications in how you treat your cats at home so that they would begin to feel more secure again. You must be able to create a more secure environment for your felines whenever possible.
How Do You Stop a Cat from Peeing on the Bed?
If your cat keeps peeing on bed, look more closely into the many possible reasons why your cat is exhibiting soiling behavior. The most significant factor here is where the cat is supposed to go to relieve itself.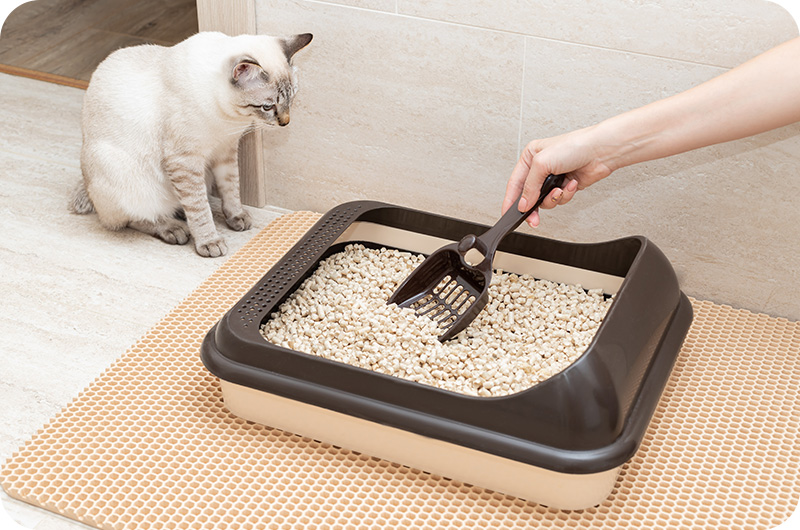 Do Cats Pee Out of Spite?
If your cat peeing on the bed, don't think that it did so out of spite. Cats are not like humans, and they operate neurologically on an entirely different wavelength. A cat that continues to pee randomly in different parts of the house may be suffering from a urinary tract infection or a related condition that prevents the cat from controlling their urination.
Next on your reading list: