All-white cats need a gene that suppresses coat colors and patterns. Albino cats have distinctive coats. Smooth, pristine white cats with bright eyes are art.
Are white cats rare? 
There is just around 5 percent of cats in the world that are pure white. Melanin is a pigment that produces hair and skin color—absent in white cats.
In the general cat population, pure white cats are exceedingly unusual, requiring a gene that suppresses all other conceivable coat colors and patterns. Some of these cats are single-breed, while others are a mix of other breeds.
Melanin is absent in white cats. Cats have a pigment called melanin in their skin and hair that gives them their color. There is no way for a cat to have brown, black, or orange hair because there is no melanin in the cat's body. Because it lacks pigment, their fur is a stark white.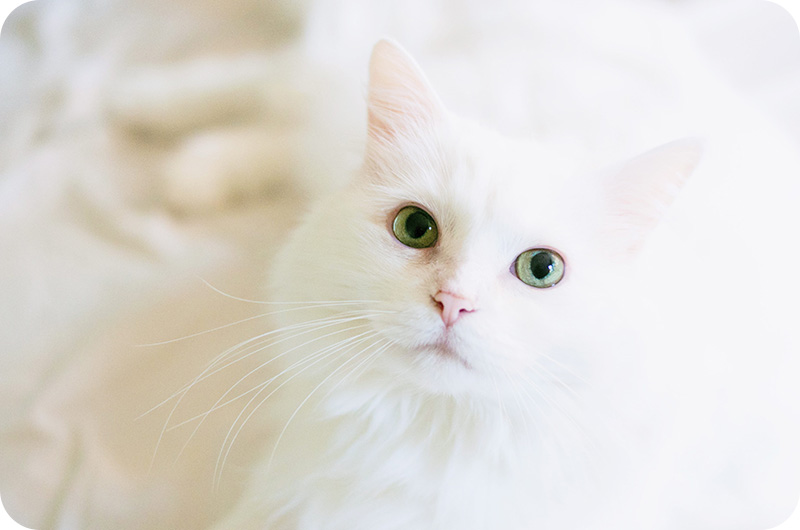 A white cat's ice-cold radiance is a sight to behold. As a result, it stands out significantly from other multicolored calico or tortoiseshell cats. Because they resemble snow, white cats are traditionally connected with February. In addition, white cats are often mistaken for albino cats because of their white coats.
White cats make up only a tiny percentage of the overall cat population. Still, for the many people who like them, this doesn't matter as much as their kitty's unique personality, distinctive characteristics, and odd antics.
Check out the list of colored breeds that also produce all-black and all-white kittens if you're interested in adopting a fluffy white cat, a white long-haired cat, a white short-haired cat, or even a hairless kitten.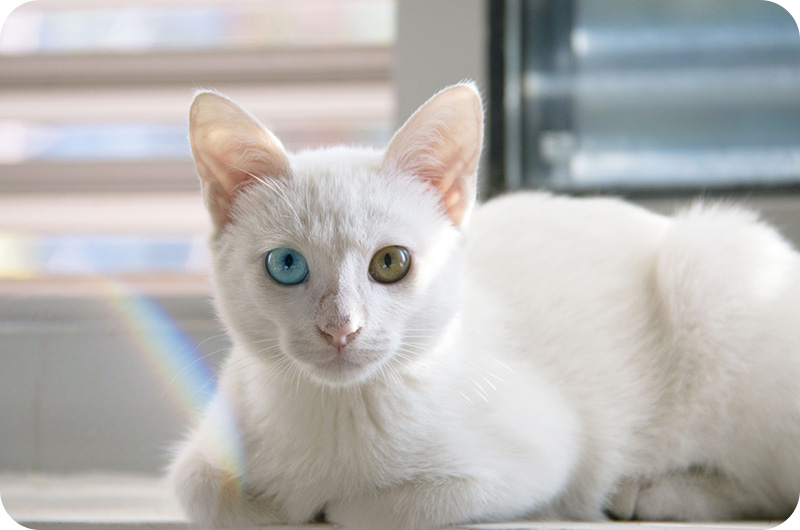 Are White Cats Special?
Are all-white cats rare? Is that what makes it unique?
It's a common belief among cat owners that their feline friends are one-of-a-kind. In other cases, this is due to the individual quirks of your cat, their appearance, or the distinctive meowing sound. Every cat is an individual with a personality.
There aren't many people who would dispute that a white cat doesn't have some magical quality. Yet, in many ways, these beautiful creatures embody the humility and innocence often associated with the color white.

White cat breeds exist in spades. Cat owners are drawn to their dazzling white fur coating, and as a result, their numbers continue to grow. Some are mixed breeds or moggies, and you don't know where their ancestors come from. They can also come from purebred breeds that produce all-white cats or breeds that produce all-white cats.
There is a wide variance in the color of a cat's eyes. Anything goes when it comes to those gorgeous, piercing blue eyes. Likewise, a wide range of hues may be seen in the eyes of white cats. These range from blue and green to gold and amber.
Astonishingly, cats that lack any color at all are pretty extraordinary. Although hearing loss is a frequent ailment for kittens, these playful felines don't let it diminish their enthusiasm. White cats can make fantastic pets if you do your research and choose one from a breed with a solid reputation for health.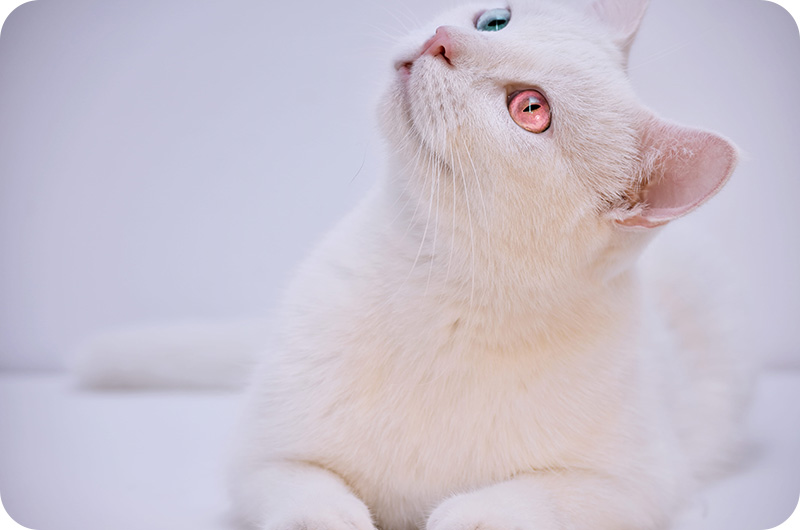 What Is the Rarest Color for a Cat?
The albino cat has one of the unique coats of any cat type. Complete albinism results from two C gene recessive alleles, and it is infrequent for a cat to have both. Cats with one of the alleles are more likely to have the ColorPoint pattern than the other.
Cats' coat colors, patterns, textures, and lengths are all determined by a variety of genes, so it's crucial to keep this in mind before searching for multicolored kitten treasure. At least five separate genes have been identified so far as being responsible for the development of the coat pattern, while others are responsible for the expression and interaction of those genes.

It is critical to keep albino cats out of direct sunlight if you want to preserve their unusual blue eyes. Sunlight can also injure their skin, especially around their ears and nose.
Both parents have recessive genes necessary to generate an albino kitten, and each kitten must inherit both genes. Colorpoints, whites, and everything in between are the most prevalent results of this mutation, with only a tiny minority of kittens ever having all three. Because they lack melanin production, true albinos have recessive alleles that disrupt the TYR gene, resulting in their white appearance.
Ultimately, the result is a cat with pink skin and fur all over. Their eyes are either pale blue or pink, depending on the species. They are susceptible to eye and skin diseases, immunodeficiency, and balance issues; unfortunately, many cats have these issues.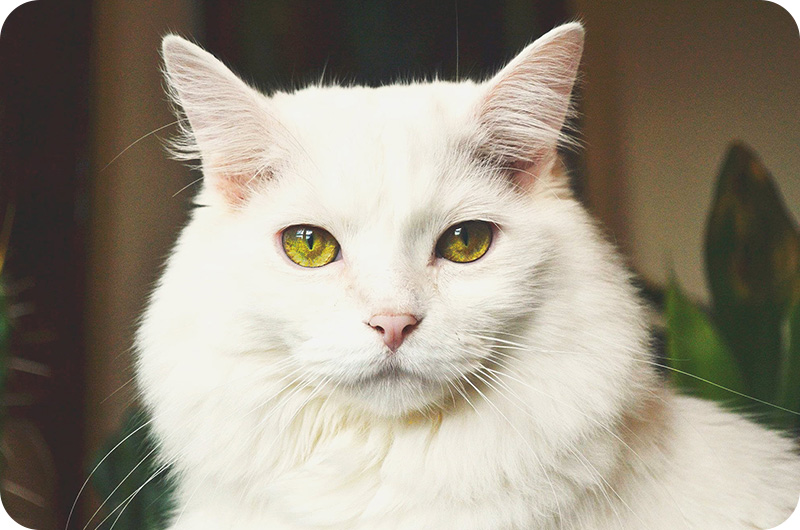 What Kind of Cat Is an All-White Cat?
For all-white cats, there is no distinct breed to which they belong. However, many distinct breeds, including Persians, Turkish Angoras, American Short-Hairs, Siamese, and Devon Rex, can have a white coat.
Cats come in a wide array of beautiful patterns and hues, but an all-white cat is unquestionably striking. In addition, it's rare to see a white cat with light-colored eyes, which adds to their appeal.
Several white cats are art pieces with their smooth, immaculate coats and distinctively colored eyes. The length of a cat's white coat and other physical characteristics, such as the color of its eyes, can vary significantly across different breeds of the cat.
White cats can be found in various breeds and can be extended or short-haired. White cats are only one of several cat breeds with various hues and patterns.

White cats with blue eyes have an increased risk of hereditary deafness; however, not all of these cats will be affected. The best way to aid a deaf cat is to keep it safe and teach it how to communicate with visual cues and vibrations.
Some breeds allow for all-white or almost all-white cats, whether you're looking for a pure white cat or prefer the look of a light gray or white cat. Cats with milky white or gray coats come in various patterns, personalities, and coat lengths.
The Persian is undoubtedly the most eye-catching and sought-after white cat. Cat-themed calendars and food labels have included them for as long as we remember because they're so cute.

Next on your reading list: