Having an outdoor cat house is critical if you want your felines to take shelter whenever they go out. Not all cats seek the indoors' warmth if given a chance, and they would stay most of their life outdoors. Cats are outdoor creatures, much like dogs, and the lure of nature (or the city) is much more attractive than the confines of a human home.
Therefore, as responsible cat owners, we must provide enough shelter to go in whenever they need to. An outdoor cat house is practical because the modern ones on Amazon are durable.
You can also buy outdoor cat houses for multiple cats if you have several felines at home. A heated outdoor cat house is a good idea if you want to provide weather and cold protection to your cats, too.
A cat house outdoors would be the perfect gift to your cat if you want your feline to start exploring your yard or the surrounding neighborhood more.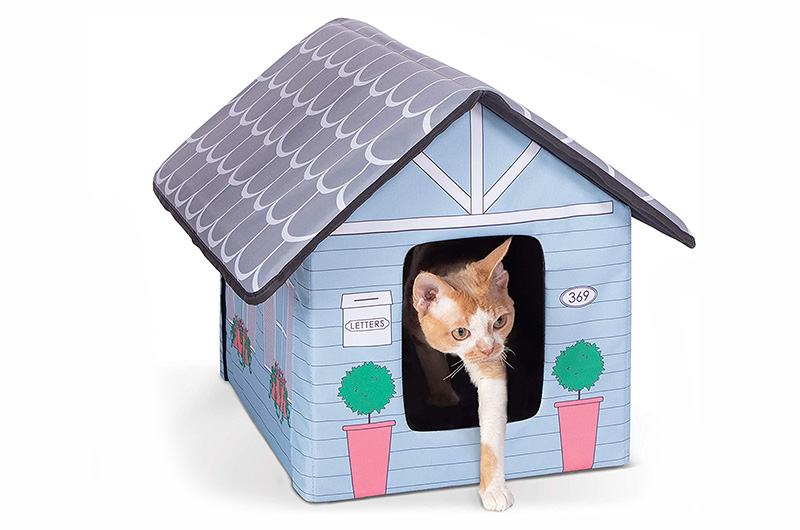 K&H is a trusted brand in pet products, and it has exerted a lot of effort in recent years to improve its quality. Its outdoor kitty house is manufactured from 600-denier polyester, which is both insulating and durable. This outdoor shelter for felines is both waterproof and weatherproof, too.
There are two exits so your cat can quickly enter and leave the house whenever it wants to. The door flaps protect your cat from wind and harsh weather conditions, too. You can place this cat house in the barn, on the porch, or anywhere else, your cat-like as it is perfect for all locations.
You don't need any tools to assemble this outdoor kitty house, and the manufacturer also offers 12 months of warranty should something break during this time. There are two models: heated and unheated. If you live in a cold location, we recommend the heated version to make your pet cat even more comfortable, no matter the weather conditions.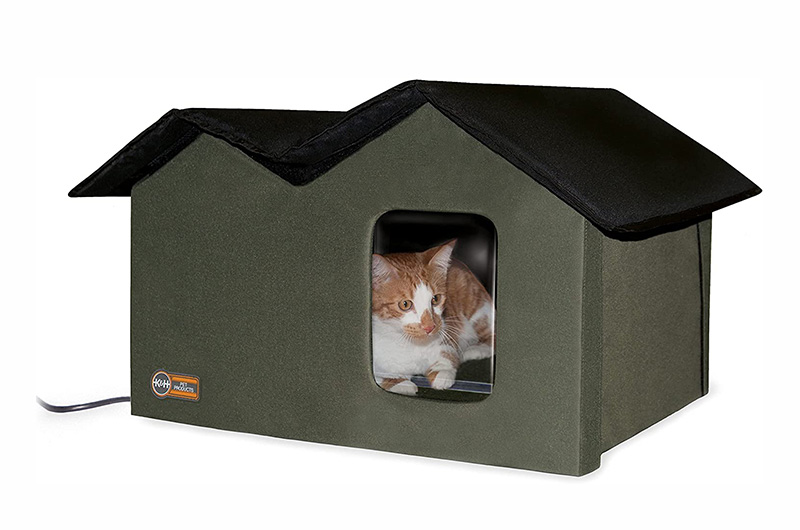 K&H has outdone itself with this creative interpretation of the classic cat house. This extra-wide cat house provides a protective side away from the cat house's exit and entrance, so your cat will feel even more secure in its shelter.
This is perfect for stormy nights that can send cats ducking for cover because of all the rain, wind, and lightning. Despite the size of this extra-wide cat house, you still don't need additional tools to assemble it. Unpack the panels and roofing by the handle and stick them together.
The thick, polyester panels are weatherproof on their own and also naturally insulating while providing heat to improve indoor conditions. This heated, extra-wide kitty house is also very energy-saving as it consumes only 20 watts of power. It is a reliable shelter for cats, even when subzero temperatures occur.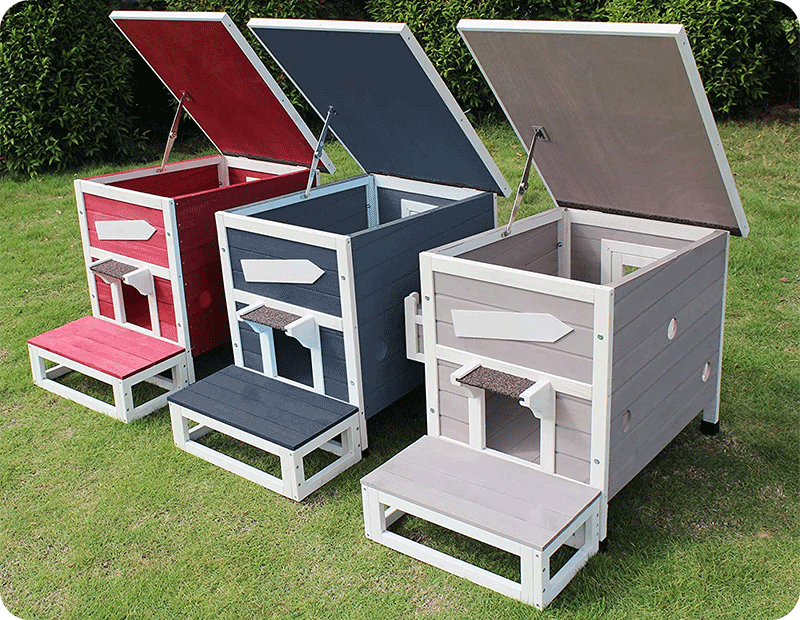 Designed in the classic barn tradition for animals, ROCKEVER's take on the outdoor kitty shelter is larger than life. It features exquisite wooden paneling and the sturdiest build we've seen so far in our review.
This massive cat house is ideal for felines up to eighteen pounds in weight, so if you have a Maine Coon at home, your cat can still fit in this shelter with no issues whatsoever. A perfect outdoor cat house for multiple, average-sized cats, too.
There is sufficient space inside for a litter box and additional bed pads if you want to put them there. All you need to put together this magnificent cat house is one Philips screwdriver, and that's it. This is a stable and sturdy structure, unlike the easy-assemble ones that may have some trouble with strong winds. Indeed, a castle for cats.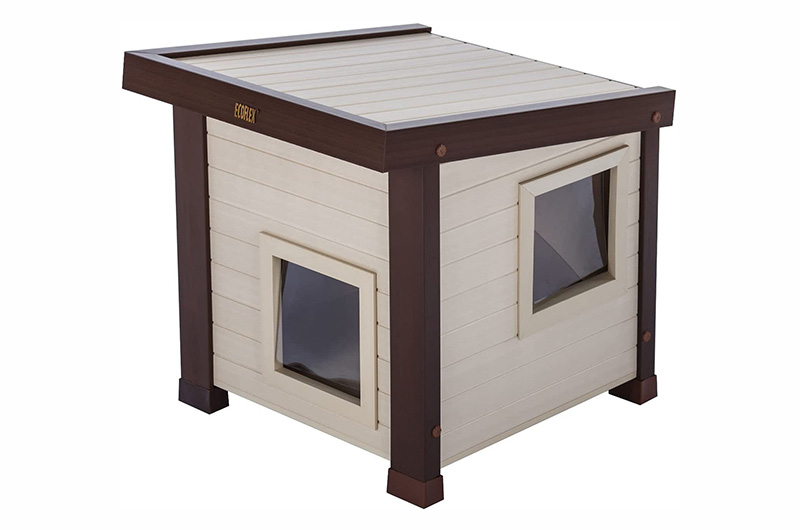 This Eco FLEX creation is worth your attention because we noticed that they used a pure cube form factor to design it. Of particular interest is the name of this kitty house.
The manufacturer specifically stated that this was modeled as a feral cat house, and we already know why: we tend to keep cats that have no real owners, and we don't want them to be out in the rain when they're in the yard. This cat house is space-saving but is built to last.
Feral cat houses need to be durable because feral cats can put on a lot of weight through the years, and when they hunker down to rest, you don't want your kitty house to break. Another great thing about Eco FLEX Albany Feral Cat House is it doesn't need any additional tools to be put together. You have to work with your hands, and the house will be assembled just like that.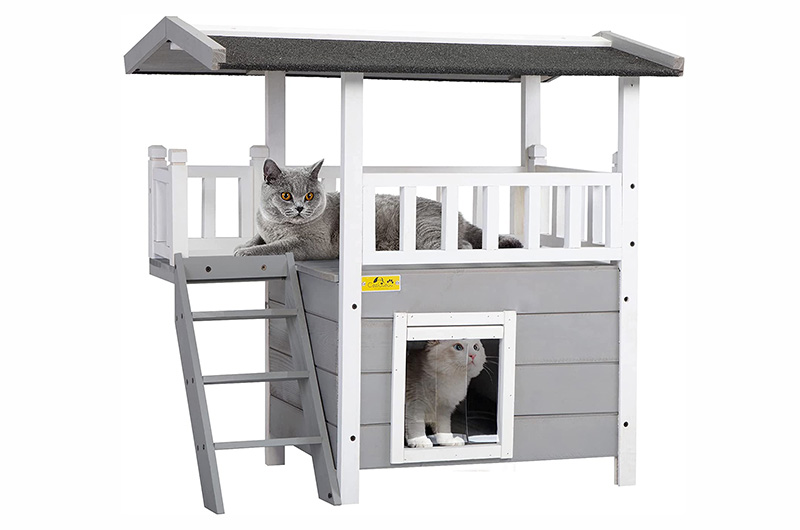 Designed for cats and dogs alike, the COZIWOW Indoor/Outdoor Waterproof House has two frolicking, napping, and sleeping levels. Made with the best quality fir, you can expect long years of service from the COZIWOW brand.
Unlike the previous cat houses, we have explored, this one can easily handle dogs that are over forty pounds in weight. The wooden panels have also been painted to prevent corrosion and weathering due to exposure to the elements.
All care has been given to ensure that the house lives up to the expectations of owners. You can position this pet house indoors or outdoors, wherever you prefer.
Multiple pets can use it at a time, as it has two levels. You can add cushions if you want inside for additional padding and comfort to your pets. The second level of the house has a cute fence system that doubles as a barrier, so your pets won't fall off the house quickly.

Next on your reading list: