Is it bad to hand-feed your dog? My sick dog will only eat from my hand. My old dog only eats if handfed. The dog won't eat without handfeeding! These are all very common statements from dog owners exasperated by their dogs' behavior during feeding t Some dog owners will be 50-50 on this: sometimes their dogs eat fine from the bowl, then shift to wanting to be handfed each time.
Handfeeding a dog by itself isn't a bad thing. Many dog owners and trainers handfeed their dogs because it's a simple way to get a dog to focus. But what happens when the handfeeding gets out of hand? What if your dog is no longer interested in eating out of a bowl? If your dog won't eat unless handfed, you have to address the behavior's potential roots.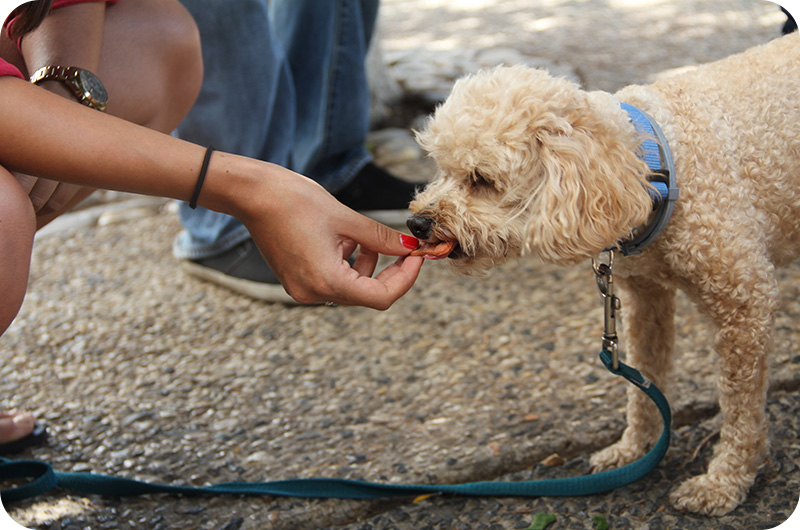 Why Won't My Dog Eat Unless I Hand Feed Him?
Being the owner of a dog is a practice of tolerance and patience. Dogs don't know how to follow commands when they are born. Humans have to learn how to speak to their canine companions of expecting dogs to do it. But unlike humans, dogs are very unconditional in their behavior.
They treat humans as they are treated, so in a big way, dogs are an accurate reflection of their owners. As much as we'd like to thank that some things about dog behavior are completely out of our control, the fact of the matter is that we can influence nearly every aspect of a dog's life since we are the pack leaders.
Below are some possible triggers for the unwanted behavior.

Your dog may be afraid of other pets at home. If you live in a multi-pet environment, then the problematic dog is likely a submissive dog that occupies a lower rung in the pack.
This happens more frequently when there are other dogs around, and the dog is very submissive to the point that other dogs can easily take away the food from the dog, and the dog will whimper away.
Handfeeding a dog that is already submissive is negative conditioning in this respect. The handfeeding reinforces the idea that your submissive dog can only eat if it is provided by your hand. Your dog may also feel that its food will be safer if you provide it directly. No one wants to feed a dog by hand each time. Little treats can be given by hand, but the dog has to eat on its own for the most part. In short, the submissive dog has to be more assertive, and it has to begin standing its ground about other dogs in the household. Another possible root of fear is the environment. Are there constantly other people in your home? Does your dog hear unfamiliar and loud noises all day? These may be contributing to the behavior, too.


The second most common cause of anxiety during feeding time is the timing of the feeding. Due to a lack of time, many dog owners are likely to give food to their dogs just before they leave for work. Therefore, the dog's primary association is being abandoned after being fed.
If we connect all these events, food becomes a symbol of loneliness, being left at home. While dogs are nonverbal and certainly can't think of these things in a very organized way, they can make complex linkages between events. These linkages eventually pave the way for changing behaviors – and the formation of largely negative behaviors, if you think about it.

The third possible reason why your dog wants to eat from your hand is that it feels that it needs to guard you. Dogs have a natural pack mentality and guarding tendencies, so it's obvious why your dog would want to be near you all the time. The solution would be to make your dog feel that you are safe and there's nothing wrong with eating from its bowl. It might take a bit of coaxing. Your pet will eventually understand what you try to teach them.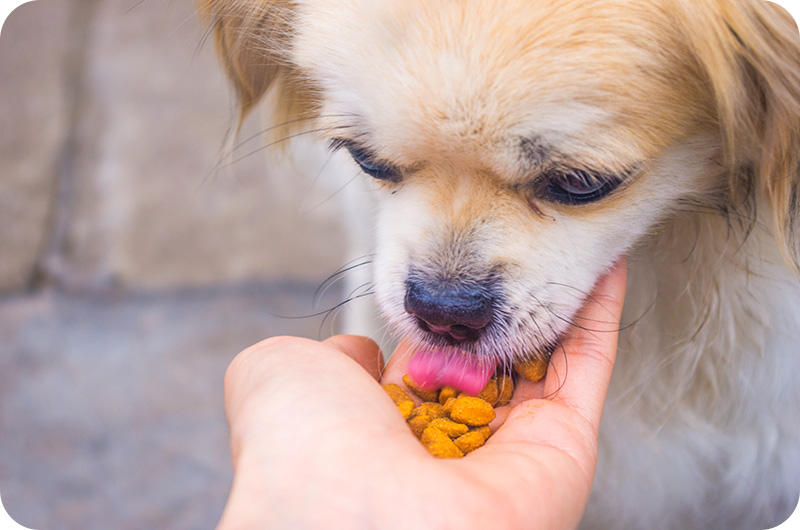 Is It Bad to Hand Feed Your Dog?
Handfeeding your dog isn't necessarily a bad thing if you will use it as a method of teaching and focusing. For example, did you know that dog owners can use this method to cut playful biting or 'mouthing' behavior? Mouthing behavior is often nipped in the bud during puppyhood, but what do you do when you got your pup before it was conditioned properly by the mother? The training for bite inhibition falls onto you.
Unlike dogs, we can't always romp and roll around with our puppies, so handfeeding is one of the few ways that you can begin influencing how your dog interacts with you. Nipping at you playfully may not be a good thing if the behavior becomes too frequent and the bites' pressure keeps increasing.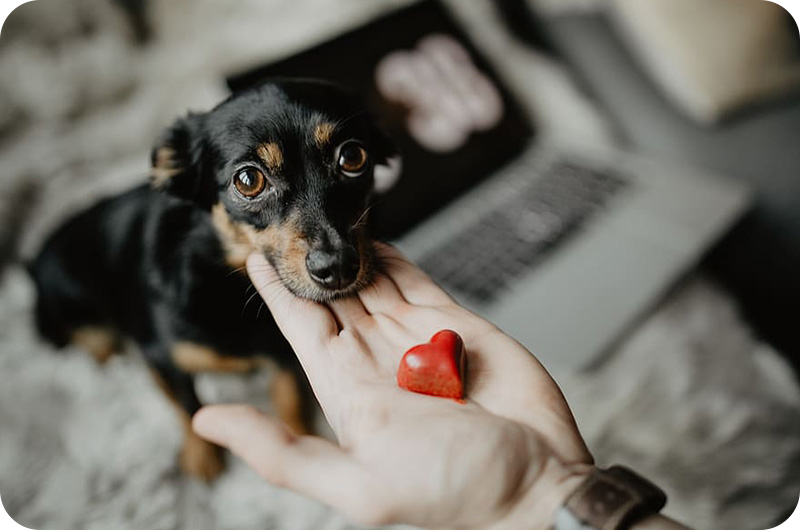 How to Change This Habit?
For the most part, you can start changing your dog's behavior by determining the pattern first and then changing the sequence of events that make your dog behave that way. For example, if you live in a multi-pet home, you're going to have to observe your dog along with other dogs and even cats. If your dog is too submissive, then the pack position is the problem.
It would help if you addressed how your other dogs interact with the problematic dog. Now, if the problem is the timing of the meals (as you have to leave for work), you may want to push back the feeding time so you can spend a bit of time with your dog before leaving. Don't just abruptly leave your dog after giving your dog its meal.
Remember, the most common problem with dogs is they lack socializing, and they desperately want to bond with their owners. This can be fixed easily by spending more time with your dog.

Next on your reading list: