Pumpkins are considered the best alternative for your dogs with digestive issues. However, if this vegetable is not locally available in your area, there are several substitutes that you can consider. Replacements are recommended, most especially for dogs with diet restrictions.
Dog Pumpkin Alternative
Like humans, dogs can also experience gastrointestinal issues like constipation, diarrhea, and stomach cramps. This condition can bring extreme discomfort to your pet, affecting his mood, mobility, and stool. For sample, when your dog is constipated, this condition is attributed to your pet's lack of drinking water and fiber.
Water and fiber work together to improve the stool's texture. However, if the stool is hard, it can be painful to release—which can disrupt your dog's tissue. To control this situation, your pet must consume food with the right amount of moisture and fiber. Pumpkin is a known vegetable that can treat and prevent constipation for your dogs.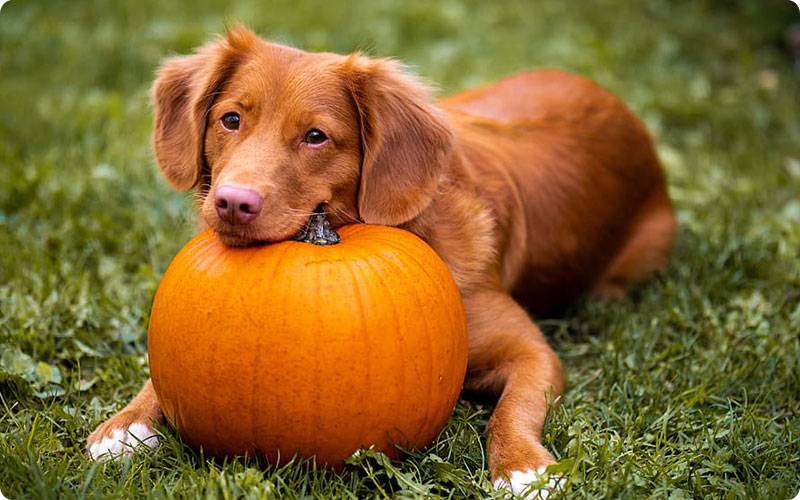 Feeding your pet with pumpkin or pumpkin-mixed food can significantly improve your dog's stool. This vegetable is high in natural fibers, and it can absorb water generously. You can prepare this plain or be made in dog treats like small pies, cupcakes, and even popsicles.
If you cannot find a fresh pumpkin, you may resort to the canned variant. Canned pumpkin may have a high sodium content, so it is best to rinse it before preparing. If this food is not available, there are still substitutes that are dog friendly. Consult your veterinarian and nutritionist first before making substantial changes to your dog's diet.

What Can You Substitute for Pumpkin for Dogs?
Finding an alternative or food substitute is essential. While certain foods are considered the best option, other factors may affect the availability and usage of specific products. For example, suppose the food is unavailable in far-fetched regions. In that case, it may be difficult (and expensive) to get the actual product. Another factor to consider is your pet's sensitives and tolerance. For example, different dog breeds have their diet made specifically for their growth.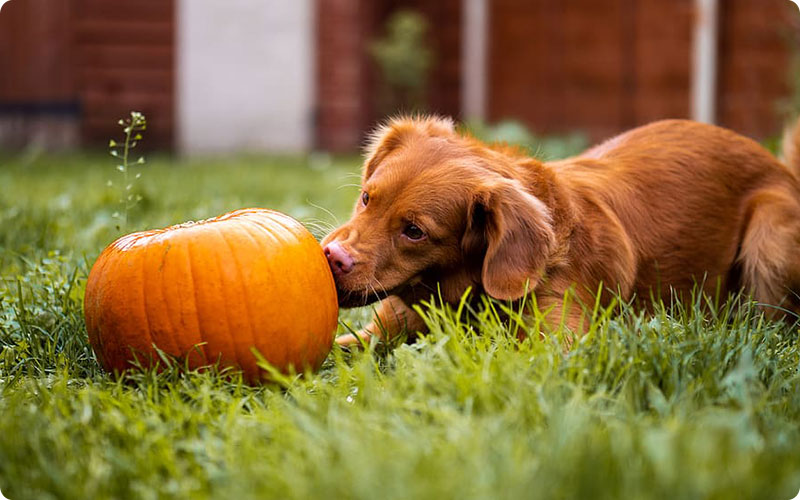 While pumpkin contains the right amount of soluble fiber to help your pet's digestion, it can be hard to find in several countries. Pumpkin acts as a natural laxative, which can help your dog's bowel movement. This vegetable's high-water content can also help soften the stools of your constipated dog. It contains 90 percent of water—just like watermelon and cantaloupes.
Rice and rice water
Rice is a common ingredient mixed in dog food. Aside from being a perfect extender, rice absorbs moisture which can help your dog in producing a firmer stool. You can introduce a rice-based diet to your dog by adding half a cup worth of white rice once a day. Regulate your dog's rice consumption to prevent obesity.
If your dog is already constipated, you can discard the grains and create rice water. For example, you may boil a few spoons of white rice in a cup worth of water. The rice contains starch and soluble fiber that thickens the water. As a result, rice water is easier to digest, which is suitable for weakened dogs.
Yogurt and cottage cheese
Yogurt contains beneficial live bacteria called probiotics, which can aid your dog's digestion. Other dairy products that you can introduce in your dog's diet are cream cheese and cottage cheese. Just make sure that your dog doesn't have lactose tolerance—which can be triggered when consuming milk-based foods.

Egg, chicken, and plain protein
Plain proteins are easy to prepare and are recommended for your dog with digestion issues. Eggs, chicken, and tofu are some foods containing protein. When preparing plain proteins for your dog, you should remove any oil source (skin, butter, etc.). Oils can irritate your dog's stomach lining—which can worsen its indigestion.
Wheat, seed, and herb
Wheat, seed, and herbs work as effective laxatives. They contain a generous amount of soluble and insoluble fibers, which can regulate your dog's bowel movement. Before introducing this diet, make sure that your dog doesn't have sensitives and tolerances with the said ingredient. Aside from whole wheat grains, you can also use psyllium seeds, rolled oats, and fennel.
Over-the-counter supplements and laxatives
Some medications for humans can be used for dog diarrhea and constipation. This method is recommended if your pet dog has several allergens on food products. Proper consultation with a veterinarian is recommended before administering such medications.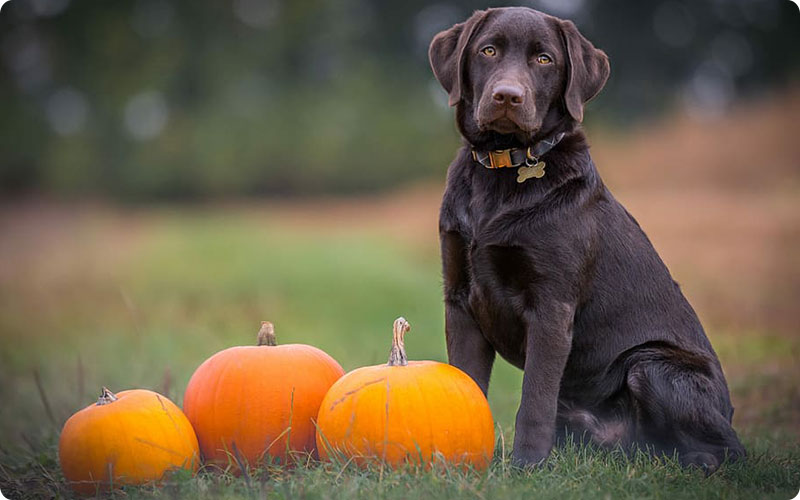 Can Squash Be Substituted for Pumpkin for Dogs?
Pumpkin and squash may mistakenly be identical for some. In reality, these vegetables have noticeable variations in terms of stem shape, seed, and varieties. If you don't have a pumpkin, you can use squash as a perfect substitute. Introducing whole vegetables and fruits is vital to your pet's overall diet. These food items can be creatively transformed into bite-sized treats, or you can mix them with other dog-friendly ingredients.
Just like pumpkin, butternut squash and other variants can help to improve your dog's digestion. If your dog is already weakened by his digestive issues, administering soft and mushy food like boiled squash can help his digestion problems. Squash can also provide enough nutrients and energy for your sick pet.
When preparing squash, make sure that you don't introduce additional fats, sugars, and salts to your dog's diet. The vegetable is already infused with tasty flavors enough for your dog to finish his plate. In preparing squash for your dog, you can include it by shredding, mashing, boiling, or leaving it raw.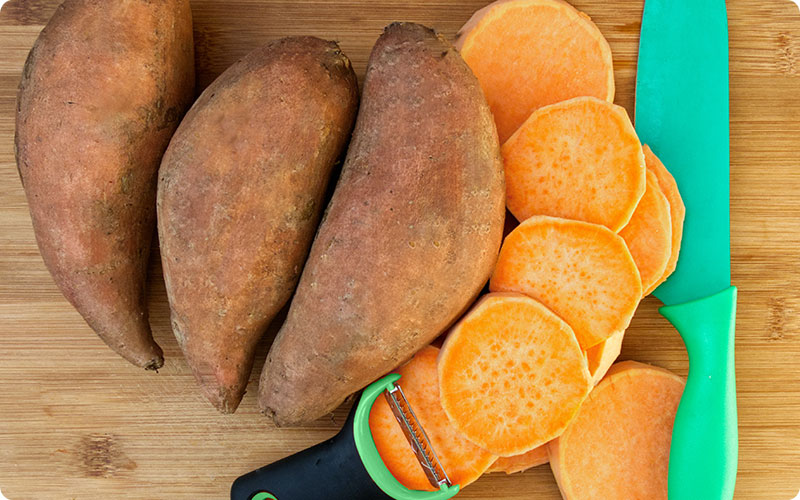 Can I Substitute Sweet Potato for Pumpkin for Dogs?
Pumpkin and sweet potato are both edible for your dogs, and your pet equally loves them. While sweet potato can be used to replace pumpkin, checking your pet's blood sugar is highly recommended. Sweet potatoes are precious because of their natural glucose content—which can be high at times.
The primary downturn of this diet is its high starch content. Starch contains carbohydrates that provide energy. This is good for active dogs that can burn the excess carbohydrates away. But for dogs with obesity issues, it can be complicated—since they only have minimal locomotion to do.
If your dog has complications like diabetes, consult your family veterinarian to ensure you can administer sweet potato as part of your dog's diet. Introducing sweet potato for dogs is impressive—it has the right amount of fiber, starch, and nutrients for your healthy dog. It can also be pureed with water or milk, making it easier to digest for your sick pet.

Next on your reading list: