All dogs look cute with the right costumes. It doesn't matter if your dog is a toy dog or a bigger breed. They all look awesome with the right get-ups. Whether it's Halloween or not, check out the best costumes for dogs this side of Amazon.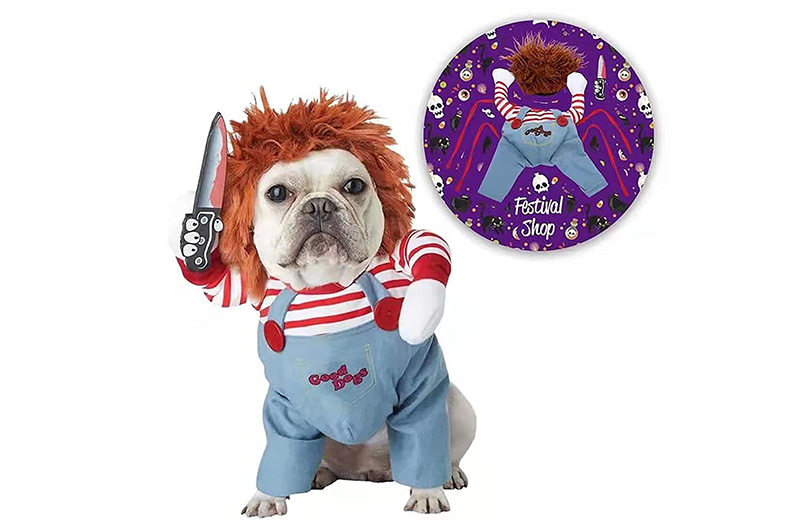 A dog Chucky costume is the right choice if you are a fan of the iconic cursed doll from the 1980s. Chucky has always been a fan favorite, and it's never been 'just a fad' to admire what this horror icon has achieved thus far. It's amazing that people still relate to the demonic Chucky doll and all his ups and downs.
This awesome Chucky costume for dogs is ideal for small dogs and medium dogs. It has all the right details, and your dog will have the right color blending to make him the perfect Chucky clone for any party.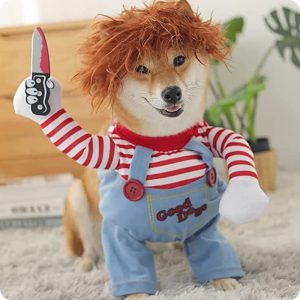 Whether you're just dressing up your dog or you have to impress some guests, this Chucky costume delivers. This pet costume was made with high-quality materials and is designed to delight both pet owners and dogs.
This costume may be worn by various smaller dog breeds, including the French Bulldog, the Boston Terrier, the Maltese, and the Pug. The package includes one foam knife, one wig, and a complete set of dog clothes.
Customers who have bought the complete set say that the costume is hysterical and fits their dogs perfectly. If your hound is on the chunkier side, there may be issues with how the clothes would fit. Small breeds like Shih Tzus should have no problems with it.

The California Costume Collections has designed a real screamer with this one. Their dog spider costume is topnotch and has strong tarantula vibes, too.
The costume is made from 100% polyester and has a separate furry headpiece to complete the look. Viewed from above, you have a giant spider at home with a wagging tail, to boot. Best of all, this costume comes in four sizes: extra small, small, medium, and large. This means all your fur babies can get to play the horrifying spider dog at any upcoming party.
The soft yet terrifying legs do not impede walking, and the costume is lightweight and perfect for wearing all day. The small version is ideal for the following breeds: Papillons, Miniature Pinschers, Malteses, Brussels Griffons, and Bichon Frises. Small is ideal for Toy Poodles, Pomeranians, Pekingese, Norfolk Terrier, and the Miniature Dachshund.
Medium is best for Pugs, Miniature Scotties, the Lhasa-Apso, Jack Russel Terriers, Dachshunds, and the classic Beagle. The large size is for Whippets, Weimaraners, Golden Retrievers, Labrador Retrievers, and Small Boxers. Other dog breeds that are of similar weight and size can also wear the costume. These are only average sizes.

Customer reviews indicate that the costume is as advertised. Dog owners are pretty happy with how cute the design is and how well everything fits together. One customer said that if you know how to sew, you can add more filling to the legs to make the legs fatter and more robust. Create a small opening and fill each leg as you please to stand up more. 
Dog owners are particularly pleased with how the spider legs move when the dog walks. This is part of the overall design: the legs should move naturally (up and down) to create the illusion of a very big spider roaming around the neighborhood. Some owners even went as far as videoing their dogs walking with the costume because they were pleased with the results. One owner said that costumes like this one are best if you want people to warm up to your dog, so your dog can get lots of attention.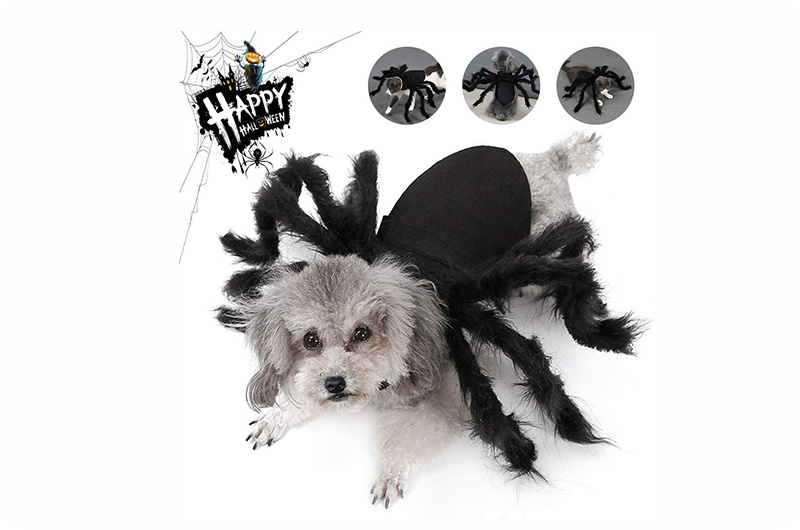 This is another worthy spider costume for dogs. If you like the more classical horror look (black spider), this would be a good design to pick for your puppy.
The costume's surface is smooth, with matching hairy spider legs to make the costume even creepier. The smooth lines make the appearance of the spider look natural. The spider is both horrific and funny, which is what we want for our cute pooches.
We don't want folks to be afraid of our dogs – we want them to appreciate the effort we put in dressing up our dogs. They also have a batwing variant, but we're very particular with spiders because they truly invoke Halloween. The chest area of this costume can fit dogs with a circumference of 15.7" to 21.6".
The material is expandable, so you won't have to worry about your dog not breathing while wearing it. The neck and chest regions are also secured with Velcro, so if your dog wants to remove the costume or not feel well for any reason, it takes just a few motions for you to remove the costume completely.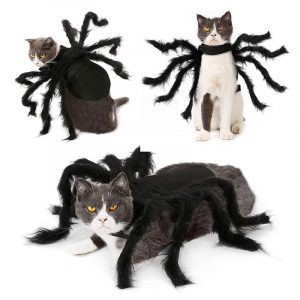 This spider dog costume is also suitable for cats and smaller pups, though we think they designed it for fully grown toy dogs and other small breeds of puppies.
The manufacturer has also used body-friendly materials that are nontoxic to animals, so even if your dog chews a little on the costume, you won't have any problems with toxicity or poisoning. Overall, this is an excellent choice for dog owners; you won't be having any issues with the soft felt fabric that even cats will find comfortable. This is the perfect Halloween costume for your pets; you can buy three or more if you have several fur babies at home.
Customers who have purchased are happy with how their pets look, and they also say that the material has high quality. The material is also durable and thick, which is a good idea if your pet will wear it more than once.

Next on your reading list: