White dog breeds are gaining immense popularity in recent years because people are looking for ever more unique dog breeds to add to their fur babies' families. So, if you have been looking for a fluffy white dog or a big white fluffy dog, check out today's blog.
What Kind of Dog Is a White Dog?
White dogs can come from several breeds of dogs. The whiteness of the coat is only a physical trait and does not indicate the dog's lineage if you are only going to look at the fur's color.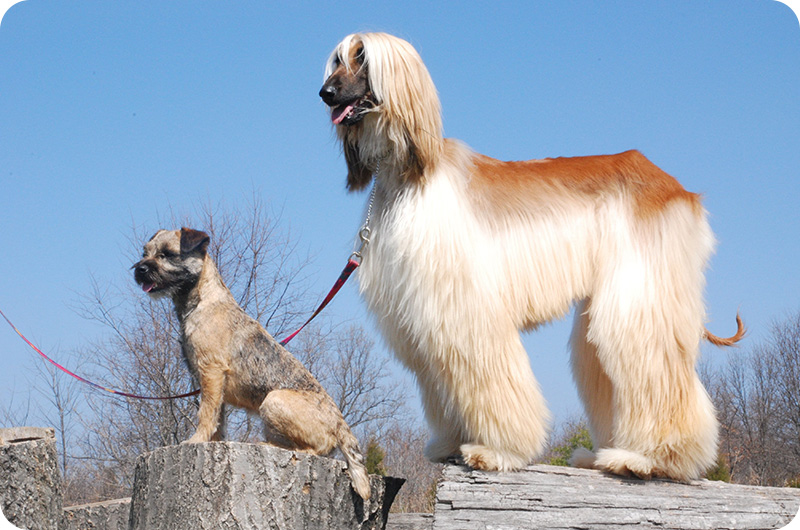 What Are the Huge Fluffy Dogs Called?
What breed is the big white dog? If you have been looking for the name of the big fluffy white dog that you have been seeing around the neighborhood for days now, know that there are several white dog breeds.
First on our list is an ideal fluffy white dog, the Afghan Hound. The Afghan Hound has a very distinctive long white coat, with an equally distinctive face.
This is a very elegant dog with svelte features. The Afghan Hound's symmetry is a mainstay in TV shows and movies, which often breed a model for ads.
An Afghan Hound was also the first breed to be successfully cloned as well. While there are non-white Afghan Hounds, this breed is notable for closely resembling human hair. Despite the thickness of their coat, they don't shed much. They also grow to a solid 60 to 90 pounds in adulthood.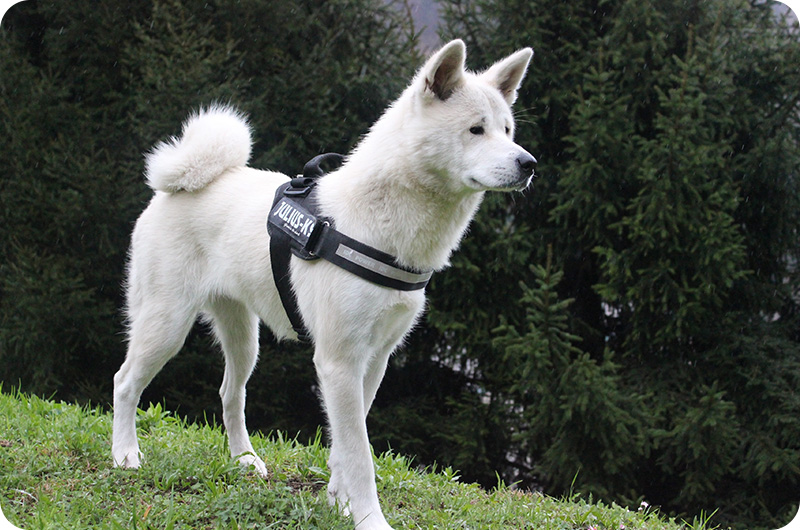 Next on our list is the Akita. The Akita Inu originated from Japan and evolved to traverse the icy paths of Japan's mountainous areas. The most notable Akita Inu is Hachiko, who has a monument to himself. The Akita Inu is notable for its gentle nature and extreme loyalty to its owner. Hachiko may well be the ideal example of a well-socialized Akita Inu that cannot bear to live without its owner.
The Borzoi originates from Russia and is classified as a sighthound. Borzois were bred specifically for hunting work and coursing. Two or three Borzois were usually sent out as a pack to track quarries like foxes and rabbits.
They are well-equipped for the chase and are flexible enough to dig through rabbit burrows to retrieve their quarry. The same principle applies to foxes, who also dug shelters underground. The Borzoi is considered a purebred dog, but many still languish in shelters around the country. Consider adopting one if you can.

What Dog Breeds Are Large and White?
If you are after larger dog breeds that are almost always white or are white nine times out of 10, you're looking for the following breeds: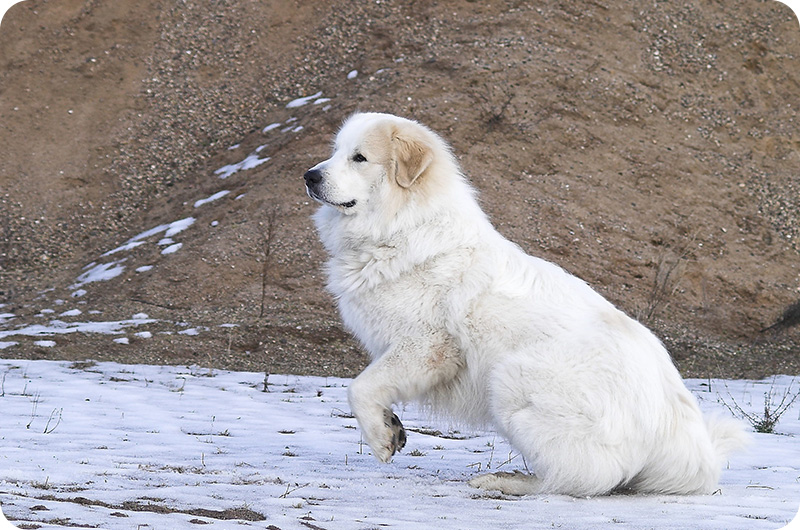 The great Pyrenees – The Great Pyrenees is one of the hulks of the dog world. An adult male can grow up to 32 inches tall, while a female would not be far behind 29 inches. The males can weigh more than 100 pounds, while female Great Pyrenees will weigh at least 85 pounds and grow even heavier depending on their diet and workload. The Great Pyrenees is a working dog and was originally bred to deter much larger wolves from stealing and killing livestock.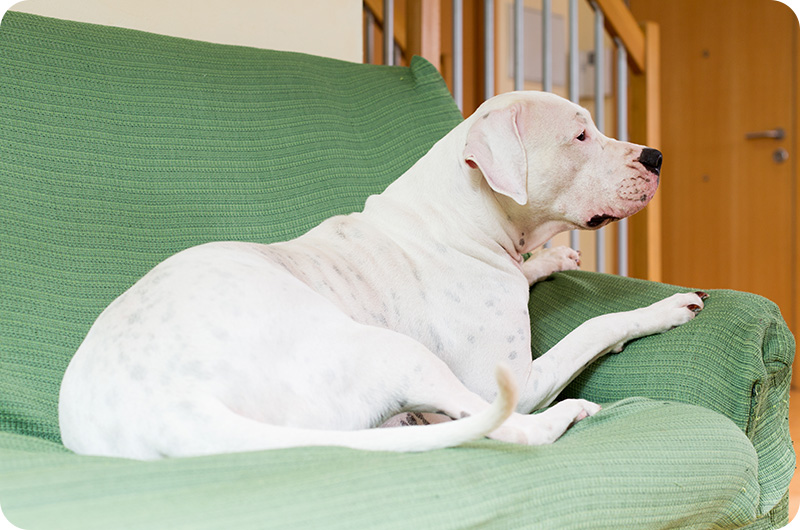 Dogo Argentino – Don't let the YouTube videos fool you. The Dogo Argentino is not a killer breed. Only the soulless who use these dogs for dogfighting drive the Dogo Argentino to become very violent. Dogo Argentino dogs are extremely sweet and can be very gentle even with kids. Like other dogs, they can be socialized to be well-behaved in the presence of guests. The Dogo Argentino is not allowed in the United Kingdom because it is used in dogfighting. In the United States, it is banned in two states (Colorado and New York). However, if you are an advanced handler and can train a working dog built for intense labor, you shouldn't have any problems with this breed. Like Pit Bulls, they are given a bad reputation just because they are forced to fight.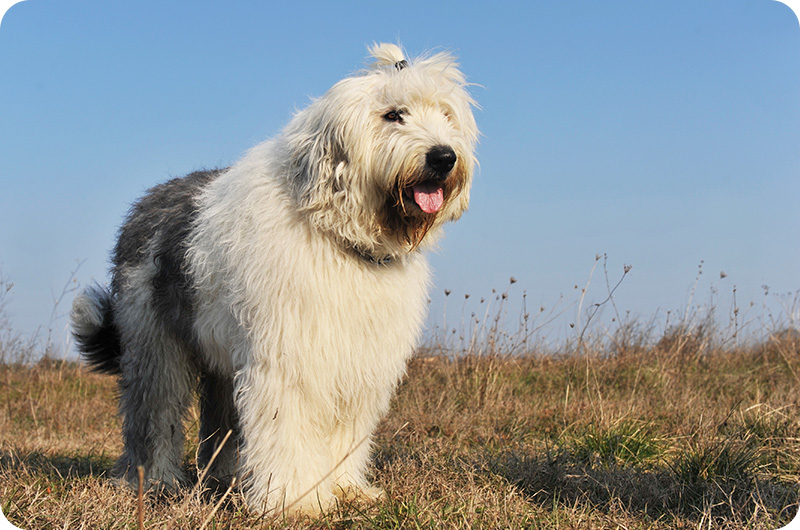 Old English Sheepdog – While not entirely white, the Old English Sheepdog is an iconic breed, nevertheless. This breed is incredibly fluffy, and because of the fluff, they tend to shed a lot. If you don't mind frequent coat maintenance and brushing, then an Old English Sheepdog is a good pick. Don't let the coat maintenance hinder you from enjoying the company of this great breed. They also drool a lot, so get ready for really wet kisses when they are very happy! The Old English Sheepdog is also a working dog, so it must get plenty of exercises, too. When a dog gets enough exercise, it is happy and relaxed when around the family.

Schafer – Switzerland has many interesting dog breeds, including St. Bernard and the Schafer. The Schafer is a proper working dog – a genuine shepherd dog trained to withstand frequent outdoor exposure and handling livestock.
Despite the very noble and dignified appearance, Schafers can be shy in the presence of other people. Some owners even say that they are somehow skittish, too how a dog's looks can truly be deceiving! This is a long-haired dog and looks every part of a wolf if you like that sort of look.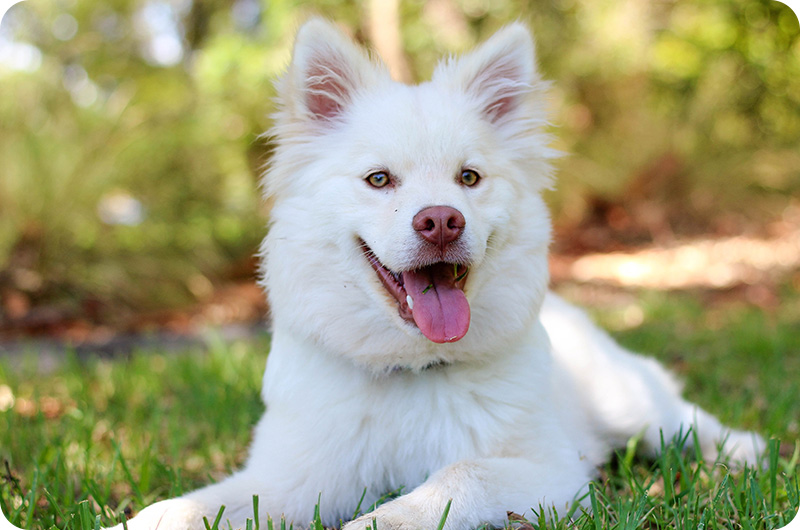 Lapphund – Hailing from a region of the same name, the Lapphund has a joyous and bright expression that would easily delight family members. The Lapphund was originally bred to herd reindeer. The outer coat of the Lapphund is the course and impenetrable (a perfect cover against the cold), while the inner coat is far softer and cuddlier to touch.
Lapphunds are also incredibly easy to train. They lend well to commands and are fiercely loyal. We make this distinction because not all intelligent dogs like repeating what they already know. For example, Tibetan Mastiffs might be very sharp during obedience school, but they tend to ignore their owners when they come home.

Next on your reading list: