Albinism in cats is an uncommon genetic disorder characterized by a lack of pigmentation, resulting in a white coat and blue eyes. The peculiar traits of this type of feline make owners ask, are white cats albino? There's a good reason cat owners also need to know the differences between albino cats and white cats. Is white cats albino? Let's find out!
The mink colorpoint, Siamese, and Burmese (sepia)coat and eye phenotypes in cats are caused by two mutations in the Tyrosinase (TYR) gene. First, an uncommon mutation in TYR results in a truncated version of the TYR protein and an albino phenotype consisting of a white coat and blue eyes. The albino mutation is recessive for the Burmese and Siamese variants.
A white albino cat is exceptionally unusual. Only four cats out of 9229 examined by experts were positive for this mutation. Cats with albinism are typically missing from coat color panels because of their rarity but will continue to be available as a standalone test. If the genetic background of a white cat with blue eyes is unclear to the owner, we recommend testing for Dominant White and White Spotting before requesting the Albino test.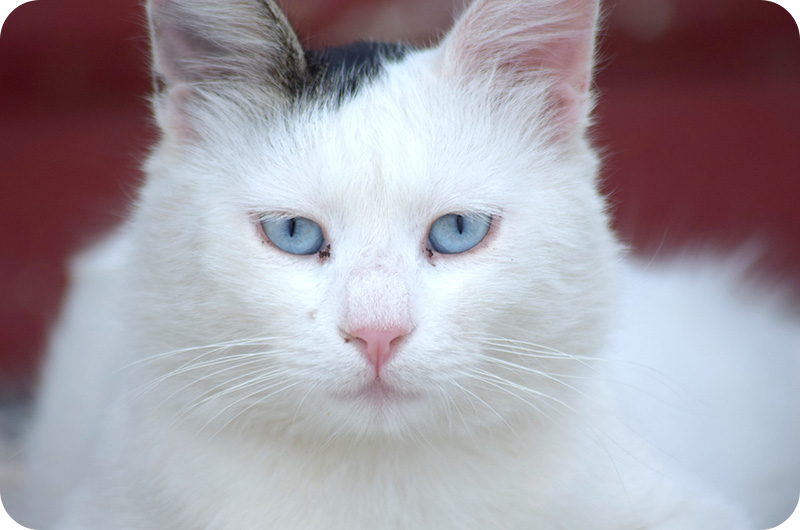 Is My Cat White or Albino?
Any animal classified as albino has a rare pigmentation disorder that results in a lack of pigmentation. Albinism is seen in most animals, including humans and cats. However, having a white coat does not indicate that a cat is albino. A mutation in the pigmentation-controlling genes causes albinism, and albino cats may have health issues such as UV sensitivity and immunological disorders. Even at a young age, there are several techniques for an owner to tell whether a cat is an albino or not.
Examine the kitten's coat visually to assess the fur color on all body parts. Typically, an albino cat has no pigment in its fur, resulting in an all-white coat.

Check the skin tone of the cat. First, examine the skin by brushing the hair; an albino cat will have a pinkish coat with no spots or regions of color. Additionally, the nose, mouth, and pads of an albino cat's feet will be pink.
Take note of the kitten's eyes. Though most cats have naturally blue eyes, the color changes within a few weeks. In addition to lacking pigment in their eyes, albino cats have pink eyes. In some instances, the eyes of an albino cat are pale blue or nearly white. If you look closely at an albino cat's eyes, you can see the blood vessels due to the absence of pigmentation.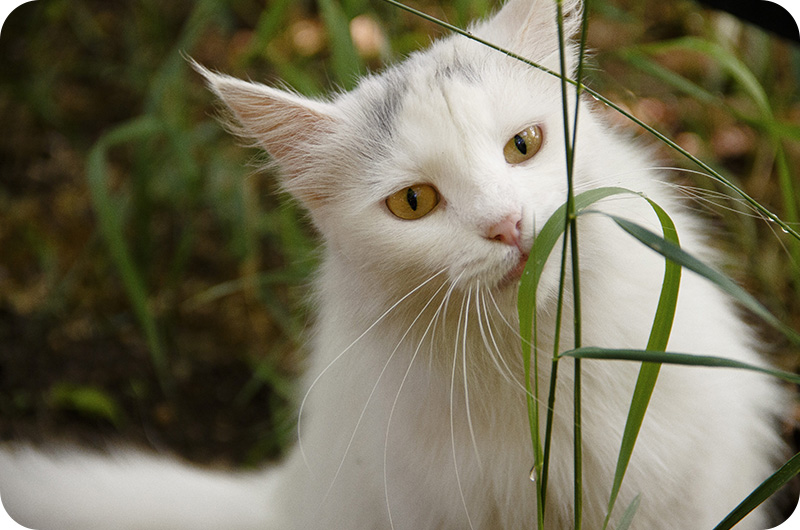 Are All Albino Cats White?
Although not all white cats are albino, every albino cat is white. What further distinctions exist between white cats and albinos?
The coats of albino cats are entirely white. However, you may also identify cats with albinism by their eyes, which are often light blue or exhibit heterochromia, in which each eye has a distinct hue. In addition, a pinkish dermis will be seen under an albino cat's coat and on its nose, eyes, lips, ears, and paw pads.
If a feline happens to have a white coat, but its epidermis and nose are grey or white, it is not albino despite having a white coat.

Understanding that an albino cat requires special care is essential. You may decide to adopt an albino cat because you appreciate their beauty; however, owing to the traits connected with this disease, the albino cat may suffer from hearing, blindness, cancer, or red eyes.
Albino cats are uncommon and share numerous odd characteristics with other albino species. Albinism is a genetic mutation that affects not just the fur and eye color of cats but also significant aspects of their body. Therefore, you must provide your albino cat with special care and attention that other cats would not need.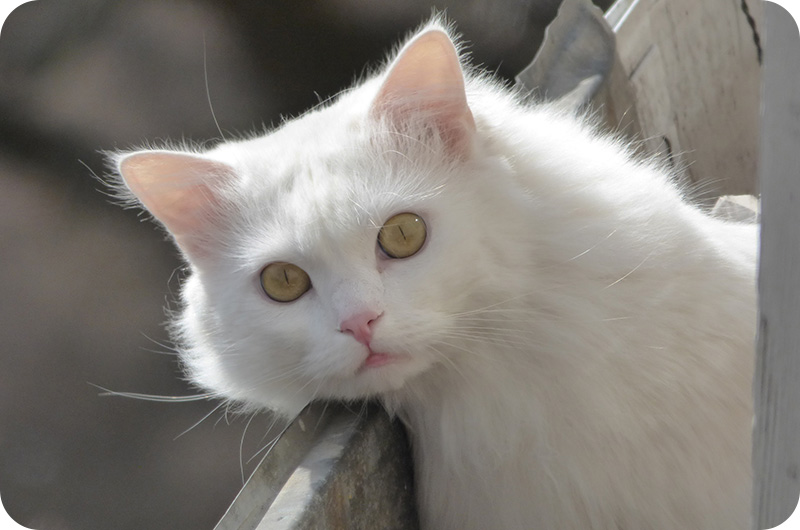 How Rare Is a Pure White Cat?
They are indeed unusual. White cats constitute only 5% of the total cat population. However, they have caught the interest of so many. And the majority of the things they represent are good, including rebirth, happiness, wealth, success, healing, spirituality, and even tolerance.
There are countless white cats whose smooth, flawless coats and distinctively colored eyes are pieces of feline art. In addition, different breeds of cats can have white coats with varying lengths and physical characteristics, such as eye color.

White cats are well-known throughout presidential history and regarded as symbols of good fortune worldwide. We've assembled nine stunning white cats with amusing information to increase your enthusiasm for these felines.
Like calico and tortoiseshell cats, all-white cats do not belong to a particular breed. Instead, many diverse breeds can sport a pure white coat, including Persians, Turkish Angoras, American Short-Hairs, Siamese, and Devon Rex.
So, why do they have white coats? If a cat possesses the dominant W gene, also known as the masking gene, it will "mask" any other coat color and pattern genes in its genetic makeup, resulting in a white coat.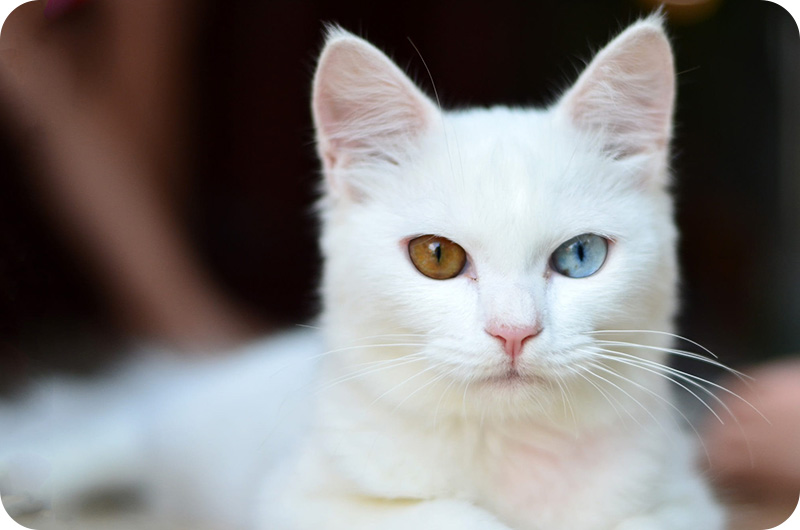 How Rare Is an Albino Cat?
Kittens with albinism are born without pigmentation. They have pinkish-peach skin, white fur, and pinkish-red or light-blue eyes. Not an albino is a white kitten with brown, green, or golden eyes. Albino cats are uncommon, comprising only 2% of all felines. People with albinism are wanted as pets because they are exotic and lovely. There is a possibility that albino kittens will get specific immune system problems. Your albino kitten must have his vaccines on time to prevent health complications. Albino cats and kittens must be kept indoors at all times. Due to their photosensitivity, they are prone to sunburn, skin cancer, and eye impairment. Albino kittens are occasionally born deaf or blind. However, they adapt nicely to an indoor environment and caring owners.
A gene known as TYR governs the existence of tyrosinase, an enzyme required for the production of melanin. Albino kittens are born without or with a defective TYR gene. As a result, his body is incapable of producing melanin, the pigment responsible for eyes, fur, and skin color. Because the faulty gene is recessive, both parents must carry it to transmit it to their offspring. Melanin is essential to the protection of animals from the sun's rays. It prevents harmful radiation while allowing helpful rays to pass through. In addition, melanin is needed to develop several eye structures, including the iris, muscles, optic nerves, and retinas. The absence of melanin impairs depth perception, eye tracking, and eye concentration. Due to the blood vessels being visible through the colorless pupils, an albino's eyes seem pink.

Next on your reading list: